noticias
[ Volver al artículo en castellano ]
New Billy Elliot Ryan Collinson joins West End cast of BILLY ELLIOT THE MUSICAL
13/04/2011
On 13 April 2011, twelve year old Ryan Collinson from Southport, becomes the twenty-sixth boy to play the title role in the West End production of Elton John and Lee Hall's musical that is about to celebrate its 6th anniversary at the Victoria Palace Thea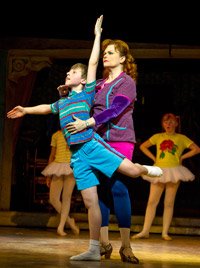 Today, 13 April 2011, twelve year old Ryan Collinson from Southport, becomes the twenty-sixth boy to play the title role in the West End production of BILLY ELLIOT THE MUSICAL. The internationally award-winning show, which opened a the Victoria Palace Theatre in 2005, has been seen by over 6 million people worldwide, including 3 million in the West End. Ryan becomes the 56th boy to play Billy Elliot worldwide since Jamie Bell in the award-winning film.
Ryan Collinson said 'Before auditioning for Billy I had done very little classical dance training but I had done gymnastics for two years and taught myself street dance in my bedroom. I was given the film of Billy Elliot on DVD one Christmas and I wanted to be just like Billy so I started classical dance classes. I auditioned for Billy after just 8 lessons and after making it through further auditions I found out that I had got the part. It was the best day of my life and now I am living my dream!'

Based on the Oscar nominated film, BILLY ELLIOT THE MUSICAL is an inspirational story of one boy's dream to realise his ambitions against the odds. Set in the North East of England against the background of the historic 1984/85 miners' strike, Billy pursues his passion for dance in secret to avoid disapproval of his struggling family.

BILLY ELLIOT THE MUSICAL features music by Elton John, book and lyrics by Lee Hall, and is directed by Stephen Daldry with choreography by Peter Darling. The production features scenic design by Ian MacNeil, the associate director is Julian Webber, costume design is by Nicky Gillibrand, lighting design by Rick Fisher and sound design by Paul Arditti. Musical supervision and orchestrations are by Martin Koch.

As well as the current London production, BILLY ELLIOT THE MUSICAL has performed in Sydney, Melbourne, Chicago and Seoul, South Korea, and is currently performing at the Imperial Theatre on Broadway, on tour across North America and at the Canon Theatre, Toronto. Productions are also in the works for Japan, Germany and Holland.

Ryan Collinson joins Josh Baker (12 years old from Rochester), Dean Charles-Chapman (13 years old from Romford, Essex) and Scott McKenzie (13 years old from Dumbarton, Scotland) who alternate the role of Billy; Reece Barrett (12 years old from Exeter), Connor Kelly (12 years old from Scunthorpe), Connor Lawson (12 years old from Shotton, County Durham) and Joe Massey (11 years old from South Wirrell) who alternate the role of Billy's best friend Michael; Francesca Mango (11 years old from Northumberland), Emily Smith (11 years old from County Durham) and Emily Williams (9 years old East Wingate, County Durham) who alternate the role of Debbie. They perform alongside Genevieve Lemon (Mrs. Wilkinson), Martin Marquez (Dad), Tom Lorcan (Tony), Diane Langton (Grandma), Chris McGlade (George), Kay Milbourne (Dead Mum), Kevin Patricks (Mr. Braithwaite), Barnaby Meredith (Older Billy) and ensemble members Ashley Andrews, David Bardsley, Romy Baskerville, Paul Basleigh, Alan Bradshaw, Spencer Cartwright, Caroline Deverill, Helen French, Tim Funnell, Sergio Giacomelli, Shaun Henson, Stevie Hutchinson, Stuart Ramsay, Derek Richards and Russell Wilcox and swings Craig Armstrong, Dawn Buckland, Lucinda Collins, Kieran Jae and Mike Scott.

BILLY ELLIOT THE MUSICAL is presented in London by Universal Pictures Stage Productions, Working Title Films and Old Vic Productions in association with Tiger Aspect and is based on the Universal Pictures/ Studio Canal film.
Enlaces de Interés
Información Relacionada
Comentarios
Para poder añadir comentarios necesitas autentificarte como usuario registrado de todoMUSICALES.