noticias
[ Volver al artículo en castellano ]
Scott Alan: "I would be honored to come to Spain to offer a night of my work"
21/08/2009
Some of the most renowned West End artists will join Scott Alan next October 11 in the two concerts that the american songwriter will offer at Leicester Square Theatre in London.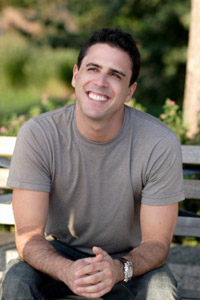 Born in Nassau County Long Island, NY, on 1978, Scott Alan knew at the early age of three that music would be his life. When he was 20, he faced his parents separation writing "Kiss the Air´", a song that made him see that his creations could convey his emotions and reach many other people. Soon after, a friend of him suggested he put on a production of his music, and on February 19, 1999, `Listen and Dream´ premiered in Boston. Not a second after the first standing ovation occurred, Scott knew that he was not just an actor or a singer, but also a songwriter.

After joining a band in Los Angeles, on September 2002 Scott Alan premiered his musical DETOUR at the Complex Theatre in Los Ángeles. In the summer of 2003, he moved back to New York to premiere his new musical PIECE, which has yet to open.

In 2007, Scott Alan accomplished a major dream in releasing his debut CD of music, `Dreaming Wide Awake: The Music of Scott Alan´, featuring some of today´s brightest new Broadway stars singing his work. Due to the success of this first work, in the Fall of 2008, Scott released his second cd, `Keys´.

Through these last years, Scott Alan has performed his work live with the collaboration of some of the most renowned artists of musical theatre today, in places such as Birdland or the Duplex Cabaret Theatre in New York, the Upright Cabaret in Los Angeles, or the Duchess Theatre in London.
Next October 11, Scott Alan will be again in London to offer two concerts (17h y 20h) at the Leicester Square Theatre. We talk with Scott Alan about his new visit to London and his work as a songwriter.

WHAT DOES IT MEAN TO YOU PERFORMING IN THE WEST END FOR THE SECOND TIME?
I Love London and I love meeting the incredible audience that comes with performing in the West End, so it means a lot. I am so excited about this concert and it's still a few months away.

HOW DO YOU PREPARE THIS KIND OF CONCERTS? THERE ARE SOME PERFORMERS THAT SING YOUR SONGS FOR THE VERY FIRST TIME, WHICH IS THE REHEARSAL PROCESS YOU FOLLOW?
Well, each concert is different. For this concert, though, I am making each performer an mp3 file for them to learn the song and to sing along to. Once I get to the UK, I will get the opportunity to rehearse with each of the performers.

WHAT DO YOU ENJOY MOST ABOUT BEING ON THE STAGE? HAVE YOU BEEN SURPRISED ANYTIME BY AUDIENCE REACTION?
The reaction from the audience is always surprising. Every audience brings their own unique spark to the shows, so each show you have to be on your feet to know exactly what kind of mood they are in and what kind of journey they are looking to be taken on.

HOW DID YOU MANAGE TO GET ALL THESE BROADWAY STARS TO SING YOUR SONGS AT YOUR FIRST ALBUM ?
Actually, getting the performers for the first CD was easier then for the second CD as most of the performers on the CD were friends and had been performing with me and those particular songs for a long period of time.

LAST 10 AUGUST YOU MAKE YOUR WEST COAST DEBUT WITH THE CONCERT IN THE UPRIGHT CABARET, IN LA. HOW WAS THAT NIGHT?
Well, I lived in LA for six years and had done small concerts here and there earlier in my career. I'd say my largest audience was no less then ten people, so to come back to LA and have a sold out show and a packed house was beyond words. I felt blessed.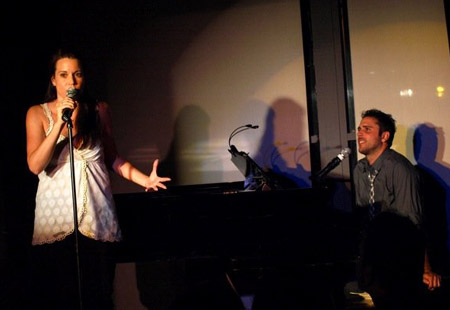 Scott Alan at the piano next to Jenna Green at the Upright Cabaret in Los Ángeles

YOUR CONCERTS ARE ALWAYS SOLD OUT, WHAT DOES IT MEAN TO YOU THIS SUCCESS?
I don't ever take my success for granted. The saying goes, 'here today, gone tomorrow.' I take each concert and each day as a brand new adventure and soak it in. You never know how long you'll be in peoples radar and list, so I enjoy the moment with that understanding each time.

ALL THROUGH YOUR SITE SCOTTALAN.NET, YOUR YOUTUBE CHANNEL, FACEBOOK, TWITTER… YOU GET YOUR WORK CLOSER TO THE AUDIENCE ALL OVER THE WORLD. WHAT ROLE HAS PLAYED INTERNET IN ORDER TO APPROACH YOUR WORK TO PEOPLE?
A huge role. It started early on in my career and continues to be a huge part. Every new view on any of those sites usually is a new introduction to a new audience.

WHICH PROCESS DO YOU FOLLOW TO COMPOSE SONGS? ARE THERE SONGS THAT YOU COMPLETE IN AN EASIER WAY THAN OTHERS? HAVE YOU GOT YOUR OWN FAVORITE SONGS?
Absolutely have my favorite songs. I also have my least favorite songs as well. As for writing songs, each song is a new process. Sometimes I write a song in five minutes and sometimes it can take a year or two to really get the song to be as honest as possible.

SINCE 2004 YOU'RE PRODUCING THE CONCERTS SERIES 'MONDAY NIGHT, NEW VOICES'. THE NEXT WILL BE ON 31 AUGUST, WITH BRANDI BURKHARDT AND KATIE THOMPSON. WHAT IS THE PURPOSE OF THIS CONCERT SERIES?
The concert was started, and still continues, to showcase and honor and celebrate new talent. I know how hard it is to audition for your supper, and so this gives five performers each month an opportunity to stop auditioning and just do what they love most; perform on a stage with a supportive audience cheering them on, and Broadway talent and established and emerging composers to help celebrate them.

AS A YOUNG MUSICAL COMPOSER, WHAT DO YOU THINK ABOUT THE ACTUAL SITUATION OF MUSICAL THEATRE IN BROADWAY AND IN THE WEST END? DO YOU USUALLY GO TO SEE BROADWAY AND OFF-BROADWAY MUSICALS?
I love seeing shows. I haven't seen enough in the West End, sadly, though I am hoping to make the most of my trip this time around, but I could see a new Broadway, Off-Broadway and off-off-Broadway show a night if I had the time and money.

IN SPAIN THERE ARE GREAT MUSICAL THEATRE PERFORMERS, WOULD YOU LIKE TO COME TO SPAIN TO OFFER ONE OF YOUR CONCERTS WITH SPANISH PERFORMERS?
I would be honored to come to Spain to offer a night of my work. If there is an audience and an interest, I would be on the first flight out.

APART FROM YOUR CONCERTS, ARE YOU WORKING IN OTHER PROJECTS RELATED TO MUSICAL THEATRE?
I am still working on two musical and a musical revue of my work. Outside, like always, I am starting to build the new CD.
Información Relacionada
Comentarios
Para poder añadir comentarios necesitas autentificarte como usuario registrado de todoMUSICALES.