entrevistas
[ Volver al artículo en castellano ]
Scott Alan: "I can't wait to watch Barcelona open its arms to my work"
20/04/2015
The acclaimed North American composer will make his Barcelona concert debut at L'Auditori on May 11th accompanied by more than twenty guests after offering a series of concerts in London.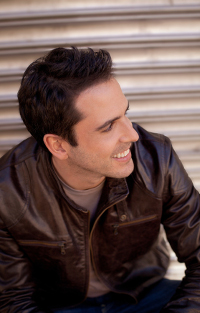 The announcement of Scott Alan debut concert in Barcelona on the 11th May at L'Auditori was a complete surprise for musical theatre fans in Spain, who rushed to book tickets to see the acclaimed North American composer to play his songs performed by more than twenty Spanish guests performers, and the special appearance of West End star Madalena Alberto.
A few days after offering four sold out concerts in London alongside West End stars in May, Scott Alan will arrive in Barcelona to offer live the songs that have captivated a whole generation of musical theatre lovers, with memorable melodies and captivating lyrics.

Three weeks before this unique evening will take place, we talk with Scott Alan about his upcoming concerts in London and in Barcelona, about his career and about his future projects.

AT THE END OF 2014 YOU RELEASED YOUR FIRST 'GREATEST HITS' ALBUM… SEVEN YEARS AFTER RELEASING YOUR FIRST ALBUM 'DREAMING WIDE AWAKE'. OF ALL THE THINGS YOU'VE ACHIEVED IN ALL THESE YEARS, WHAT DO YOU FEEL PROUDER OF?
I feel proud of not giving up. This industry is so hard, especially when you're running your own career and so the fact that I keep pushing myself to make new investments in my career is what I'm most proud of.

COULD WE SAY THAT 'ANYTHING WORTH HOLDING ON TO' IS YOUR MOST PERSONAL ALBUM? WHAT DID IT MEAN TO YOU RECORDING YOUR OWN SONGS?
Yes, that album is my most personal. That song is my most personal song. I will actually be re-releasing that album with three new songs before the end of 2015 and i'm really looking forward to it. It's sold about 12 copies but I'm beyond proud of it.

YOU'RE VISITING LONDON IN MAY TO OFFER SOME INTIMATE CONCERTS WITH CYNTHIA ERIVO… HOW DID THIS IDEA COME UP? HOW WAS THE FIRST TIME YOU TWO MET?
Yes, I'll be doing three sold out concerts with Cynthia in the St. James Studio. Cynthia and I have become extremely close since we first met when she sang at my IndigO2 at the O2 concert in London and when The St. James reached out to me about performing a few nights of my work I knew I wanted to do something I've never done before in London and that was to perform with only one guest performer and there was no question in my mind that the person had to be Cynthia. I'm thrilled and we are really going in with no script and a lack of rehearsal and just playing with the audience to give them what they want each night. Plus, there are new songs to premiere as well. This will be Cynthia's last concert in London before she heads off to Broadway to star opposite Jennifer Hudson in The Color Purple so that will be really emotional for her, I'm sure.

AND YOU WILL ALSO OFFER A BIGGER CONCERT WITH 20 SURPRISE GUEST STARS AT THE ST JAMES THEATRE… HOW WILL THAT NIGHT BE? WHY DO YOU DECIDE NOT ANNOUNCING YOUR GUESTS?
That night will be wonderful. We have a seven piece band and it's completely sold out and in the big theatre and nobody knows whom to expect to show up. The main reason I don't announce my guests normally is because often a performer will have to pull out last minute to due circumstances beyond their control and by not announcing the guests, nobody knew they were supposed to be there anyway. The other reason is because when I come to London it's important to me that the big fans get the tickets first. Most of them could care less if any stars show up. They just want to sit in the theatre and sing along with me. I know so many of them now by name and I genuinely get excited to see them. Plus, they often bring me amazing gifts consisting of treats that they know I love.

YOU USE TO PLAY SO OFTEN IN NYC AND IN LONDON… ARE BOTH AUDIENCES DIFFERENT? IF SO, HOW WOULD YOU DESCRIBE EACH OF THEM?
Hmmmm, that's a tricky question because I don't want to alienate my New York audience but performing in London is an experience that I cherish. They refuel my passion for this industry in a way no other city or country has done for me before. I just get so emotional being in London and being given a platform to share my stories. They really listen and take in everything I'm saying in my lyrics and are just extremely respectful. Not to say that New York audiences aren't but I do think that in New York, since there are so many rotating composers performing weekly if not daily, your success is defined by whom your guests are and it becomes more of a game to try and line up talent that others aren't so that you give your audience the opportunity to see artists that they love and don't get to see at other shows.

HOW DO YOU CHOOSE THE PERFORMERS WHICH TAKE PART OF YOUR CONCERTS AND/OR RECORD YOUR ALBUMS?
It often depends. Many of the performers are 'dream cast' people that I've been dying to work with and some are just new talent that I want to say 'you heard them here first.' I also try and offer my audience the opportunity to hear artists from outside of the states so that there is a win/win for both the performer and the listener.

IS THERE ANYBODY YOU'D LIKE TO WORK WITH YOU HAVEN'T BEEN ABLE TO YET?
I sound like a broken record whenever I say this but Tina Arena is the one star I am DYING to work with. Of course, if Celine Dion or Josh Groban or Michael Buble wants to record one of my songs I won't say no. I just miss those days of a vocalist who could really sing and soar vocally with music that wasn't too over produced and featured a simplistic melody line with lyrics that touched the heart in the way that the greats from the 90's like Diane Warren and David Foster would offer us.

COULD YOU TELL US IF THERE'S BEEN ANY OF YOUR CONCERTS YOU'VE ENJOYED THE MOST SO FAR? BECAUSE IT HAS HAD A SPECIAL MEANING TO YOU FOR SOME REASON…
Weirdly enough, there was a concert I did years ago at the Rrazz Room in San Francisco. It was my debut in that city and the touring casts of SPAMALOT and WICKED were in town so most of the cast members joined me. It was a late night show, starting at 11:30pm. We went until 3am. We were all getting drink and the room was packed and everyone was just being silly and it felt like we were offering a living room experience to the audience.

DO YOUR SONGS ALLOW PEOPLE TO KNOW SCOTT ALAN? ARE THEY SO PERSONAL?
It feels that way, yes. I get letters and meet people all the time who just instantly start telling me their lives. I love it. It means that they felt so connected to what I wrote that they feel they can confide in me and in many instances, they are telling me something that I'm so thrilled that got out of their gut to tell someone about because a hug and a pep talk can really go a long way to helping people through a crisis.

TELL US ABOUT THE PROJECT OF PREMIERING YOUR MUSICAL HOME IN LONDON… IS IT HAPPENING? WHAT DOES IT MEAN TO YOU?
This is a hard question to answer at this point of time. I don't know what the future holds for the show. The producers have the rights until October of this year and if there is no movement on the project by that time, my playwright Christy Hall and I have decided to let it go for the time being and explore other opportunities. It's been 15 years of working on a show and giving every piece of my life to it. Thankfully, I own all the rights to my music and lyrics and I can use many of the songs for album opportunities in the future if nothing else.

YOU LOVE MUSICAL THEATRE AND YOU USE TO SUPPORT YOUR COLLEAGUES WATCHING THEIR SHOWS. WHAT HAVE YOU SEEN LATELY AND WHAT WOULD YOU RECOMMEND US?
I wish I could say that I've been seeing a lot of shows lately but I truly haven't and those shows I do see seem to close shortly after. It's a hard business. I can only say, if you get the opportunity to visit New York, please take in a show and support the arts in any way that you can.

LAST WEEK YOUR GUESTS FOR YOUR CONCERT IN BARCELONA WERE ANNOUNCED WHAT DO YOU THINK ABOUT THEM?
I am beyond thrilled to be making my debut concert in Barcelona with these amazing talents of people. I feel truly honoured that they are supporting my work even though it is not known in Spain in the way my work is now in other countries. To have a translator on hand to translate my work into Spanish will be an incredible opportunity for my work to be heard by an audience that has never heard the name Scott Alan. It's extremely humbling. When the concert was announced only a very small amount of tickets were sold but the instant the names of the performers were released, the concert is almost 90% sold out and there's still a little less than a month to go. I really hope that the videos come out beautifully so that we can share these performances all over the world.

HOW DO YOU THINK THE NIGHT OF THE 11TH MAY WILL BE?
Exciting. I can't wait to watch the capital city of Barcelona open its arms to my work. I can only hope that we have the opportunity to have the audience join the ride with us and like what they hear and feel. As long as we have that, we'll be good to go.

CAN YOU TELL US ABOUT ANY OTHER UPCOMING PROJECT?
I will be doing a re-release of my album ANYTHING WORTH HOLDING ON TO with new songs. I will also be working on Greatest Hits: Volume 2 in the coming months. Outside of that, I have some concerts dates in and out of New York City that I'm excited to announce and as always, more music to continue writing. More life experiences. More challenges and heartbreaks. More joy and success. These days feel like I'm just at the very beginning of my career and I can't wait to see what's next.
Enlaces de Interés
Información Relacionada