entrevistas
[ Volver al artículo en castellano ]
Madalena Alberto: "Creating the role of Fantine was a rollercoaster, an absolutely incredible journey"
23/09/2010
Madalena Alberto performs Fantine in the new 25th Anniversary tour production of LES MISÉRABLES that open officially at London's Barbican Theatre the 23th September after a year touring.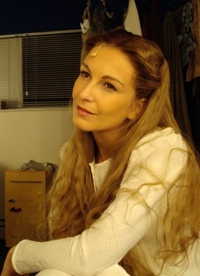 Madalena Alberto was born in Lisbon (Portugal) 26 years ago. She moved to London on her own when she was 17 after being offered a scholarship for a degree course in performing arts. Since she left the college she had been working in a different musical theatre shows, performing the role of Carmen in FAME UK Tour production, and being a member of the Original London cast of ZORRO THE MUSICAL, where she was also cover of the role of Luisa.
After starring in the Edinburgh and London productions of Christopher Hamilton's new musical OVER THE THRESHOLD in summer 2009, she was selected to perform Fantine in the awaited new 25th Anniversary tour production of LES MISÉRABLES, that opened in Cardiff on 22nd December 2009. Within a starry cast, Madalena Alberto has achieved a name on her own with her acclaimed performance of this iconic role.

This new production of LES MISÉRABLES has arrived at the Barbican Theatre in London, the place where the Show was born 25 years ago, after almost a year touring around the United Kingdom and Paris. The Show began previews in London last 14th September and open officially on 23th September. Then there will be just 10 performances left for this new production at the Barbican, where it will also end its successful run.

We speak with Madalena Alberto after one of the preview performances at the Barbican. She tells us about her experience in this new production of LES MIS that each night has received standing ovations from the audience.

YOU'VE DONE THE FIRST PERFORMANCES AT THE BARBICAN. HOW HAVE THESE DAYS BEEN? WHAT DOES IT MEAN TO YOU PERFORMING AT THIS VENUE?
From the whole tour this have been the hardest place to perform in because of the way it's built, because the space and the sound are very different from any other theatre so it has been a big challenge in the technical sense. In the emotional sense it's been the biggest privilege ever to come back here with the show. We're rehearsing in the same room where the original company rehearsed, we've been working regularly with Claude-Michel Schönberg and with Cameron Mackintosh so it has been absolutely incredible. It's a shame we're so tired, because it's the end of the tour and we want to enjoy it, but it's absolutely thrilling to be here.

HOW IS IT WORKING WITH CLAUDE-MICHEL SCHÖNBERG AND CAMERON MACKINTOSH?
It's totally inspiring. Cameron Mackintosh is the most passionate person for musical theatre ever and Claude-Michel is just amazing to watch, because when you work with him he conducts, so you can watch the way the music has poured from his head... And being in the rehearsal studio where he was actually writing these songs 25 years ago it's been amazing. And Cameron is a very lovely person. I'm very lucky that he allowed to do so much with the character knowing that normally he's got very restricted views on what he wants so I feel very privileged in that sense.

AND, AFTER ALMOST A YEAR TOURING, YOU'RE STILL REHEARSING EVERY DAY...
Yes! I think Cameron must feel a little bit pressured because this is the first time in the history of musical theatre that there's two productions of the same show in the same city so I think he wants to make sure that once the press come that will be perfect. We also need to rehearse because every space is different. If you're performing in a bigger theatre you're allowed to do a lot more, to project more, to do more ad-libs. In a little theatre like this you have to be more real, more truthful, because people are so close to you and they can hear absolutely everything. So that's why we've been rehearsing. But it's been good, it's been tiring but we've been very lucky on this tour because normally when you do a show the creative team comes in at the beginning and you hardly ever see them again. With this tour of LES MIS we've been so lucky to have seen the whole creative team coming over at every venue so they've been keeping the show fresh, they've been changing a lot of things all the time so it's been amazing as an actor to keep evolving in that sense.

SO THE SHOW IS DIFFERENT IN SOME ASPECTS DEPENDING ON THE VENUE...
Well, it should be same show in the sense that you must be very truthful with what you're doing but the space affects you a lot. I mean, I absolutely hated my first performance here because this is a very small stage and the audience is very close and you can feel the eyes on you analyzing everything you're doing. I felt very claustrophobic. So even though I'm doing the same show I'm affected by the external influences... So yes, every venue changes your performance a little bit...

THIS IS A WHOLE NEW PRODUCTION OF LES MIS, WHERE THE CHARACTERS HAVE BEEN CREATED AS IF THEY WERE NEW. HOW WAS THE PROCESS OF CREATING THE ROLE OF FANTINE?
It was a rollercoaster, but it has been an absolutely incredible journey. The problem at the beginning of the rehearsal period is that everyone in the creative team had different ideas of what they wanted of the character and of what they wanted of "I Dreamed a Dream" because it has become such a big song recently. So I was pulled and stretched in so many different levels I sang "I Dreamed A Dream" in a million different ways and interpretations. At some point I was being very angry the whole way through the song. Actually I remember the first day we opened in Cardiff, so Cameron wanted me to do the whole thing really angry and Claude-Michel called me in the morning without Cameron knowing it and just said "no, don't do it like that, do it my way"... So it was that all the time, the whole year has been a rollercoaster, but it's great as an actress, every performance for me is different, and I felt very privileged that I could build up on what Claude-Michel had in mind in terms of music and in terms of the lyrics... There's so much to her to tell in fifteen minutes. So it has been amazing, it's a big privilege.

THIS PRODUCTION HAS BEEN THE FOCUS OF ALL GLANCES THIS YEAR, SO IT HAS BEEN COMPARED WITH THE ORIGINAL ONE. HAVE YOU FEEL PRESSURE IN ANY ASPECT?
I haven't felt the pressure of the comparisons between this show and the older version but I have felt pressure for the fact that I have realized that I do have so many eyes on my performance and what I'm doing and I put pressure on myself because I want to be the best I can be, but not regarding the comparisons because I know my Fantine is quite different from the other one. It doesn't mean it's better, it's just different.

WHAT DO YOU LIKE OR YOU ENJOY MOST OF PERFORMING THIS ROLE?
I love it. I love getting lost in it. I love finishing the death scene and being completely in tears because it means that I went somewhere that night. I love the fact that every night is different from me. I just love playing her. But for a long time I hated singing the song "I Dreamed a Dream" I have to admit just because I felt pressure… but now it's an absolute joy. It's a shame that it goes so quickly and there's so much to tell, but I love when I completely get lost in her, when I cry and I shout and I hurt myself and I fall on the floor and get kicked in the ribs.. because it means that I've been somewhere that is not my reality.

HAS CHANGED YOUR POINT OF VIEW ABOUT 'LES MIS' AFTER TAKING PART OF THIS SHOW? HAVE YOU DISCOVER SOMETHING NEW ABOUT IT?
I never had been a huge fan of LES MIS… I knew the show but I didn't know it by hand. I remember the first rehearsal we had and we sang it through. I was mortified because everyone around me was singing the show with nothing in front of them and I was like "oops"… I had no clue what I was doing. So for me it has been a discovery from the start. I had no preconceptions of the character, no preconceptions of the result that I wanted of how I wanted to do things. I started from scratch with the help of the directors and everybody involved.

HOW WOULD YOU ASSESS THIS YEAR TOURING AROUND UK? HOW HAVE YOU EVOLVED AS AN ACTRESS?
I've just mutated into a different performer I think. Every job I've done so far has made me progress incredibly as a performer, as an actress and as a singer. This job has stretched absolutely everything, physically, emotionally, vocally… I do feel like I am a better performer. I have learnt so much regarding even how to deal with people backstage, how to be part of a group of people… it's impossible to be unaltered after this.

SO IT'S VERY DIFFERENT WORKING IN A TOURING SHOW THAT WORKING IN THE CITY…
I think it is. Yes. In the city, people live in the city so they go to work like a 9 to 5 job, and they go back to their families and friends. When you're touring, you don't have anyone to go back to, so you have to make friends, to learn to communicate and be with people that maybe normally in your normal life you wouldn't want to communicate with so it's a big learning curve, socially as well.

WHAT DOES IT MEAN TO YOU HAVING RECORDED THIS NEW 'LES MIS' ALBUM?
I love it! It's the first time that my name is in an album. I am happy that Cameron and Claude-Michel are very happy with the results. From me, however because we've been working on it as I said before we've been constantly mutating and working the characters and the scenes and your voice grows more into the songs, so obviously for me to listen back to the recording, that was made at the beginning of the tour… it doesn't please me as much as if we'd recorded now… but it's still out there and nobody can take that away from us. It's a proof of the work we had this year, it's a proof of that particular performance… so yes, I'm absolutely thrilled.

SURE THAT IN ALL THESE TIMES THERE HAS BEEN SOME SPECIAL FUNNY THINGS DURING THE PERFORMANCES. COULD YOU TELL US ANY OF THEM?
I think my biggest one was this: I have a very quick wig change, from a long hair to short hair and they didn't have my wig. My wig was in my dressing room like seven floors up. So I had to do the whole scene, and I'm talking about the fighting, crying, shouting at Jean Valjean… hiding my head with a cloth... trying to hide the wig cap, cause we have like a sock on our heads and that was mortifying! But it was the best exercise as an actress because I really did feel that somebody took my hair away. I was mortified like I probably would have been on the day that someone cut Fantine hair, so it was absolutely an amazing exercise…

AND WHICH HAS IT BEEN THE MOST MOVING PERFORMANCE BY NOW?
We've had so many amazing nights. Everywhere we've been to the reception has been exceptional. I think the one I remember the most, because it was such an event and it was so unexpected, was the opening night in Paris. Because we had been told that in the Châtelet nobody claps, nobody stands up… so we didn't expect anything. We did the show with absolutely no expectations and it was the best reaction we had ever. We had people taking pictures of us on the stage as if we were celebrities… I think it was the biggest reaction we had on this tour.

YOU AND THE REST OF THE CAST WILL TAKE PART OF THE O2 CONCERT…
Yes! It will be a massive event with over 300 people on stage so it's going to be really interesting and a completely new experience to be part of it!

APART FROM PERFORMING AS AN ACTRESS IN DIFFERENT SHOWS, YOU COMPOSE AND PERFORM YOUR OWN SONGS. WHAT CAN YOU TELL US ABOUT THIS OTHER FACET OF YOUR CAREER?
It's something quite recent to me that I've been doing in parallel to my theatre work for the last five years. Maybe now it's the time for me to take it more seriously. Throughout this year I've had a lot of people interested in listening to what I do. It will be something very exciting to find someone who wants to work with me producing my music. I don't like going into a studio and recording my songs because I'd get lost in the vast options that I had soundwise… which instruments to use... I love live sounds… so all I've been doing so far are little gigs with different musicians and getting the feel of it… And who knows? Maybe soon I'll be recording!

WHEN DID YOU DISCOVER THAT YOU LIKED TO COMPOSE?
It was a year after college. I met a group of musicians, a band called Tankus The Henge. They introduced me to a lot of types of music, because when I was little there was no music in my house. My mom was an opera singer, my dad was a classical musician so I had no acknowledge of rock or pop music… So when I got to know that band I became very inspired by the immensity of the music world. And one of the boys in the band had a little studio and I used to go there and started writing. He just gave me a little bug for writing… I've only started to play guitar recently! So I'm not very confident with the guitar but I love playing guitar while singing my songs because it makes me forget about my voice and it's all about the music and about what I'm trying to communicate at the time.

WHAT WILL HAPPEN AFTER 'LES MIS'?
No idea! I'm definitely not rushing into anything. I'll be more picky with what I'm going to do and who knows! Maybe it's my time to travel, to write music, to completely change route… so only time will tell!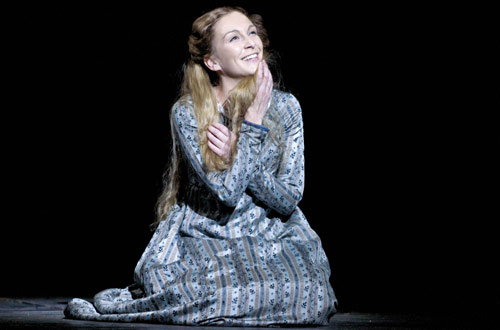 Madalena Alberto as Fantine in LES MISÉRABLES
Enlaces de Interés
Multimedia
Información Relacionada