entrevistas
[ Volver al artículo en castellano ]
Natalie Mendoza: "Gigi tells the story of many women and the struggles they are experiencing right now"
11/09/2015
The Australian actress is currently playing the role of Gigi in the West End revival of MISS SAIGON, which will run at London´s Prince Edward Theatre until the 27th February 2016.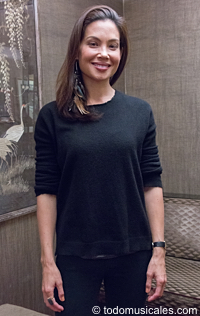 MISS SAIGON keeps moving West End audiences night after night at the Prince of Edward Theatre in London, where it will run until the 27th February 2016.
On the 11th May 2015 there were some cast changes in the production, including Natalie Mendoza as Gigi, who joined original cast members Eva Noblezada as Kim and Jon Jon Briones as The Engineer.

Born in Australia, Natalie Mendoza is best known for her role as one of the main characters, Jackie Lunes in the British drama series 'Hotel Babylon' and as tough girl Juno in the acclaimed horror thriller 'The Descent'. Natalie originated the role of Arachne in the Broadway musical SPIDER-MAN TURN OFF THE DARK, but was forced to leave the show due to a work-related injury; and she recently lead the London cast of HERE LIES LOVE at the National Theatre in London, playing the role of Imelda Marcos.

We meet Natalie Mendoza at the Prince Edward Theatre, before one of the performances of MISS SAIGON, and with extremely kindness and sweetness she tells us about the role of Gigi, about her recent experience in musical theatre, and about the importance of spirituality in her life.

WHAT DOES IT MEAN TO YOU PLAYING THE ROLE OF GIGI IN 'MISS SAIGON'?
When I saw this production a few months ago, when they asked me to have a look and consider to play Gigi, I wanted to see how they had developed the character. I think in this production the story of Gigi is much clearer. She has a real arc and a really beautiful moment in the beginning which is very powerful. I was really touched by the role because she´s a very strong woman, but she´s also incredibly fragile. There´s a really beautiful moment in the beginning of the show where all the women come together, and when I was watching it, I literally just burst into tears, because it´s very timely that this show is being directed and is on right now, with everything that is going on in Syria and all over the world. I loved how they really made a point of creating this moment where these women come together and, particularly, I was touched by Gigy storyline. I feel very lucky to be in this production. Even though it´s not the biggest role I´ve ever played, it´s a role I wanted to play because she is quite powerful. She tells the story of many women and the struggles they are experiencing right now.

HAVE YOU BEEN WELCOMED BY THE REST OF THE CAST?
Yes. It was interesting, because I was doing HERE LIES LOVE at the National Theatre, playing Imelda Marcos, and obviously there´s a lot of filipinos in this production, and it was predominately made of the filipinos in HERE LIES LOVE, so we had all got together already... We all love to eat! The biggest thing for me was keeping it quiet, because I knew it before anyone else, and when they found out, everyone was very happy. So it´s sort of joining family. There was something quite special about those two shows... We had already met each other, so it was great.

YOU HAD ALREADY PERFORMED IN THE PREVIOUS PRODUCTION OF 'MISS SAIGON' YEARS AGO IN AUSTRALIA. WHAT DO YOU LIKE MOST ABOUT THIS NEW PRODUCTION OF THE SHOW?
For my character, I think they have really caught up her storyline a lot. She even features in the nightmare in the second act. Now you know what happens to Gigi. Whereas before, she just appeared and then you forgot about her. Also in "The American Dream" is Gigi again in the car. It´s the fantasy version of Gigi, so I feel like her story is really complete and full now. They´ve also given me a lot of licenses to kind of flesh out the character. I´ve made her more of a junkie in the beginning, which never happened before, so it´s completely different. I think also the way this production has been directed is heavily influenced by the original production, but I think this one is more in your face, more visceral...
People is shocked that I´m playing this role, because I´m quite a conservative person, but it´s really important to tell the truth about these women, and about what they experienced. We did a lot of research, watching documentaries.. so they really honored the stories of those women and what they went through, and even the women that are going through these struggles right now in the world... It´s important that we just forget about ourselves... Natalie forgets Natalie and she just tells the story of Gigi, because Gigi represents a lot of women right now. Gigi is just as innocent as Kim in many ways, she´s just been going through that experience for longer so now she´s a little harder, but her heart is just as soft. And there´s a turning point at the end of "The Movie In My Mind" where something bigger than her needs to survive takes over and she becomes protective of Kim. That for me is a really beautiful moment, and then you see how in the wedding, even though it´s not her wedding, it´s some important for her to get this girl out. So something bigger than herself kicks in and she becomes selfless in that moment, because she probably deep down knows that she probably won´t get out, but if this girl has a chance, at least, everything that she has done will be worthy. I love that.

WHY DO YOU THINK 'MISS SAIGON' IS SUCH A BELOVED SHOW?
It was created quite a long time ago but I think it was almost ahead of its time when it originally came out. The fact that we have an Asian woman playing a lead role is so enormous. It feels like now it´s the time when the world is ready for it. Now there are more films where woman are leading the storylines, that is one statement, and also the additional statement now is "where are the ethnic minorities? The ethnic leading ladies?" People want to hear those stories too. We are ready, we are smart enough. Social media connects us all. The world is ready. And I think this production really is mind-blowing. Music is classic, is so beautiful. The storyline is timeless. It´s one of those stories that will always be relevant, because it´s romantic, it´s dramatic. And also the setting of it, in this War turn, is very timely... And I love the fact that it´s lead by a woman. And Eva is ridiculous. She´s so talented.

SOME MONTHS AGO YOU WERE STARRING IN 'HERE LIES LOVE', WHICH WAS A COMPLETELY NEW MUSICAL THEATRE EXPERIENCE, HOW WOULD YOU ASSESS YOUR TIME IN THAT SHOW PERFORMING IMELDA MARCOS?
That was a dream come true. I had an early career. I was precocious. I was untrained and I did a lot shows, I played Eponine in LES MISÉRABLES very young... I also did some good films, but through working with really great actors I realised I wanted to go back and train. I was a bit of star in Australia, and if I wanted to train I should go to some place where no one really knew me. So I went to the Bristol´s Old Vic, and it was wonderful. The reason why I went there was because I had seen a production of a play of Tom Stoppard at the National Theatre in London, and I was so blown away by the quality of the performers... I had never seen it before... and I thought "Ok, I need to go back and train", and I deliberately chose The Old Vic cause it appeared in people´s resumes... So I was accepted, which was incredible. And my dream was always to do something at the National... And I had got to a point when I was living in LA, doing tv and films, and I thought that I had to put that dream to bed... And then, I had gone to a break up, I had my heart broken so badly, so I decided to go away to a monastery for like a year, so I just left the world. I needed to find my spiritual self. At the end of the year I went back home, I checked my email, cause we weren´t allowed to read out emails at this monastery, and it just happened that I opened my junk email... And I saw an email from the National Theatre and I thought "how did my subscription end up there?" and I clicked on it, and they said: "we have the final auditions for HERE LIES LOVE in London next week, can you make it?" I don´t know how I saw this email, cause there were so many emails! And I just thought "no, yes..." It was so perfect! The role was describing me... And I was thinking "I´ve never done anything at the National, I will always regret it". I called my friend and he said "go!". I booked my ticket. I hadn´t really spoken much for such a long time. Forget about singing! I literally had the sheet music, having no idea about it, and luckily the musical director was from New York, and I had worked with her in SPIDER-MAN, so she knew what I was capable of. She knew me. Even though my audition was far from perfect, I had someone for me to say "she can do it". I auditioned and three days later I had the role and I thought "I guess I´m not going back to the monastery, I´ll sing in a disco!" (laughs)
After I did HERE LIES LOVE, I had to perform at the Oliviers with David Byrne and I was sharing my dressing room with Eva (Noblezada). And that was the day when Cameron asked me "would you consider doing Gigi?" So it was this weird thing when I was performing with the people from MISS SAIGON, they were all around and I couldn´t talk about it, but I was thinking "oh, how weird if I end up working with them!" So here I am. It´s been an amazing year. It feels like heaven has drop some gifts into my lap, and I just have to keep trusting.

SOME YEARS AGO YOU DID THE WORKSHOP OF 'GHOST THE MUSICAL'…
I originally did the workshop of LORD OF THE RINGS with Matthew Warchus, and I was offered the lead role of Galadriel, but at the time I was doing a tv series here called ´Hotel Babylon´, so I couldn´t take that role. But Matthew contacted me later on and said "can you be here for GHOST the workshop?" Because he knows I love workshopping. It´s funny because I do not think about myself as a performer. I do it, because I enjoy it. but my natural path is probably directing and creating. So I love to get involved in workshops. I am an actress first who can sing. I don´t really want to be a singer. I like telling stories, so when I sing, I tell a story. So the workshop in GHOST was amazing, and I´ve continued having an interesting creative career with Matthew. We are working on some projects right now. He´s the artistic director of the Old Vic... We are working on something together and also I´ll be assisting him in the future... Really my path is probably more directing, but as long as I can perform, I´m happy too.

YOU WERE CAST AS ARACHNE IN SPIDER-MAN ON BROADWAY, BUT HAD TO LEAVE THE PRODUCTION DUE TO AN ACCIDENT… HOW WAS THE EXPERIENCE OF BEING PART OF THAT SHOW, AND WHAT DID IT MEAN TO YOU TO LEAVE IT?
That was another kind of miracle. That whole process... I go through this faces where I´m like "I think I should give up performing" because I´m a very spiritual person, and I was spending a lot of time in India and I got a phone call and Julie Taymor, Bono and The Edge wanted me to fly to New York. And for some reason my phone works so well in India... (laughs) So I jumped on a plane, and I ended up performing with Bono, The Edge and a band... and I didn´t realized that all those Broadway executives were there too... It´s one of this weird things where, again, I think that the role was written for me. They didn´t want a musical theatre performer, they wanted a rock force, which is more my background... Then they handed me this piece of paper with English verse... Most people can´t read that kind of thing comfortably, but because I just happened to study Shakespeare I can do that confidently... Because it was all that we did at drama school... And then they asked "would you happen to know how to do this Indian chant?". I´m in India, and the one thing I´m doing is singing Indian Chant everyday... So I just sang that and they were so excited... and then they say "have you got any dance background? Can you rock climb?" I was in a film called ´The Descent´ and the one thing we had to do in training was rock climb! So they asked me these four or five things very specific and I happened to know how to do all of them. So I got it... But then they lost funding... And the beautiful thing when we started was that it was like a workshop. We were creating, changing everyday. It was a lengthy process, and the press was going crazy... But as an artist it was incredibly exciting. When it came the time of performing, we didn´t have time to tech... We rush through tech, and that was when everything fall apart... The story wasn´t perfect, and it needed to be reworked, but that´s quite common in new shows. But unfortunately on Broadway, also because we had so much pressure from the press, we weren´t allowed to follow the natural process to change things... I was so attached to that role, cause it was kind of written for me. Unfortunately I got injured, and that was heartbreaking. We had been working in that theatre for six months, we were there from the morning right through the midnight. It was a role that Julie had created, and it was actually bigger than Spider-man. Because Julie is all about empowering women. Very few people saw the original production, and that character, Arachne, was based in the Greek myth Arachne, and it´s a shame that she got lost. When they re-did it, and they got rid of Julie, the whole storyline changed. And I actually think her original idea was brilliant, it just needed to be worked through. Unfortunately on Broadway you don´t have time, it´s so expensive. It was an unfortunate thing, but as an artist, it was still an incredible experience. I got to perform on Broadway, I got injured, but still I got to fulfill that dream. But I still have the dream of going back and really opening a show on Broadway.

ANY PROJECT YOU COULD TELL US ABOUT?
I see myself more as an artist than anything else. I´m involved in creating a new theatre show, which I´m so excited about... And I´ll probably end up directing film, and writing... but all with an artist sensibility.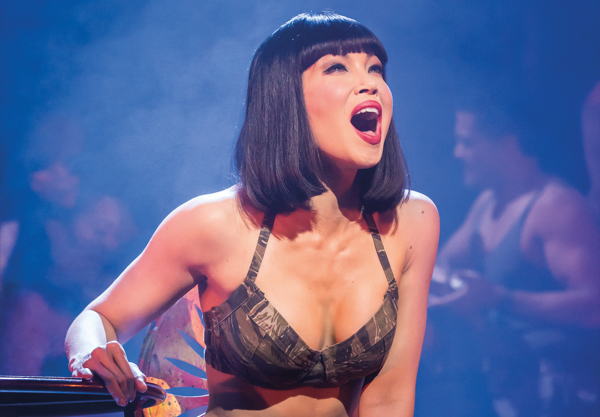 Natalie Mendoza as Gigi in the West End production of MISS SAIGON
Enlaces de Interés
Información Relacionada