noticias
El álbum del musical ROCK OF AGES llega a las tiendas el próximo 7 de julio
22/05/2009
La edición digital de este musical que se representa en el Brooks Atkinson Theatre de Broadway estará disponible en iTunes a partir del 1 de junio.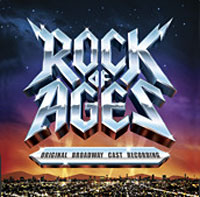 El 7 de julio sale a la venta el cd del reparto original en Broadway de ROCK OF AGES, editado por New Line Records. Previamente, el 1 de junio el álbum ya estará disponible en iTunes.
ROCK OF AGES es un espectáculo situado en la década de los 80, cuya banda sonora incluye algunos de los grandes éxitos del rock de la época, procedentes de grupos como Bon Jovi, Styx, Reo Speedwagon, Pat Benatar, Foreigner, Twisted Sister, Poison, Asia o Whitesnake. Con un libreto de Chris D´Arienzo, dirección de Kristin Hanggi y coreografía de Kelly Devine, el musical se estrenó el 1 de octubre de 2008 en el New World Stages del Off-Broadway. El gran éxito que obtuvo motivó su transferencia al Brooks Atkinson Theatre de Broadway, donde inició funciones previas el 17 de marzo de 2009 siendo el estreno oficial el 7 de abril.
El reparto de ROCK OF AGES en Broadway está encabezado por Constantine Maroulis (finalista del concurso `American Idol´y protagonista de THE WEDDING SINGER), Amy Spanger (THE WEDDING SINGER, KISS ME KATE) y James Carpinello (SATURDAY NIGHT FEVER). Forman parte del elenco Mitchell Jarvis (FIDDLER ON THE ROOF), Michele Mais, Lauren Molina (SWEENEY TODD), Paul Schoeffler (SWEET CHARITY, NINE), Wesley Taylor, Ericka Hunter (FLOWER DRUM SONG, 42ND STREET), Jeremy Jordan, Michael Minarik (LES MISERABLES), Angel Reed (SATURDAY NIGHT FEVER), Bahiyah Sayyed-Gaines (PAL JOEY, THE COLOR PURPLE), Katherine Tokarz (WHITE CHRISTMAS, A CHORUS LINE), Andre Ward (XANADU, THE PRODUCERS), Savannah Wise (LES MISERABLES), Tad Wilson (THE FULL MONTY) y Jeremy Woodard (GLORY DAYS).
El listado completo de temas del Original Broadway Cast Recording de ROCK OF AGES es el siguiente:
1. David Coverdale Introduction
2. Just Like Paradise / Nothin´ But A Good Time
3. Sister Christian
4. We Built This City / Too Much Time On My Hands
5. I Wanna Rock
6. We´re Not Gonna Take It
7. Heaven / More Than Words / To Be With You
8. Waiting For A Girl Like You
9. Wanted Dead Or Alive
10. I Want To Know What Love Is
11. Cum On Feel The Noize / We´re Not Gonna Take It (Reprise)
12. Harden My Heart / Shadows Of The Night
13. Here I Go Again
14. The Final Countdown
15. Any Way You Want It / I Wanna Rock (Reprise)
16. High Enough
17. I Hate Myself For Loving You / Heat Of The Moment
18. Hit Me With Your Best Shot
19. Can´t Fight This Feeling
20. Every Rose Has Its Thorn
21. Oh Sherrie
22. The Search Is Over
23. Don´t Stop Believin´
Enlaces de Interés
Información Relacionada
Comentarios
Para poder añadir comentarios necesitas autentificarte como usuario registrado de todoMUSICALES.