LEGALLY BLONDE THE MUSICAL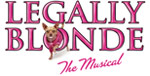 Música: Laurence O´Keefe y Bell Benjamin
Letras: Laurence O´Keefe y Bell Benjamin
Libreto: Heather Hach

SINOPSIS
Elle Woods es una rubia de California que parece tenerlo todo: es muy guapa, muy popular, tiene dinero, una de las mejores notas en su especialidad (diseño y confección) y un novio maravilloso llamado Warner. Sin embargo, todo se tuerce la noche en que éste la abandona por no considerarla suficientemente seria. Durante la depresión por la ruptura, Elle llega a la conclusión de que asistir a la Facultad de Derecho de Harvard, donde Warner ha iniciado los estudios, hará que este se dé cuenta de lo seria que es.
HISTORIA
El musical está basado en la novela de Amanda Brown y en la película homónima de 2001. Llegó a Broadway en abril de 2007 tras un pre-estreno en San Francisco (California) que recibió críticas muy positivas.

El espectáculo fue grabado para televisión en septiembre de 2007 y se emitió posteriormente en la MTV. La relación de este canal de televisión con el musical no acaba aquí, ya que en junio de 2008 emitió un reality bajo el título 'Legally Blonde – The Musical: The Search for Elle Woods' para encontrar a la nueva protagonista. El concurso lo ganó la joven de 20 años Bailey Hanks, que debutó en el Palace Theatre de Broadway el 23 de julio de 2008.

En septiembre de 2008 se inició una gira norteamericana de LEGALLY BLONDE protagonizada por Becky Gulsvig; y en diciembre de 2009 el espectáculo realizó su premiere en el West End.

Está previsto que LEGALLY BLONDE THE MUSICAL llegue a Filipinas en el 2010.
PRODUCCIONES
GRABACIONES



Cd LEGALLY BLONDE THE MUSICAL (2007 Original Broadway Cast)
Año edición: 2007 (Ghostlight)

+ lista de temas



Cd LEGALLY BLONDE (Original London Cast Recording)
Año edición: 2010 (First Night)

+ lista de temas
Enlaces de Interés
Multimedia
Información Relacionada


Para poder modificar o completar datos de esta ficha, debes autentificarte primero como usuario registrado de todoMUSICALES