RAGTIME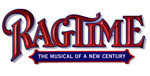 Música: Stephen Flaherty
Letras: Lynn Ahrens
Libreto: Terrence McNally

SINOPSIS
Basado en la épica novela de Edgar Lawrence Doctorow, RAGTIME ofrece un fiel retrato de los primeros quince años del siglo XX en Nueva York -un tiempo invadido por la música Ragtime en el que cualquier cosa era posible- a través de una familia peculiar: el padre inmigrante judío y empresario de objetos patrióticos y a la vez explorador en sus ratos libres; la madre ama de casa de buen ver y mejor corazón; el hermano menor; el cuñadísimo excéntrico buscando realizarse; y el niño pequeño que crece sin mucho control. La situación política y social, la inmigración, la pobreza, el racismo marcan gran parte del relato, pero son los cameos de personajes históricos los que ponen la guinda: Houidini, Henry Ford, Booker T. Washington y Evelyn Nesbit, son no sólo adyacentes sino secundarios de lujo que juegan un papel importante en la trama principal. Juntos, sus historias celebrarán la lucha entre la tradición y la independencia en la persecución del Gran Sueño Americano.
HISTORIA
Antes de su estreno en el Ford Center for the Performing Arts de Broadway (posteriormente llamado Hilton Theatre) en enero de 1998 el musical se testeó en Toronto y en Los Ángeles. RAGTIME permaneció durante dos años en Broadway, no consiguiendo el éxito esperado en una producción que fue de las más ambiciosas de la historia del género.

El musical recibió críticas variables. En algunas de ellas se destacaba que el gran presupuesto del montaje utilizado en una imponente escenografía (con fuegos artificiales incluidos) ocultaba problemas en el guión.

RAGTIME recibió 13 nominaciones a los premios Tony en 1998, consiguiendo tan sólo 4 de ellos, ya que tenía como rival a THE LION KING, que le arrebató la mayoría de los premios.
Tras su estreno en Broadway el musical se pudo ver en gira pr Estados Unidos, en Londres, en Nueva Zelanda, Japón y Alemania. En el 2009 se estrena en Broadway el primer revival del musical.
PRODUCCIONES
GRABACIONES



Cd RAGTIME - THE MUSICAL (Original Broadway Cast)
Año edición: 1998 (RCA Victor Broadway)

+ lista de temas
Información Relacionada


Para poder modificar o completar datos de esta ficha, debes autentificarte primero como usuario registrado de todoMUSICALES