[ Volver al artículo en castellano ]
MADALENA ALBERTO, Lisbon 1984
23/09/2009
Portuguese actress and singer who has starred in FAME (UK Tour), THE THREEPENNY OPERA (Lisboa) and CHICAGO (Kuala Lumpur). She was in the Original London Cast of ZORRO, THE MUSICAL, and she performs Sam in OVER THE THRESHOLD (Jermyn Street Theatre,London)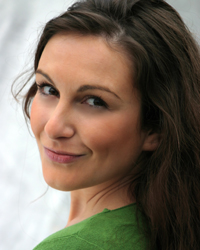 Her professional debut was in ALADDIN at the Old Vic, London, with Sir Ian McKellen.

Other theatre credits include Carmen Diaz in FAME (UK Tour), Lucy in THREEPENY OPERA (Lisbon), Hunyak in CHICAGO (Kuala Lumpur) and she was part of the original cast of West End's production of ZORRO THE MUSICAL, being also the cover of the role of Luisa.

Currently she is performing Sam in Christopher Hamilton's musical OVER THE THRESHOLD, at the London's Jermyn Street Theatre.


- The first musical you saw and/or most impressed you: The first musical I saw was CHICAGO. We don't have any (good) musicals in Lisbon so I was very impressed when the tour came over.

- You would like to make a duet with: Jeff Buckley, but he is gone… singing: "Halleluja" in a small studio.

- Webber o Sondheim? Never Webber!!

- London or New York? LA.

- Do you keep the programmes of the musicals you watch? No, I never buy them either (is that bad?).

- The worst moment you've had live on the stage was: (as a performer and/or as a spectator) It was probably during the tech of ZORRO, watching my friend, the Zorro stuntman have a horrible accident and we all thought he could be gone…

- An unforgettable moment: (as a performer and/or as a spectator) The joy of the job is that I have a lot of good unforgettable moments as a performer. Singing to 3000 people on top of a yellow cab on my birthday (FAME), the first time I did flamenco on stage, or the first time I kissed Zorro! Doing OVER THE THRESHOLD at the Edinburgh fringe is quite an unforgettable experience as well.

- Do you have any superstitions before the opening night? I'm not superstitious... I'm too rational... I guess i just try to be focused before the show, not to fuck it up!

- A musical character that you would like to BE (not perform): I would like to be strong as Piaf and knowing as Sam (in OVER THE THRESHOLD).

- A character of your opposite sex that you would like to perform: Bob Dylan.

- The more / less you like of your work: What I don't like about my job is the time when I don't know when my next job is, auditioning, repetition, dance clean up calls, arrogant people and air conditioners. I love to perform, to travel, to meet amazing inspiring people, and to do new things as much as possible and learn.

- What is your favorite musical movie? ONCE.

- The last CD/DVD related to Musicals that you have bought is: ON THE OTHER SIDE OF THE BED (Spanish).

- What is your favorite line from a musical: Hmmm, don't think musicals have good enough scripts... Maybe I just don't know them well enough.

- Agree or disagree with TV Shows finding new Musical Stars: I never watch them. I think they are tacky and bad for the industry. I agree that some people that are talented got some breaks through them, but most of them aren't and they are getting jobs in front of any of my colleagues who have worked and trained for years. It also makes it look like it is an easy job and that anybody can do it. It makes the standards very mediocre, which is not good when the industry is already seen as "low art".

- You feel proud of: All the little achievements I have had so far, and of some people I have met on the way and made me into a better person. But there is so much to do still…

- Of this moment you're living as an actress, the most important thing to you is: To keep focused on where I wanna go with my career but also not too worry too much. Life is too short and the world is a white canvas.

- Other projects you are working on: On my music. I started writing recently as a hobby but want to try and take it more seriously. I enjoy writing, and performing my own material, it is very, very different than to perform in a musical. But the truth should always be there. On both.
Multimedia
Información Relacionada