noticias
22 compositores participarán en 'When You Hear My Voice', el cuarto programa de los Tim Williams Awards
18/05/2011
26 artistas del West End, entre ellos Madalena Alberto, Rebecca Caine, Peter Polycarpou y Kelly Price, interpretarán 28 temas que competirán por el galardón en el concierto que tendrá lugar el 26 de junio de 2011 en el Cochrane Theatre de Londres.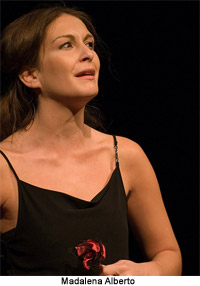 El Cochrane Theatre de Londres acogerá el 26 de junio de 2011 (de 18h a 21h) 'When You Hear My Voice', el cuarto programa de conciertos de los Tim Williams Awards que valoran el arte los compositores de teatro musical británico y en el que participan diversos artistas del West End.
'When You Hear My Voice' cuenta con la participación de 22 compositores que han creado 28 canciones a partir de letras ya existentes, no creadas para ser cantadas originalmente. Los temas serán interpretados por 26 artistas del West End.

Estos galardones fueron creados en junio de 2009 en memoria del director musical de la London Shakespeare Workout (LSW), compañía creada en 1997 por Bruce Wall y Dorothy Tutin que utiliza los trabajos de Shakespeare para potenciar la creación teatral, cinematográfica y musical. Este año los Tim Williams Award se organizan en beneficio de la entidad 'Help For Heroes' (específicamente para 'Walking For The Wounded'), en reconocimiento al trabajo realizado por la compañía LSW el pasado año con el Military Corrective Training Centre. La entrada-donación tiene un precio mínimo de £5.

Los compositores participantes en esta edición son Craig Adams, Valerio Antognelli, Duncan Walsh Atkins, Joseph Atkins, Corin Buckeridge, Candida Caldicot, Pippa Cleary, Gareth Peter Dicks, Ian Dolamore, Christopher Hamilton, David Hewson, Alfie Granger-Howell,Stephan Hodel, Theo Jamieson, James Lark, Richard Link, Rachel Lyske, Andy MacDonald, Lindsey Miller, Stuart Matthew Price, Nicholas Paul Simpson y Tim Williams; quienes han compuesto canciones a partir de textos de autores como Emily Bronte, Lewis Carroll, Noel Coward, Chales Dickens, Arthur Conan Doyle o William Shakespeare, entre otros.

Los artistas del West End que participarán en 'When You Hear My Voice' interpretando los temas a concurso son: Madalena Alberto (GODSPELL, LES MISÉRABLES), Jay Bryce (LES MISÉRABLES, OLIVER!), Rebecca Caine (LES MISÉRABLES, PHANTOM OF THE OPERA), Vivien Carter (CHICAGO, EVITA), Valerie Cutko (CABARET, MY FAIR LADY), Marilyn Cutts (INTO THE WOODS, OKLAHOMA), Mark Dickinson (LES MISÉRABLES, WHITE CHRISTMAS), Nicole Faraday (BAD GIRLS THE MUSICAL), Shimi Goodman (CHICAGO), Rebekah Hinds, Tyrone Huntley, Sarah Lark (OLIVER!, MAMMA MIA!), Rebecca Lock (PHANTOM OF THE OPERA, AVENUE Q), Louis Maskell, Michael Peavoy, Dianne Pilkington (SHE LOVES ME, WICKED), Laura Pitt-Pulford (SUNSET BOULEVARD, CAROUSEL), Peter Polycarpou (LOVE STORY, PHANTOM OF THE OPERA), Kelly Pryce (A LITTLE NIGHT MUSIC, CHICAGO), Stuart Matthew Price (SHREK, PARADE), Gina Respall (THE KING AND I), James Smoker (LES MISÉRABLES) y Anton Stephans (SOUND OF MUSIC).

El jurado que seleccionará a los ganadores de los diferentes premios que se entregarán al final de la velada lo formarán Craig Adams, Alex Baranowski, Frank Lazarus, Neil Marcus, Laurie Sansom, Mark Shenton, Paul Vale y Phil Willmott.

En la pasada edición de los Tim Williams Awards, celebrada el 20 de junio de 2010, los premiados fueron Christopher Hamilton por el tema "Burn" (Premio a la Mejor Composición), Craig Adams por "Live Hence By Truth" (Premio del público Viejas Palabras - Nueva Canción Teatral) y Blanche Girouard por el tema "Horsey" inspirado en un texto de George Bernard Shaw (Premio a la Mejor Letra Original Inspirada por un Clásico).
Enlaces de Interés
Información Relacionada
Comentarios
Para poder añadir comentarios necesitas autentificarte como usuario registrado de todoMUSICALES.