noticias
Laura Benanti y Cheyenne Jackson protagonizarán THE MOST HAPPY FELLA en el ciclo Encores!
07/03/2014
La producción en versión concierto del musical de Frank Loesser se podrá ver en el New York City Center del 2 al 6 de abril de 2014 dirigida por Casey Nicholaw.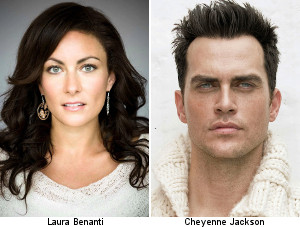 Se ha anunciado el elenco completo que representará el musical THE MOST HAPPY FELLA de Frank Loesser dentro de la programación del ciclo Encores! 2014 del New York City Center del 2 al 6 de abril de 2014.
Laura Benanti (GYPSY, WOMEN ON THE VERGE...) como Rosabella liderará el elenco de esta producción junto a Cheyenne Jackson (XANADU) como Joe y Shuler Hensley (YOUNG FRANKENSTEIN) como Tony. A su lado estarán Heidi Blickenstaff (THE LITTLE MERMAID, TITLE OF SHOW) como Cleo, Brian Cali como Ciccio, Bradley Dean como Guiseppe, Zachary James como Pasquale, Jay Armstrong Johnson como Herman, Jessica Molaskey como Marie y Kevin Vortmann como Doctor.

El ensamble lo integran Ryan Bauer-Walsh, Joseph Beutel, Ward Billeisen, Tanya Birl, Callie Carter, Daniel Curran, Kevin Grace, Steven Trumon Gray, Arlo Hill, Leah Horowitz, Andrea Jones-Sojola, Anne Kanengieser, Lizzie Klemperer, Eloise Kropp, Shina Ann Morris, Patricia Noonan, Lindsay O´Neil, Jessica Lea Patty, Aleks Pevec, Wayne Pretlow, Rachel Rhodes-Devey, Christopher Rice, Daniel Schwait, Manuel Stark, Sam Strasfeld, Kathryn Terza, Clay Thomson y Kathy Voytko.

La producción estará dirigida por Casey Nicholaw (THE BOOK OF MORMON, ELF, THE DROWSY CHAPERONE, SPAMALOT) y contará con dirección musical de Rob Berman.

THE MOST HAPPY FELLA es el musical más ambicioso y romántico de Frank Loesser (GUYS AND DOLLS). Explica el triángulo amoroso entre un envejecido granjero de Napa Valley (Tony), una joven camarera (Rosabella) y un guapo e inquieto propietario de un rancho (Joe).

THE MOST HAPPY FELLA, basado en la obra 'They Knew What They Wanted' de Sidney Howard, cuenta con libreto, música y letras de Frank Loesser. Su partitura incluye temas como "Somebody Somewhere", "My Heart Is So Full of You", "Big D" y "Standing on the Corner".

La producción original de THE MOST HAPPY FELLA se estrenó en el Imperial Theatre de Broadway el 3 de mayo de 1956, realizando 676 funciones; y fue revivido por la Light Opera del New York City Center realizando 16 únicas representaciones del 10 al 22 de febrero de 1959. En Broadway se han estrenado dos revivals del musical, uno en 1979 y otro en 1992.
Enlaces de Interés
Información Relacionada
Comentarios
Para poder añadir comentarios necesitas autentificarte como usuario registrado de todoMUSICALES.