noticias
Edward Watts y Jenny Powers protagonizan IT'S SUPERMAN en el ciclo Encores!
20/03/2013
El montaje en versión concierto de este musical de Charles Strouse y Lee Adams se podrá ver del 20 al 24 de marzo de 2013 en el New York City Center dirigido por John Rando.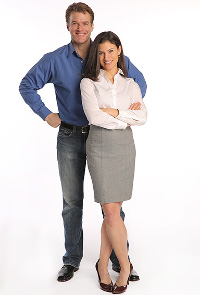 Edward Watts y Jenny Powers protagonizan la segunda propuesta de esta temporada del afamado ciclo Encores! del New York City Center. Se trata del musical IT'S A BIRD... IT'S A PLANE... IT'S SUPERMAN, que se podrá ver del 20 al 24 de marzo de 2013.
Edward Watts (Superman) ha participado recientemente en el musical de Broadway SCANDALOUS; y también participó en FINIAN'S RAINBOW. Dio vida a El Gallo en THE FANTASTICKS; y formó parte del elenco de la producción de la New York City Opera de THE MOST HAPPY FELLA.

Jenny Powers (Lois Lane) dio vida a Meg en la producción de Broadway de LITTLE WOMEN; y a Rizzo en el último revival de GREASE. En verano de 2010 protagonizó junto a su marido Matt Cavenaugh una producción presentada por el Dallas Theater Center de IT'S A BIRD... IT'S A PLANE... IT'S SUPERMAN.

Completan el elenco David Pittu (Dr. Sedgwick), Adam Monley (Jim Morgan), Scott Weber, Craig Henningsen, Suo Liu, Alli Mauzey (Sydney), Jason Ng, James Saito (Father Ling) y Will Swenson (Max Menken) junto a Wendi Bergamini, Ward Billeisen, Sam Bolen, Stephen Carrasco, Hannah Florence, Sara Jean Ford, Miles Johnson, Max Kumangai, Samantha Massell, Skye Mattox, Kenita R. Miller, Michael Mindlin, Jessica Lea Patty, David Scott Purdy, Manuel Stark, Charlie Williams, Kirsten Wyatt y Samantha Zack.

La producción está dirigida por John Rando con coreografías de Joshua Bergasse y dirección musical de Rob Berman.

IT'S A BIRD... IT'S A PLANE... IT'S SUPERMAN, basado en el personaje de cómic 'Superman', cuenta con libreto de David Newman y Robert Benton, quienes posteriormente escribirían el guión de la película 'Superman' protagonizada por Christopher Reeve. La música es de Charles Strouse (ANNIE) y las letras de Lee Adams. Strouse y Adams escribieron también las canciones de otros musicales como APPLAUSE, BYE BYE BIRDIE y GOLDEN BOY.

La producción original de IT'S A BIRD... IT'S A PLANE... IT'S SUPERMAN se estrenó en el Alvin Theatre (actualmente Neil Simon Theatre) de Broadway el 29 de marzo de 1966, realizando un total de 129 funciones. Fue dirigida por Harold Prince y protagonizada por Bob Holiday, Patricia Marand, Jack Cassidy y Linda Lavin.

El espectáculo incluye canciones como "You´ve Got What I Need", "I'm Not Finished Yet", "The Woman for The Man" y "You've Got Possibilities", que fue popularizada por Linda Lavin.

Enlaces de Interés
Información Relacionada
Comentarios
Para poder añadir comentarios necesitas autentificarte como usuario registrado de todoMUSICALES.