noticias
El ciclo Encores! presenta una nueva producción de MUSIC IN THE AIR de Kern y Hammerstein
14/12/2008
El musical estrenado en Broadway en 1932 se representará del 5 al 8 de febrero de 2009 en el New York City Center con Sally Ann Howes, Sierra Bogges, Marin Mazzie y Dick Latessa como protagonistas.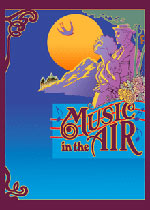 El ciclo Encores! Great American Musicals in Concert (Grandes Musicales Americanos en concierto) organizado por el New York City Center presenta, del 5 al 8 de febrero de 2009, el musical MUSIC IN THE AIR, de Jerome Kern y Oscar Hammerstein II.
Estrenado en Broadway en 1932, MUSIC IN THE AIR sólo cuenta con un revival, realizado en 1951. Desde entonces, no se ha vuelto a ver ninguna producción de esta pieza que ahora ha sido restaurada por la Rodgers & Hammerstein Organization.

Garry Griffin dirigirá un reparto encabezado por Sally Ann Howes (CHITTY CHITTY BANG BANG), Sierra Bogges (THE LITTLE MERMAID), Marin Mazzie, Dick Latessa, Walter Charles, Anne L. Nathan, Tom Alan Robbins y Douglas Sills.

MUSIC IN THE AIR es un romance musical. Cuenta la historia de un profesor de música y su encantadora hija, quienes viajan a Munich, donde conocen a un joven que conquistará el corazón de la joven y la engañará con falsas promesas de amor, riqueza y fama.

El espectáculo incluye canciones como "I've Told Ev'ry Little Star", "The Song Is You", "There Is a Hill Beyond a Hill", "And Love Was Born", "One More Dance" y"Night Flies". La orquesta estará dirigida por Rob Berman.
Enlaces de Interés
Información Relacionada
Comentarios
Para poder añadir comentarios necesitas autentificarte como usuario registrado de todoMUSICALES.