noticias
Se edita el álbum del actual revival londinense de SINGIN´ IN THE RAIN
25/07/2012
Adam Cooper, Scarlett Strallen, Daniel Crossley y Katherine Kingsley son los protagonistas de este montaje dirigido por Jonathan Church del musical de Nacio Herb Brown y Arthur Freed que está en cartel en el Palace Theatre del West End.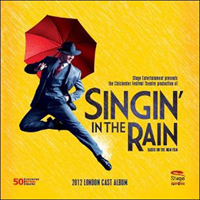 La discográfica londinense First Night Records edita el álbum del actual revival londinense de SINGIN' IN THE RAIN, que saldrá a la venta el 13 de agosto de 2012.
La nueva producción de SINGIN' IN THE RAIN dirigida por Jonathan Chruch se representa actualmente en el Palace Theatre del West End de Londres, donde inició funciones el 4 de febrero de 2012, tras su éxito en el Chichester Festival Theatre en verano de 2011. El musical se estrenó oficialmente el 15 de febrero de 2012.

El montaje, que cuenta con coreografía de Andrew Wright, está basado en la clásica película de la MGM de 1952 y está producido en el West End por Stage Entertainment UK y el Chichester Festival Theatre. El periodo de venta de entradas está abierto actualmente hasta el 23 de febrero de 2013.

El elenco que representa el musical en el West End está liderado por los mismos intérpretes que protagonizaron la producción en Chichester, con Adam Cooper como Don Lockwood, Daniel Crossley como Cosmo Brown, Scarlett Strallen como Kathy Seldon y Katherine Kingsley como Lina Lamot; además de Michael Brandon como RF Simpson y Sandra Dickinson como Dora Bailey / Miss Dinsmore.

Completan el reparto Peter Forbes, David Lucas, Ebony Molina, Brendan Cull, Nancy Wei George, David Birch, Danielle Crockford, Matthew Croke, Jennifer Davison, Flora Dawson, Jaye Juliette Elster, Luke Fetherston, Gemma Fuller, Francis Haugen, Daniel Ioannou, Peter Le Brun, Charlie Martin, Scott Mobley, Gillian Parkhouse, Sherrie Pennington, Lisa Ritchie, Jack Wilcox, Jack Butcher, Joshue Beaney Ford, Thomas Holmes, William Keeler, Jude Loseby y Joe Wolstenholme.

El personaje central del musical es Don Lockwood, una estrella del cine mudo. Antes de conocer a la aspirante a actriz Cathy Selden, Don pensaba que lo tenía todo: fama, fortuna y éxito. Pero, tras conocerla, se da cuenta de que ella es lo que realmente faltaba en su vida. Con el nacimiento del cine sonoro, Don quiere filmar los musicales con Kathy, pero entre ambos se interpone la reina del cine mudo: Lina Lamont.

SINGIN' IN THE RAIN cuenta con canciones de Nacio Herb Brown y Arthur Freed, entre las que se encuentran "Make 'em Laugh", "Good Morning", "Moses Supposes" y "Singin' in the Rain". El guión original y las adaptaciones son de Betty Comden y Adolph Green.

El equipo creativo del espectáculo lo completan Simon Higlett (escenografía), Matt McKenzie (sonido) y Tim Mitchell (iluminación). Robert Scott es el director y supervisor musical.

El listado completo de temas del álbum 'SINGIN' IN THE RAIN – 2012 London Cast Album' es el siguiente:

1. Overture
2. Fit As A Fiddle
3. You Stepped Out Of A Dream
4. All I Do
5. Make 'Em Laugh
6. Beautiful Girl
7. You Are My Lucky Star
8. You Were Meant For Me
9. Moses Supposes
10. Good Morning
11. Singin' In The Rain
12. Entr'acte
13. Good Morning Reprise
14. Would You?
15. What's Wrong With Me?
16. Broadway Melody Ballet
17. Lucky Star (Reprise)
18. Singin' In The Rain (Reprise)
19. Playout
Enlaces de Interés
Información Relacionada
Comentarios
Para poder añadir comentarios necesitas autentificarte como usuario registrado de todoMUSICALES.