entrevistas
[ Volver al artículo en castellano ]
Zachary James: "THE ADDAMS FAMILY is very special and exceedingly beautiful"
28/03/2011
The American performer plays Lurch in Andrew Lippa's THE ADDAMS FAMILY, which is going to celebrate its first year at Broadway's Lunt-Fontanne Theatre on the 8th April 2011.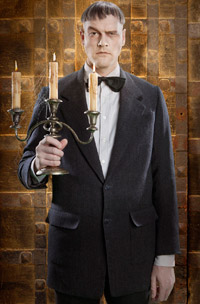 With book by Marshall Brickman and Rick Elice, and music and lyrics by Andrew Lippa, THE ADDAMS FAMILY opened at Lunt-Fontanne Theatre on 8th April 2010. When the show is about to celebrate its first year on Broadway, we talk with one of the performers who has been involved with that production since the very beginning: Zachary James.
Born in 1981, Zachary James has developed his career both in the Opera and in the theatrical world. His Broadway debut was in 'Coram Boy' in 2007 and, on the following year, he took part of the acclaimed Lincoln Center production of SOUTH PACIFIC.

Zachary tells us about his work in THE ADDAMS FAMILY and about his musical theatre career.


YOU'RE PLAYING LURCH IN THE ADDAMS FAMILY. HOW WOULD YOU DESCRIBE THIS ROLE?
Lurch is a very fun character to play each day, but a very complex one as well. He is a man of few words and expresses himself through subtle movements, mumbles and groans. It is thrilling to play such an iconic and beloved character. I was given the opportunity to bring my own ideas to the role, rather than recreate how Lurch was portrayed on television and in the movies. The biggest challenge of this character is to remain present and engaged in the story, while being unobtrusive and silent.

WHAT DOES IT MEAN TO YOU TO TAKE PART OF THIS BRAND NEW MUSICAL? HOW WAS THE PROCESS OF CREATING THE ROLE? DID YOU ENJOY IT?
Creating a new show is every actor's dream. When working on a piece that has been done before there is expectation of how every element should be done according to tradition. When working on a new piece of theatre, everyone involved has the opportunity to collaborate in a way that invites their vision and ideas in to the creative construction of the show. I have been working on THE ADDAMS FAMILY for almost three years now including the developmental readings and workshops of the piece. It was a great opportunity filled with surprises at every turn, to see how the piece developed over these years.

THE ADDAMS FAMILY MUSIC HAS BEEN PENNED BY ANDREW LIPPA. WHAT WOULD YOU HIGHLIGHT FROM HIS MUSIC?
Andrew is a fantastic and very talented composer. I was a fan of his work on WILD PARTY and
YOU'RE A GOOD MAN CHARLIE BROWN long before I met him and began to work with him on THE ADDAMS FAMILY. Andrew has a great gift with language and is one of few composers who is also a lyricist. A very special aspect of Andrew's talent is his ability to write for the characters in a way that exposes their inner life. He has a style and flair that is very unique. I am very excited to watch his career grow.

WHAT DO YOU LIKE MOST OF THE ADDAMS FAMILY? HAVE YOU GOT ANY FAVOURITE SCENES AS A PERFORMER?
A very special part of our production is the visual design and execution of special effects. Our director designers, Phelim McDermott and Julian Crouch along with the extraordinarily gifted puppet designer, Basil Twist, have created an amazing atmosphere around the show. The original concept was to pay homage to vaudeville and old Broadway. The special effects in the show, while beautiful and impressive, were created as if it were 1920. Simple stagecraft was used in such an elegant fashion as to create beauty without the technology and tools available to us today. For this reason, I think our show is very special and exceedingly beautiful. Anyone can add fancy extravagant special effects to a show, but few artists have the ability to take very simple elements and create magic.

HAVE YOU BEEN IN TOUCH WITH ANY FANS OF THE COMICS AND/OR THE FANS OF THE TV SERIES CREATED FROM CHARLES ADDAMS CHARACTERS? ARE THEY HAPPY WITH THE MUSICAL?
We have wonderful, enthusiastic fans of both our show and these iconic Charles Addams characters. I am constantly delighted by the amount of fan mail we receive. We also get a lot of artwork from our fans, I think because the characters are based on artwork. I have a wonderful collection of all the Lurch art I have received, whether drawing, painting, sculpture or collage.

RECENTLY THERE HAVE BEEN SOME CASTING CHANGES IN THE SHOW. HOW DO THEY USUALLY AFFECT THE SHOW AND PERFORMERS WHO STAY ON DOING THEIR ROLES?
This is my second time doing a long running Broadway show. Cast changes are inevitable and while it is sad to say goodbye to our friends who move on, it is always exciting to have a new member of the family. It requires being open to change both onstage and off, and being willing to adjust your own performance to collaborate with new choices and styles.

THE SHOW RECEIVED MIXED REVIEWS… DO YOU USUALLY READ THEM? WHAT DO YOU THINK ABOUT THEATRE REVIEWS?
I do read reviews. I find them fascinating and always have. I read reviews for most of the shows that open every season. I think it is fascinating that one person can love a show and the next person can hate it. This difference between people and in opinions is what makes the world go round. We all like different things. It is important to keep that in mind when reading a review, that this is one person's opinion. It is difficult to read negative opinions about something that you care about and are proud of, but I read reviews knowing this can and will happen. My first Broadway show was CORAM BOY, a transfer from the National Theatre in London. While it was a huge hit in London, American audiences did not understand the show. I was so proud of the production and found it to be one of the most beautiful pieces of theatre I had ever experienced. It was so difficult when it was not celebrated by the critics, and subsequently closed. But I was onstage every day when we were greeted with standing ovations. I could see people crying as they leapt to their feet. And that is why we do theatre. It is to touch people and invite them to a land where anything can happen, not to be reviewed by critics. I think critics are important, but I always encourage people to develop their taste independently and decide on their own whether or not they like something. THE ADDAMS FAMILY is a fun show about family and love. It is not changing the face of theatre, but every day we tell a story and make people laugh. There
is a great value in this.

YOU TOOK PART OF THE ACCLAIMED LINCOLN CENTER PRODUCTION OF SOUTH PACIFIC. HOW WOULD YOU ASSESS YOUR WORK IN THAT SHOW?
SOUTH PACIFIC was a magnificent experience. It was one of those shows that happened at exactly the right time with exactly the right people. Working at Lincoln Center was a dream come true in so many ways. An actor can go a lifetime working in the theatre and never experience what it is to be celebrated the way we were in this production. I am truly grateful to have had the opportunity to be involved in this magnificent and important work.

COULD YOU COMMENT ON YOUR FUTURE PROJECTS?
I have been doing several developmental readings and workshops of new musicals in consideration for future runs on Broadway. Most of them I am not at liberty to talk about due to secrecy clauses. I can say that it is wonderful to have the opportunity to work on so many wonderful new works and again, always wonderful to have the chance to collaborate and have creative input in the construction of a new piece of theatre.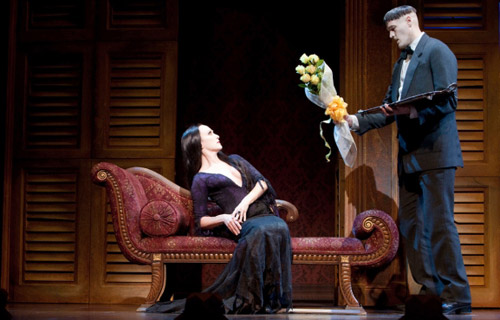 Bebe Neuwirth (Morticia) and Zachary James (Lurch) in a escene of THE ADDAMS FAMILY
Enlaces de Interés
Información Relacionada