noticias
[ Volver al artículo en castellano ]
Madalena Alberto to offer an intimate evening at Barcelona's La Cova del Drac
22/10/2012
Under the musical direction of Alfonso Casado on the piano, the West End leading lady who starred in LES MISÉRABLES and JEKYLL AND HYDE will perform some of the songs that have marked her career on the 3rd December 2012.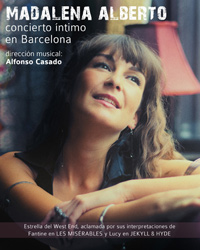 West End Star Madalena Alberto will make her Spanish debut next December with an intimate evening at Barcelona's La Cova del Drac de Barcelona, under the musical direction of Alfonso Casado on the piano. This unique and intimate evening with Madalena Alberto will take place on Monday 3rd December 2012 at 9.30pm.
In this intimate evening Madalena Alberto will perform some of the songs that have marked her career in Musical Theatre, such as "I Dreamed a Dream" from LES MISÉRABLES, and will also offer the audience some of her own compositions and have a surprise Spanish guest to join her in a duet.

The emblematic Catalan venue of La Cova del Drac, is resemblant to the illustrious live performance spaces in New York, like Birdland Jazz Club or Café Carlyle, or the recently opened London Hippodrome, where the greatest Broadway and West End stars offer their intimate concerts.

Originally from Lisbon, Madalena moved to London with a scholarship to enrol on a performing arts degree; and since her graduation she has developed a successful career in Musical Theatre. She has recently performed the role of Lucy in the acclaimed Morphic Graffiti production of JEKYLL AND HYDE at the Union Theatre. She also played the role of Fantine in the acclaimed 25th Anniversary International Tour production of LES MISÉRABLES which finished at London's Barbican Center on October 2010. In Spring 2011 she performed in a new production of GODSPELL directed by Michael Strassen at the Union Theatre. And she has also starred in shows such as FAME, CHICAGO, ZORRO THE MUSICAL (West End) and OVER THE THRESHOLD (Edinburgh and Off-West End).

Apart from her career as an actress, Madalena has recently developed a career as a singer / songwriter. In March 2011 she released the album 'Foreign Sketches - Live Studio Recording' in which she performed her songs solely with a guitar. And she has recently released her new EP 'Heart condition', recorded and produced at Rock Box Studios. Madalena has been offering different concerts where she performs her own material, both in Lisbon and in London, from the dampest caves in Camden Town to the majestic Old Vic stage.

Alfonso Casado is currently conducting the original production of LES MISÉRABLES at the Queen's Theatre in London. The Sevillian musician has been the Musical Director of the Spanish productions of MAMMA MIA!, HIGH SCHOOL MUSICAL and LOS MISERABLES, having received different awards due to this last work.
Enlaces de Interés
Información Relacionada
Comentarios
Para poder añadir comentarios necesitas autentificarte como usuario registrado de todoMUSICALES.