noticias
[ Volver al artículo en castellano ]
MATILDA THE MUSICAL will open at West End's Cambridge Theatre in October 2011
19/05/2011
The Royal Shakespeare Company's world premiere musical which opened at the RSC's The Courtyard Theatre in Stratford-upon-Avon last November 2010 will begin performances in London on October 18th.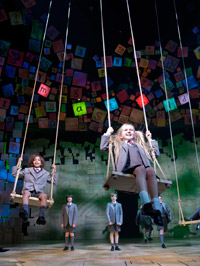 The Royal Shakespeare Company's world premiere production of Roald Dahl's MATILDA THE MUSICAL will transfer to London's Cambridge Theatre on Tuesday 18 October
Priority booking for RSC Members opens at 9am on Friday 20 May. General booking opens on the following day, Saturday 21 May, at 9am. For the initial booking period tickets are available for performances up to and including Sunday 12 February 2012.

The RSC's The Courtyard Theatre in Stratford-upon-Avon for twelve weeks from November 2010 played to sold-out audiences at the RSC's The Courtyard Theatre in Stratford-upon-Avon for twelve weeks from November 2010 to January 2011. Roald Dahl's magical story about a girl with extraordinary powers has been a favourite novel for millions of people across the world since it was published in 1988.

The new stage musical, which captured the imagination of young and old alike during its short run, is written by the highly acclaimed playwright Dennis Kelly, with music and lyrics by the anarchic Australian comedian, musician and composer Tim Minchin, and direction by Matthew Warchus (GHOST THE MUSICAL).

The production is designed by Rob Howell, with choreography by Peter Darling, musical supervision and orchestration by Christopher Nightingale, lighting by Hugh Vanstone, sound by Simon Baker and special effects and illusions are by Paul Kieve. All the creative team (except the choreographer) is the same that has worked with Warchus in GHOST THE MUSICAL.

The entire creative team will reassemble to create the London production.

Many adult cast members from the original production will reprise their roles at the Cambridge Theatre: Marc Antolin, Verity Bentham, Bertie Carvel (Miss Trunchbull), Paul Kaye (Mr Wormwood) Michael Kent, Melanie La Barrie, Matthew Malthouse, Alastair Parker, Nick Searle, Emily Shaw, Josie Walker (Mrs Wormwood) and Lauren Ward (Miss Honey). Further adult casting will include Matthew Clark, Leanne Pinder, Rachel Moran, Lucy Thatcher, Tim Walton and Gary Watson.

The casting process is currently under way to find the four young actresses who will play the role of Matilda and three teams of nine young performers who will re-create the roles of Bruce, Lavender, Amanda, Nigel, Eric and the other pupils at Crunchem Hall Primary School.

MATILDA THE MUSICAL is produced in the West End by the Royal Shakespeare Company with André Ptaszynski as Executive Producer.

The original cast soundtrack will be released in September 2011 and is initially available exclusively from the RSC shop.
Enlaces de Interés
Información Relacionada
Comentarios
Para poder añadir comentarios necesitas autentificarte como usuario registrado de todoMUSICALES.