entrevistas
[ Volver al artículo en castellano ]
Will Chase: "I think every artist has gone through some of what Billy Elliot goes through"
15/11/2010
Since July 7th 2009, Will Chase performs the role of Mike, Billy's older brother, in the acclaimed Broadway production of BILLY ELLIOT, which last Saturday November 13th celebrated its second year at the Imperial Theatre.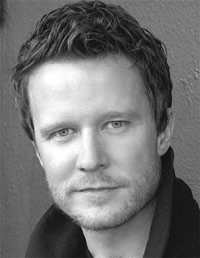 Will Chased joined the Broadway production of BILLY ELLIOT on July 7th 2009. Chase succeeded the original cast member Santino Fontana in the the role of Tony, Billy´s older brother, a hot-tempered miner.
BILLY ELLIOT celebrated two years on Broadway last Satuday November 13th 2010 at the Imperial Theatre. The musical earned ten 2009 Tony Awards, including one for Best Musical.

Will Chase has appeared on Broadway in THE STORY OF MY LIFE, HIGH FIDELITY, LENNON, THE FULL MONTY, AIDA, RENT and MISS SAIGON. His regional credits include roles in KISS OF THE SPIDER WOMAN, ASSASSINS, MAME, ELECTRA, SON OF FIRE, YOU´RE GONNA LOVE TOMORROW and TRASK & FENN.

Will Chase tell us about his work in the acclaimed Broadway production of BILLY ELLIOT and about his career in musical theatre.

WOULD YOU ASSESS YOUR WORK IN 'BILLY ELLIOT' SO FAR?
It´s been a great year. Every show is different because each audience is different, so in that sense, I would have to assess my work as still somehow fresh.

HOW WOULD YOU DESCRIBE THE ROLE OF TONY? WHAT DO YOU LIKE MOST OF PERFORMING IT?
Tony is a guy who is stuck between doing what is right for his community and his family. The greater good always wins out with Tony. His function in the show is to challenge Billy/Dad´s desire to hold up one individual, and create the dramatic tension.
What I love most about the performing the role is how what I do affects whatever Billy is on that evening.

'BILLY ELLIOT' TELLS THE STORY OF A BOY WHO FIGHTS TO MAKE HIS DREAM TRUE. DO YOU IDENTIFY WITH HIM IN ANY ASPECT? DID YOU HAVE TO FIGHT TO BECOME AN ACTOR?
Being an actor is a constant challenge, but one I love and wouldn´t change. I think every artist has gone through some of what Billy goes through, realizing some greatness within, having someone help foster that, and then deciding that the artist´s path is the only way for them.

THE SHOW IS STARRED BY KIDS, AND THE CAST IS ALSO FULL OF KIDS SO, HOW DO YOU FEEL WORKING WITH THEM? IS IT EASY FOR YOU?
I love being around the kids. I have two girls of my own. Very easy to be around them, and so fun to watch how amazing they really are in the show.

'BILLY ELLIOT' IS A HIT IN EACH PLACE IT IS PERFORMED. WHY DO YOU THINK AUDIENCE FEEL SO ATTRACTED TO THIS SHOW?
I think audiences love to see an "underdog" triumph. And especially when the underdog is a child in the direst of circumstances, the heart of the audience is opened, and if for a moment, they remember their dreams and aspirations, and can somehow live vicariously through Billy.

YOUR PREVIOUS BROADWAY SHOW WAS 'THE STORY OF MY LIFE', WHICH HAD A SHORT LIFE ON BROADWAY. WHAT DID YOU LEARN OF TAKING PART OF THIS SHOW?
Yeh, it was a shame it closed so quickly. It is finding quite a prolific life outside of New York. Lots of theaters around the country are doing productions. I just don´t know that the New York community wanted or needed a two person musical at the time.

YOU WERE THE LAST ROGER OF BROADWAY'S 'RENT' COMPANY. WHAT DID IT MEAN TO YOU ENDING THE SHOW AT THE NEDERLANDER THEATER
What an honor to be a part of such a theatrical phenomenon! I don´t know yet, if I´ve still quite grasped the impact of being in that show and especially being in the final Broadway performance. It was exhilarating and fun and cathartic and wonderful.

YOUR BROADWAY DEBUT WAS IN 1998, WHICH OF THE ROLES YOU HAVE PERFORMED ALONG ALL THESE YEARS HAVE BEEN MORE SIGNIFICANCE FOR YOU?
I have to say all of them. Each one has helped me grow as an actor, and I´ve gotten an amazing group of friends from each show I´ve done. Playing John Lennon was a lifelong dream realized. Chris in MISS SAIGON still has a special place in my being.

IS THERE ANY ACTOR, ACTRESS OR DIRECTOR WHO YOU HAVE WORKED WITH THESE YEARS THAT HAS BEEN SPECIALLY IMPORTANT FOR YOU? ANYONE WHO HAS HELPED YOU THE MOST?
Most recently, Mr. Greg Jbara. Beyond being an amazing acting partner on stage, he´s just a guy in life i want to emulate. He loves life, loves his family, loves his art and has a great balance to it all.
Don Scardino (writer and Director of LENNON) was very influential in my thinking about my craft and about my "Self".

COULD YOU COMMENT ON YOUR PROJECTS?
Currently working on BELLS ARE RINGING at Encores.
ROBIN AND THE SEVEN HOODS still in the works.
Just finished a movie with Jennifer Love Hewitt called 'Lost Valentine' and the season finale of 'Royal Pains' for USA network.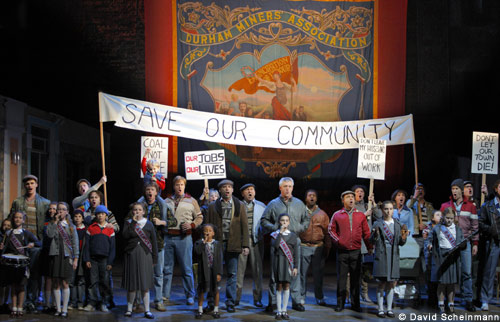 Enlaces de Interés
Información Relacionada