entrevistas
[ Volver al artículo en castellano ]
Julie Atherton: "It'll be an honour to perform in Barcelona"
09/04/2010
The British star of musicals as AVENUE Q, THE LAST 5 YEARS or TICK, TICK… BOOM! will perform in concert at Barcelona's Auditori next April 26th. 'Julie Atherton sings… todoMUSICALES' will be her first time outside the UK.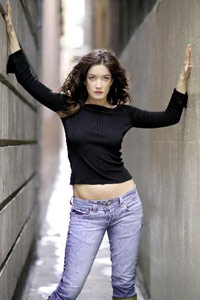 Julie Atherton will perform in concert in Spain for the first time next April 26th, 2010 (21.30h) at Barcelona's Auditori Sala Oriol Martorell. Julie will perform songs from some of the musicals she has starred in the West End, as AVENUE Q, MAMMA MIA!, THE LAST 5 YEARS o TICK, TICK… BOOM!; and some other popular show tunes.
There will be three guest stars, top Spanish musical theatre performers, that will perform with Julie some duets: Nina (MAMMA MIA!, CABARET), Daniel Anglès (RENT, NOTRE-DAME DE PARÍS, HEDWIG) and David Ordinas (BEAUTY AND THE BEAST, BLOOD BROTHERS).

For one date only, Julie will be performing her very own unique concert in Barcelona, 'Julie Atherton sings... todoMUSICALES'. Joining her will be her Musical Director Mark Collins.

Julie Atherton tells us about this special event, about her view regarding West End musicals and about some of her next projects.

WHAT DOES IT MEAN TO YOU THIS BARCELONA CONCERT? WHAT WILL YOU OFFER TO YOUR AUDIENCE?
It'll be an honour to perform in Barcelona and this is also my first time outside of the UK.

WHAT DO YOU THINK ABOUT THE PROPOSAL OF PERFORMING THREE DUETS WITH SPANISH PERFORMERS?
I'm very excited to meet them and I hope I can measure up.
DID YOU KNOW THAT YOU HAVE SO MANY SPANISH FANS?
I had NO IDEA but I'm very flattered!

LAST JANUARY YOU MAKE YOUR LAST PERFORMANCE IN AVENUE Q. WHAT SPECIAL MEANING HAVE FINALE PERFORMANCES FOR YOU? HOW WAS THAT NIGHT?
It was again sad to say goodbye to the puppets, cast & creative's but I was definitely ready to go! I'm always popping in to visit them anyway and as long as the show is running I will always feel a big part of it!

THERE'S A GOSSIP ABOUT AVENUE Q WILL OPEN IN SPAIN NEXT SEASON… DO YOU THINK THAT THIS MUSICAL COULD BE APPEALING FOR ALL KIND OF AUDIENCE?
Yes…apart from children and people with NO sense of humour!

WHEN DID YOU DECIDE THAT YOU WANTED TO DO MUSICAL THEATRE? WAS IT EASY TO GET IT?
At the age of 17 I decided I just had to go for it. If I didn't I would always regret it…besides, I wasn't any good at anything else!

PERFORMING A LEADING ROLE IN A WEST END MUSICAL WAS A GOAL FOR YOU? WHEN YOU GET IT, DID YOU GET DECEIVED, OR ON THE CONTRARY, WAS IT BETTER THAN YOU HAVE IMAGINED?
It was amazing I loved every minute of it and I still do!
Of course it's exhausting and can sometimes get a bit tedious doing the same thing for too long but it's the best job ever!

YOU PERFORMED SOPHIE IN MAMMA MIA!, A SHOW THAT IS STILL RUNNING IN SPAIN SIX YEARS AFTER ITS OPENING… HOW DO YOU REMEMBER WORKING IN THIS MUSICAL? DID YOU ENJOY IT?
This was my first job! I had a great time. I learnt very quickly that I had to watch my back though. When you get a lead so young, some people revel in your mistakes rather than offer advice but I was lucky to have such a supportive cast around me.

YOU'VE PERFORMED IN A LOT OF CONCERTS. WHAT DO YOU LIKE MOST OF DOING CONCERTS? IS THERE ANYONE OF THEM WITH A SPECIAL MEANING TO YOU?
I get a bit of a rush out of doing one night events as I get so so nervous before hand that it's actually a relief to step on stage to calm down. The high afterwards is unbeatable. The most special was the last 5 years as it was supposed to be a 1 night event to commemorate 5 years of Notes from New York… but we ended up doing a run of it anyway as it sold out!

YOU'RE WORKING IN YOUR NEW ALBUM… COULD YOU TELL US SOMETHING ABOUT IT? HOW IT WILL BE?
It will be available in June and I am so excited about this one as it's completely me! The last album was about me singing Charles Millers songs , but this one I have picked all the songs myself and helped to arrange them an really put my heart into it!. It features songs from new up and coming composers plus some known songs that I love. It will hopefully give you an insight into the style of music I love.

HOW DO YOU IMAGINE YOUR PROFESSIONAL FUTURE? WOULD YOU LIKE TO KEEP ON WORKING IN MUSICAL THEATRE? WHICH KIND OF ROLES WOULD YOU LIKE TO PERFORM?
I would love to do something new and edgy in musical theatre…I'm still fighting for change in the West End.
I'd also love to do a sit com or a comedy film?
I don't really have any set plans…I just roll with it and follow my heart!

DOES IT RESULT MORE EXCITING TO YOU TAKING PART OF NEW AND SMALL PRODUCTIONS THAN IN THE BIG ONES? DO YOU PREFER WORKING WITH NEW COMPOSERS? WHY?
I will always love new work, there are so many people that ought to be given a chance and the only thing that's stopping them is the funding to do it!

WHAT DO YOU THINK ABOUT THE ACTUAL SITUATION OF WEST END MUSICAL SHOWS? IF YOU WERE A BIG PRODUCER, WHAT WOULD YOU DO?
I'd take a risk. There are too many revivals & juke box shows!
We need to change people's opinion on musical theatre too! Yes there are twee family shows in the west end...but that's just one side of it! There's a musical for everyone just like there's a film for everyone! I get upset when people put it in a box and right it off as just some cheesy rubbish…but I understand why they do… the people representing musical theatre on our screens aren't really anything to do with what's really going on.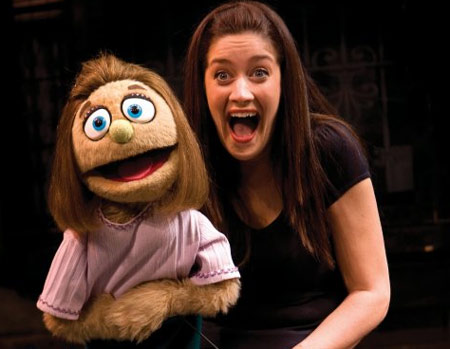 Julie Atherton and Kate Monster in a scene of AVENUE Q
Enlaces de Interés
Multimedia
Información Relacionada