noticias
NICE WORK IF YOU CAN GET IT se estrena oficialmente en el Imperial Theatre de Broadway
24/04/2012
Dirigido por Kathleen Marshall y protagonizado por Kelli O´Hara y Matthew Broderick, el espectáculo con música y letras de George e Ira Gershwin se estrena oficialmente este martes 24 de abril de 2012.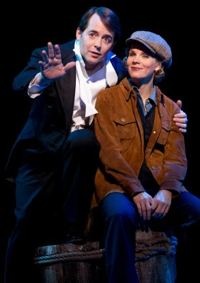 La nueva comedia musical NICE WORK IF YOU CAN GET IT, con música y letras de George e Ira Gershwin, se estrena oficialmente en el Imperial Theatre de Broadway este martes 24 de abril de 2012, tras haber iniciado funciones previas el pasado 29 de marzo.
NICE WORK IF YOU CAN GET IT esta protagonizado por el dos veces ganador de un Tony Matthew Broderick (THE PRODUCERS, HOW TO SUCCEED IN BUSINESS WITHOUT REALLY TRYING), en lo que es su primer musical tras THE PRODUCERS, y la tres veces nominada al Tony Kelli O´Hara (SOUTH PACIFIC, THE PAJAMA GAME, THE LIGHT IN THE PIAZZA), quienes interpretan respectivamente los personajes de Jimmy Winter y Billie Bendix. Ambos están dirigido por Kathleen Marshall, quien ha ganado el Tony en tres ocasiones y entre cuyos créditos se incluyen ANYTHING GOES, THE PAJAMA GAME o WONDERFUL TOWN.

Junto a Broderick y O´Hara se encuentran Judy Kaye (Estonia Dulworth), Estelle Parsons (Millicent Winter), Michael McGrath (Cookie McGee), Jennifer Laura Thompson (Eileen Evergreen), Chris Sullivan (Duke Mahoney), Robyn Hurder (Jeannie Muldoon), Stanley Wayne Mathis (Chief Berry) y Terry Beaver (Senator Max Evergreen).

Completan el elenco Cameron Adams, Clyde Alves, Kaitlyn Davidson, Jason DePinto, Kimberly Faure, Robert Hartwell, Stephanie Martignetti, Barrett Martin, Michael X. Martin, Vivian Nixon, Adam Perry, Jeffrey Schecter, Jennifer Smith, Joey Sorge, Samantha Sturm y Kristen Beth Williams.

El equipo creativo se completa con Derek McLane (escenografía), Martin Pakledinaz (vestuario), Peter Kaczorowski (iluminación) y Brian Ronan (sonido). El supervisor musical es David Chase y el director musical Tom Murray.

Con libreto de Joe Di Pietro (MEMPHIS), NICE WORK IF YOU CAN GET IT cuenta en su banda sonora con algunas de las canciones más populares de George e Ira Gershwin así como con desconocidas joyas de su catálogo.

Esta romántica comedia se desarrolla en los años 1920 y está centrada en un adinerado playboy llamado Jimmy Winter (Matthew Broderick) quien conoce a la contrabandista Billie Bendix (Kelli O´Hara) el fin de semana de su boda. A partir de su encuentro por azar, el caos se desata.

NICE WORK IF YOU CAN GET IT está producido en Broadway por Roger Berlind, Roy Furman, Scott Landis y Sonia Friedman.
Enlaces de Interés
Información Relacionada
Comentarios
Para poder añadir comentarios necesitas autentificarte como usuario registrado de todoMUSICALES.