noticias
Ashanti protagonizará THE WIZ en el ciclo estival Encores! del New York City Center
29/04/2009 (actualizada 04/06/2009)
La cantante norteamericana Ashanti, ganadora de un premio Grammy en el 2003, interpretará a Dorothy en la próxima producción de THE WIZ que se representará del 12 de junio al 5 de julio en el New York City Center.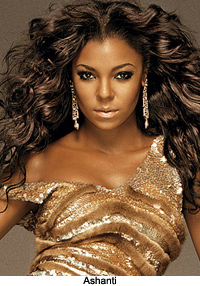 La compositora, cantante y actriz norteamericana de Rithym&Blues Ashanti debutará en los escenarios dando vida a Dorothy dentro de la producción de THE WIZ del ciclo Encores! Summer Stars del New York City Center. El montaje, que contará con dirección de Thomas Kail (IN THE HEIGHTS), coreografías de Andy Blankenbuehler (IN THE HEIGHTS, 9 TO 5) y dirección musical de Alex Lacamoire, se representará del 12 de junio al 5 de julio, siendo el estreno oficial el 18 de junio.
THE WIZ es un musical con libreto de William F. Brown, música y letras de Charlie Smalls y orquestaciones de Harold Wheeler. Es una adaptación afro-americana de la novela 'The Wonferful Wizard of Oz' de L. Frank Baum. La producción original se estrenó en el Majestic Theatre de Broadway el 5 de enero de 1975, y posteriormente se transfirió al Broadway Theatre, realizando un total de 1.672 funciones. El montaje lo protagonizaron Stephanie Mills, Hinton Battle, Tiger Haynes, Ted Ross, Dee Dee Bridgewater y Andre De Shields y fue dirigido por Geoffrey Holder. El espectáculo ganó siete premios Tony, incluído el de Mejor Musical.

En 1978 se estrenó una película a partir del musical protagonizada por Diana Ross, Michael Jackson, Nipsey Russell, Ted Ross, Lena Horne, Richard Pryor y Mabel King.

Ashanti irrumpió en la escena musical en el 2002 con su álbum debut homónimo, 'Ashanti'. Llegó al número 1 del Billboard y ganó el Grammy al Mejor Álbum Contemporáneo de Rythm&Blues. Hizo historia al conseguir que tres de sus singles estuvieran a la vez entre los 10 primeros del Billboard. En el 2008 Ashanti editó su cuarto disco de estudio, 'The Declaration'. Como actriz, Ashanti ha participado en películas como 'Resident Evil Extinction' o 'Bride & Prejudice' y en series de televisión como 'Buffy the Vampire Slayer' o 'American Dreams', donde interpretaba a Dionne Warwick.
El resto del reparto lo completan Orlando Jones como The Wiz, LaChanze como Glinda, Tichina Arnold como Evillene, Dawnn Lewis como Addaperle, Joshua Henry como The Tinman, James Monroe Iglehart como The Lion y Christian White como The Scarecrow. El ensemble lo forman Raymond Bennett, Tanya Birl, Darlesia Cearcy, Asmeret Ghebremichael, Angela Grovey, Ebony Haswell, Lauren Lim Jackson, Carl Lation, Maurice Lauchner, Jennifer Locke, Amy McClendon, Kenna Morris, John Eric Parker, Herman Payne, Ryan Rankine, Levensky Smith, Ephraim Sykes, Adrienne Warren, Daniel J. Watts, Juson Williams y Will Wingfield. El perro Nigel debutará en los escenarios como Toto.
Orlando Jones será sustituido los seis últimos días (del 29 de junio al 5 de julio) por Colman Domingo (PASSING STRANGE) dado que debe incorporarse como presentador al nuevo reality-show de la cadena televisiva ABC: ´Crash Course´.
Enlaces de Interés
Información Relacionada
Comentarios
Para poder añadir comentarios necesitas autentificarte como usuario registrado de todoMUSICALES.