entrevistas
[ Volver al artículo en castellano ]
Madalena Alberto: "I dream about keep having the opportunity to do work I enjoy"
10/03/2015
The critically acclaimed West End star who recently portrayed Eva Peron in EVITA will offer a solo concert at Barcelona´s L'Auditori on Tuesday 24th March 2015 with Sergi Cuenca as Musical Director and some very special guests.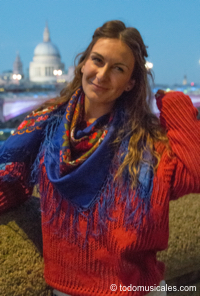 After obtaining a scolarship by a musical theatre school in London, Madalena Alberto left her home town Lisbon, when she was still a teenager and moved to the British capital without knowing what would come. More than ten years later she has become one of the biggest names of the Musical Theatre scene in the West End, starring in shows such as LES MISÉRABLES, GODSPELL, JEKYLL AND HYDE and most recently EVITA, for which she received a WhatsOnStage Awards nomination for Best Actress in a Musical.
Madalena Alberto, who has also developed a rising career as a singer/songwriter, having released her first EP ´Heart Condition´ in September 2012, will come back to Barcelona in two weeks time, a city where she debuted more than two years ago with a successful intimate concert at La Cova del Drac. This time, Madalena Alberto will offer a solo concert at L´Auditori, with Sergi Cuenca as musical director and some very special guests to be announced.

We meet Madalena Alberto by the river Thames, in a sunny beautiful afternoon in London to talk about her recent work in Evita and about her upcoming concert in Barcelona. As always, Madalena´s smile and sense of humour reign alongside the conversation.

AFTER MORE THAN A YEAR PLAYING EVA PERON, WHAT DO YOU THINK THAT THIS ROLE HAS BROUGHT TO YOU?
Well, the first thing I think of is how much I´ve learned from this past year, not only in terms of how to be on stage and how to look after myself, but also how to relate to people on and off stage. Doing a show this intense made me be quite isolated most of the time because I needed to reserve my energy and I was very focused. I learnt a lot. I also learned from Andrew Lloyd Webber and Tim Rice's work in terms of breaking the barriers of what I thought my limitations were, physically, emotionally and mentally; and I could see that I could surpass them and was actually be able to do the show how many times a week. So this was a very special year in many aspects. I remember that almost every night, when I went to bow there was a the picture of Eva in the background and I used to look at it thinking "hope that this would make her proud".

WHAT DO YOU THINK SHE WOULD THINK OF THE SHOW?
I don´t know. I think that even if she liked musicals I don´t think she´d be so happy about how she´s portrayed in this one cause it´s quite negative towards her. But maybe she wouldn't be too upset and notice the effort we made in trying to make her human and vulnerable, as I like to think she was.

WHAT DID IT MEAN TO YOU PLAYING EVA IN THE WEST END? WAS IT VERY DIFFERENT FROM DOING IT ON TOUR? IS THERE ANY MORE PRESSURE?
Because I was working on it for such a long time I felt very comfortable with what I was doing. I was excited about doing it for a different audience, for a more demanding audience. I was excited about doing it in a very big venue in the centre of London… I think that the pressure comes when we think too much about what we´re doing so what I try to do is just to relax and enjoy every moment.

WHAT DO YOU FEEL WHEN YOU KNOW THAT BIG NAMES IN THIS PROFESSION AS ANDREW LLOYD WEBBER OR TIM RICE ARE WATCHING THE SHOW? WHAT WAS THEIR REACTION AFTER SEEING YOU?
I remember the first time both Andrew Lloyd Webber and Time Rice came. They came at different points of the tour... and I don´t think I was nervous for neither of them... I was just really excited to show our work and hopeful that they would tap into what we were trying to achieve, and to my interpretation, cause I had heard that some things I was doing were quite different from what it had been done before... Of course as an actress you want their approval and it´s so important to have it... I was very fortunate that they were very supportive...

YOU´VE RECEIVED RAVE REVIEWS FOR YOUR ROLE, AND THE AUDIENCE REACTION HAS ALSO BEEN AMAZING... IS THERE ANY OF THE THINGS YOU´VE BEEN SAID THAT HAS HAD A SPECIAL IMPACT ON YOU?

Maybe it's an actores thing, or it is general, but the positive comments don't stick on as long as the negative. (laughs) I also have a very selective memory, so I just remember learning from everything I read. Using my discernment and seeing in what areas I could improve. We should take all critics with a pinch of salt, even the great ones! I was, however, very happy when seeing a poster with some headlines of the reviews, something nice for my family to keep.


WORKING IN THE WEST END CAN BE SO REWARDING, BUT IT CAN ALSO BE SO TOUGH... TELL US ABOUT THE TOUGHEST PARTS OF BEING A FRONT-LINE MUSICAL THEATRE PERFORMER...
I don´t know if I´m allowed to spoil the magic of theatre! But it´s truly not as glamorous as people may think. In my experience, because I was so devoted to it and because, at least for me, the role is very demanding vocally, and when went to the West End I decided to do eight shows a week instead of doing six, it was tough. I moved closer to the theatre, I was silent most of the day which meant that I´d only see people when I arrived at the theatre... But it was all worth it!

LOOKING BEHIND FROM WERE YOU ARE NOW... AND AT THIS EXACTLY MOMENT WE´RE TALKING... WHICH ARE THE FIRST MOMENTS THAT COME UP TO YOUR MIND AS THE MOST EMOTIONAL OF YOUR CAREER SO FAR?
I think it was doing Fantine in Paris, and it was my dad watching me play Piaf... There´s so much... Also maybe singing at the Coliseu in Lisbon, because I don´t go back home often to perform and having that experience in a beautiful venue and having people appreciate what I have been doing the past ten years in London was very special as well.

WITH YOUR EXPERIENCE, HOW IMPORTANT IS HAVING AN EXCELLENT TECHNIQUE AND HOW IMPORTANT IS TO HAVE A NATURAL TALENT IN ORDER TO BE A GOOD PERFORMER?
I think everybody is talented in their own way. I honestly think that we all have strengths, gifts and talents that are customized to us, and we should respect and use them in a beneficial way. What I found with technique is that, if I didn´t have technique I wouldn´t have been able to sustain doing eight shows a week. But also if we are too technique oriented and think too much, it can limit you from what you can do creatively. So it´s finding that balance.

YOU´RE COMING BACK TO BARCELONA IN TWO WEEKS. HOW DO YOU REMEMBER YOUR FIRST CONCERT THERE? HOW WAS THE AUDIENCE REACTION AND WHAT DID IT MEAN TO YOU?
It was a lovely warm intimate evening. The audience at La Cova del Drac was so responsive and everyone was so close to me. And even the language wasn´t a barrier... So I´m very looking forward to the next one!

HOW WILL THE NIGHT AT L'AUDITORI BE?
It will be really good fun. It´s gonna be another special evening with very special guests that I´m so looking forward to working with. And I´m going to be singing some standards that have marked my career and some of my own songs. I can tell that it will be a very nice, spontaneous and beautiful night.

WHAT DO YOU ENJOY MOST OF DOING SOLO CONCERTS?
I actually think it´s a way of me to get to know myself as an individual performer. Because when you´re in the theatre you´re part of the collective, you´re portraying a character. But when you do these performances it is a way to explore my abilities as a performer in a more intimate way, collaborating with other beautiful artists and with the audience in a different way.

WE ALWAYS ASK ABOUT PROJECTS... BUT NOW WE´LL DO DIFFERENT AND WILL ASK YOU ABOUT YOUR DREAMS, WHICH ARE YOUR PROFESSIONAL DREAMS RIGHT NOW?
I dream about keep having the opportunity to do work I love and am passionate about, because I know that not many people are this fortunate, who can live a lifestyle they love and even get paid to do it. So I want to keep cherishing that. And my dream is to keep doing what I love and meet people along the way who inspire me and hopefully I can inspired them as well.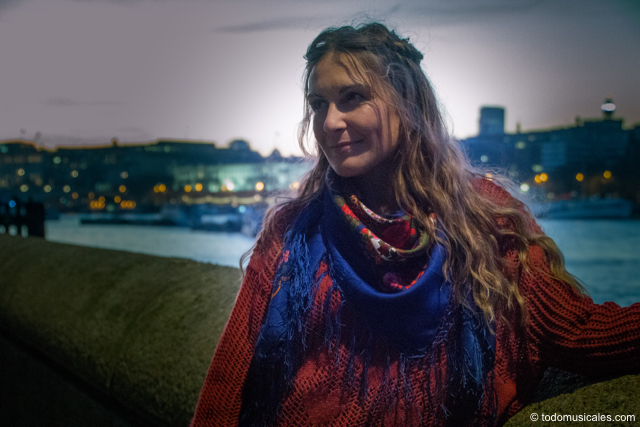 Enlaces de Interés
Información Relacionada