noticias
[ Volver al artículo en castellano ]
EVITA's West End Star Madalena Alberto comes back to Barcelona
03/03/2015
Critically acclaimed and nominated Best Actress in a Musical on the WhatsOnStage Awards 2015 Madalena Alberto will offer a solo concert at L´Auditori on Tuesday 24th March 2015 with Sergi Cuenca as Musical Director.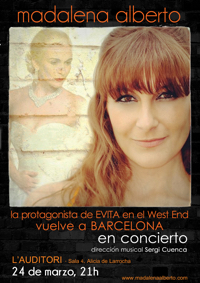 After her successful intimate evening at Barcelona's La Cova del Drac in December 2012, and after succeeding in the West End and around UK portraying the role of Eva Peron in the critically acclaimed revival of Andrew Lloyd Webber's EVITA, West End Star Madalena Alberto comes back to Barcelona this March with a new concert at Barcelona's L'Auditori (Hall 4, Alicia de Larrocha) under the musical direction of Sergi Cuenca (THE LION KING) on the piano. This unique and intimate evening with Madalena Alberto will take place on Tuesday 24 March 2015 at 9.00pm.
In this intimate evening Madalena Alberto will perform some of the songs that have marked her career in Musical Theatre, such as "Don't Cry For Me Argentina" from EVITA or "I Dreamed a Dream" from LES MISÉRABLES, some of her favourite musical theatre songs and will also surprise the audience with some of her own compositions and with the collaboration of some guest stars.

Originally from Lisbon, Madalena moved to London with a scholarship to enrol on a performing arts degree; and since her graduation she has developed a successful career in Musical Theatre. She has recently been nominated Best Actress in a Musical for her role of Eva Peron in EVITA, which run at the Dominion Theatre in the Fall of 2014, after more than a year touring the UK. During this time Madalena has received rave reviews: "Simply superb", "A Star is Born", "Her voice is astounding" "A Stunning vocalist"...

In March 2013 Madalena played the role of Edith Piaf at Leicester's Curve Theatre production of PIAF. In the Spring of 2012 Madalena performed the role of Lucy in the acclaimed Morphic Graffiti production of JEKYLL AND HYDE at the Union Theatre. She also played the role of Fantine in the acclaimed 25th Anniversary International Tour production of LES MISÉRABLES which finished at London's Barbican Center in October 2010. Madalena has also worked in recent productions of GODSPELL, FAME, CHICAGO, ZORRO THE MUSICAL (West End) and OVER THE THRESHOLD (Edinburgh and Off-West End).

Alongside her career as an actress, Madalena has developed a career as a singer / songwriter. In September 2012 she released her EP 'Heart condition', recorded and produced at Rock Box Studios. In March 2014 Madalena released her solo album 'Don't Cry For Me', released by BK Records, performing musical theatre classics. Madalena can also be heard at the just released John Owen-Jones album.

Sergi Cuenca is currently the musical director of the Spanish production of THE LION KING in Madrid. He has also been the musical director of Stage Entertainment Spain productions of RENT, NOTRE DAME DE PARÍS, MY FAIR LADY and CHICAGO, and assistant in different musical productions of shows such as GAUDÍ, BOSCOS ENDINS, LA BELLA Y LA BESTIA, LOS MISERABLES and MAR I CEL.
Enlaces de Interés
Información Relacionada
Comentarios
Para poder añadir comentarios necesitas autentificarte como usuario registrado de todoMUSICALES.