entrevistas
[ Volver al artículo en castellano ]
Tim Prottey-Jones: "I'm incredibly proud of every single performer who has supported 'More With Every Line'"
16/12/2010
West End and Broadway stars as Julie Atherton, Samantha Barks, Jon Boydon, Louise Dearmen, Jon Lee, or Drew Sarich have performed Tim Prottey-Jones songs in his debut album, released last 8th December.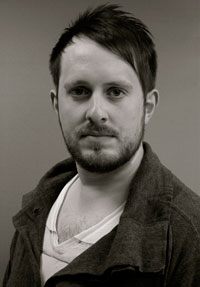 'More With Every Line' is the debut album of the young British composer Tim Prottey-Jones. The tracks consist of thirteen songs drawn from two musicals he is developing with co-librettist/lyricist Robert Gould: AFTER THE TURN and ONCE BITTEN.
Each song of the album has been performed by West End and Broadway stars as Julie Atherton, Samantha Barks, Jon Boydon, Daniel Boys, Jessie Buckley, Tituss Burgess, Louise Dearman, Victoria Hamilton-Barritt, Aaron Lazar, Jon Lee or Drew Sarich.

Tim Prottey-Jones tells us about his debut album, about his work as a composer and about his musical theatre projects.

HOW DID YOU COME UP WITH THE IDEA OF RECORDING 'MORE WITH EVERY LINE'?
Well, I've been writing seriously for about 10 years, (some of the songs I was writing then have actually been reincarnated for the album), and I have a love of emotive and passionate musical theatre. With there being a distinct lack of opportunities to perform in new and groundbreaking shows in and around Birmingham, England, I decided to write my own shows with the help of the fantastic lyricist Robert Gould. I was able to bring pre-written songs to the table and with a few tweaks of the lyrics, they were able to fit nicely into the synopsis and plot. This was back in 2006, and from that time, I have been developing new shows and song ideas. I decided to put the album together to not only showcase the songs, but the shows from which they come from (most notable AFTER THE TURN & ONCE BITTEN). I am also very passionate about the remarkable voices that are able to perform 8 times a week in the West End & on Broadway, so I was able to assemble some incredible talent, mostly through communicating through Facebook & Twitter! It's an incredible tool!

WHAT DOES IT MEAN TO YOU RELEASING THIS ALBUM?
I am ever so proud of this album, it really does close a chapter in my musical life having these tracks recorded to such a high standard. As I mentioned, some of these songs have been with me in some guise since 2001, so this now allows me to start a fresh, and write/record new songs with some of the wonderful friends I have made throughout this process. I'm also incredibly proud of every single performer who has supported this project, my wife for her incredible design skills and all those people I mention on the inlay for their input to the whole process.

WAS IT DIFFICULT TO GET THESE WEST END AND BROADWAY STARS TO RECORD YOUR SONGS?
If I'm honest, no! I was amazed and blown away by the eagerness of each and every performer on the album. I actually ended up with too many performers, as I was certain I would get a number of people declining the opportunity. I was able to start the process with friends of friends, and then it just grew incredibly until the songs did the talking. I was lucky enough to have good quality demo recordings of all tracks before approaching the stars which helped no end! Again, the generosity of these artists was incredible and it was a pleasure working with every single one of them.

HOW DID YOU SELECT THE PERFORMERS AND THE SONGS TO BE RECORDED?
Some of the songs just screamed at me for very definite voices. For instance, Louise Dearman on "Fallen" was an obvious choice. She is an incredible and gracious talent. I did a lot of research on You Tube for certain voices, which is how I came across Tituss Burgess & Colleen Ballinger (Miranda Sings). I suppose it was mostly a very selfish process for me, I essentially chose the people I really wanted to work with and those performers whose voices I admire and who I believe would capture the essence of the track.

IS THERE ANY SPECIAL ANECDOTE YOU COULD TELL US THAT HAPPENED DURING THE RECORDING OF THE ALBUM?
I suppose one of the main highlights for me was recording Drew Sarich. The man is insanely fantastic. He flew in from Austria to record a track of mine! That in itself was dedication, but then he put everything in to "Rescue remedy". Not only did he do a phenomenal album version of the track, but I played him the original version of the song which was a huge rock/metal track sung by a female…Drew loved it and asked me to record that too. So, as if the song wasn't high enough as it was, he continued to record the female version and rocked out so hard he collapsed on the floor at the end…all of which I captured on video!
The other anecdote would be during Jessie Buckley's recording of "I will be there". We were battling the whole time with a very classically minded soprano in the neighboring room. This was a very old building with thick stone walls, and yet, she managed to penetrate the room and the recording! I think between myself and Andrew Griffiths (the album engineer) we managed to keep it to a minimum on the final mix!

DO YOU THINK THAT THIS ALBUM IS A GOOD WAY TO PROMOTE YOUR SHOWS?
It is always tricky knowing how to pitch an album, especially if you are hoping to bring attention to more of your work, suck as 2 shows. I think between this album and the next, it will start to spark the audiences imagination as to how the show would work. There are some twists and turn in the shows that truly only come to life on stage. I do hope to be able to stage AFTER THE TURN in 2011, and what better way to spread the word than through the voices of these stage stars? I do think there is a call for new, brave musicals with original pop/rock scores to capture a new audience. I hope that I can go some way to making this possible. I've always maintained that I want to write stand alone pop/rock songs that can be combined to form a creative piece of theatre too. Only time will tell…

YOU WROTE THE SONGS OF AFTER THE TURN AND ARE DEVELOPING THE NEW MUSICAL ONCE BITTEN… HOW WOULD YOU DESCRIBE BOTH SHOWS?
AFTER THE TURN is a musical about grief, guilt, self discovery, love - and music!
Michael Brookman is a 21 year old highly gifted musician with serious emotional and psychological problems who four years ago witnessed the hit-and-run accident that killed his mother. Having been brought up by his mother, Amanda, since the age of 9 following her divorce from his abusive father, Michael was devoted to and emotionally dependent upon his mother. His devastation at her loss was further exaggerated by his deep sense of guilt because the last time he had seen her before she was killed he had a serious quarrel with her. In the four years since her death, he has suffered from severe depression, has been unable to face the trauma of going outside and has not spoken a word. He communicates only by typing his words on a lap-top. (His words are spoken and sung for the dramatic purposes of the musical by the character of Michael as a teenager, who also acts as a mirror of Michael´s inner-self.)
Lauren Danner is a 23 year old nurse, dedicated and caring and - at least on the surface - bright and strong-willed. The musical begins with her arrival at Michael's apartment in New York city - escorted by her employer and Michael's psychiatrist, Doctor Black - as she commences her duties as Michael's carer - a job she personally requested and is totally committed to.
The story of Michael's past is gradually revealed through a series of flashbacks as the primary plot-line reveals the development of the relationship between Michael and Lauren. At first Michael is totally hostile until gradually he begins to accept Lauren first as his nurse and later as his friend. Eventually, through a series of disturbing and heart-breaking plot twists, as both Michael and Lauren learn to face their individual fears and hang-ups, they begin to discover the meaning of love.
ONCE BITTEN is a new work based around Blake & Ciaran, two vampires doomed to walk the earth for 400 years. Ciaran is hungry for fresh prey, while Blake is tired of her life of living death. A full synopsis will be coming soon. Watch this space!

IS THERE ANY SONG YOU FEEL ESPECIALLY PROUD OF?
I'm very proud of every song on the album, and especially the songs that have been reworked again and again! "More than you could know" is a song that has seen a number of reinventions, and I was so happy with the end result that I decided to sing on it myself with the wonderful Stuart Matthew Price. Rescue Remedy was also a track with a lot of meaning as it was written lyrically by my wife, Angela. Not bad for a Product Manager for Medical supplies!

HOW DID YOU BEGIN COMPOSING SONGS FOR MUSICAL SHOWS?
Well, about half of the songs on the album were never intended for anything other than singer/songwriter gratification. Just songs that I wrote for fun, but when I devised the synopsis for AFTER THE TURN, I was amazed how many of the songs I had written suited the mood and action of the piece. With that in mind, I then wrote the remainder of the songs for the show to Robert Gould's lyrics. I'd be interested to see if the public can work out which were my 'pop' songs before the idea of the show came about? As for the songs for ONCE BITTEN, well, I've always wanted to write a modern day vampire musical, so I could go back to my dark rock roots, heavy guitars, and slightly gothic touches. Just you wait for the second album!

WOULD YOU LIKE TO SEE YOUR SHOWS IN THE WEST END? HAVE YOUNG COMPOSERS ANY CHANCES TO GET THEIR WORKS ON THE STAGE?
I would love to see my shows in the West End. There are some fabulous fringe venues in London that would be an ideal setting. There is certainly a number of opportunities to get new works heard, but not necessarily staged. 'A Stage Kindly' are a company who put on cabaret style nights showcasing new writers and new shows with a professional cast of singers and musicians. I was lucky enough to have a number of tracks from 'After the turn' featured last year. The libretto is currently with a number of producers for possible future productions, so again, only time will tell!

WHICH MUSICAL THEATRE COMPOSERS DO YOU ADMIRE?
I am influenced by song writers from all genres, not necessarily of musical theatre. Growing up, writers like Richard Marx, Elton John, Stevie Wonder, Sting etc were among my favourites, but I have always had a passion for rock music, growing up listening to Metallica & Guns 'n' Roses really opened up my eyes to whole new way of playing instruments. Now, I am ever so impressed with writers such as Scott Alan, Duncan Sheik & Jason Robert Brown of course, but the writing and orchestration of LES MISERABLES will always be what captured my attention in the world of musical theatre.

COULD YOU COMMENT ON YOUR PROJECTS?
In the new year I will be promoting and marketing the album with some live shows in the UK. I will also be scoring the music to be sold for audition pieces etc. My aim will then be to work towards the second album and staging AFTER THE TURN. 2011 is going to be a busy and incredible year! I can't wait!
Enlaces de Interés
Información Relacionada