entrevistas
Peter Murphy: "It is an incredible achievement singing such incredible Queen songs"
15/01/2010
The Australian performer plays the role of Galileo in West End's WE WILL ROCK YOU, the musical with songs by Queen. Almost eight years after its premiere, the show continues its success at the Dominion Theatre.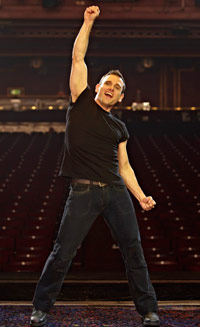 WE WILL ROCK YOU opened on May 2002 at the Dominioni Theatre in London. Almost eight years later, it remains as one of the musicals with bigger audiences in the West End. The show with songs by Queen, conceived by the band along with Ben Elton, is currently booking until October 2010.
From last September, Peter Murphy leads the cast of WE WILL ROCK YOU performing the role of Galileo. The Australian actor had already played this character in his native country and in Japanese tour. He also has been in Australian productions of RENT and LES MISÉRABLES; and has starred in the Scandinavian tour of as well as in the tour of FAME – THE MUSICAL.

Peter Murphy talks about his experience on the London production of WE WILL ROCK YOU and about his professional career.

LAST SEPTEMBER YOU JOINED LONDON 'WE WILL ROCK YOU' CAST. HOW HAVE BEEN THESE FIRST MONTHS PERFORMING GALILEO IN THE WEST END?
It has been a great few months getting to know the new cast, and settling into the show again. I had forgotten how challenging the role is to sing seven times a week.

YOU ALSO PERFORMED GALILEO IN AUSTRALIA AND IN THE JAPANESE TOUR PRODUCTION. ARE THERE ANY DIFFERENCES BETWEEN THESE PRODUCTIONS AND THE WEST END ONE? IS IT SPECIAL FOR YOU PLAYING THE ROLE OF GALILEO AT THE DOMINION THEATRE?
I think for most performers it is an incredible achievement to perform a lead role on the West End, especially in such a huge theatre, and singing such incredible Queen songs. There are quite a few differences between the script from Japan and the script here in London. Much of the comedy in the show relies on pop-references, which obviously have to be tailored to the local audience. Also, every time you get a group of talented performers together, they are going to find different ways to make the material work.

WHAT DO YOU LIKE MOST OF THIS CHARACTER YOU´RE PERFORMING?
I love that Galileo begins the show totally lost (just a weird kid with a dream of being something more), and finishes having become everything he ever dreamed. It's a metaphor for every kid who ever grew up wanting to be a rockstar, and it offers the possibility that you might just get there one day.

IS IT HARD JOINING A CAST OF A SHOW THAT HAS BEEN RUNNING FOR YEARS? HOW HAS BEEN THE REHEARSAL PROCESS AND HOW HAS THE CAST WELCOMED YOU?
The existing cast were so great to work with. They welcomed all of the new performers, and did all they could to make us feel at home. For me, working with such a talented leading lady in Sabrina Aloueche, was a fantastic experience, and we quickly found our onstage mojo.

'WE WILL ROCK YOU' IS AN AUDIENCE FAVOURITE SINCE ITS OPENING AT THE DOMINION THEATRE IN 2002. WHICH DO YOU THINK IS THE SECRET KEY OF THIS SUCCESSFUL SHOW?
Obviously, any show which has 20 Queen songs in, sung by incredible performers (Mazz Murray, Sabrina Aloueche, Louise Bowden, Ian Carlyle, Alex Bourne), is going to blow you away and leave you feeling like you're invincible. Team that with the message that Rock'n'Roll will win in the end, and how can you fail?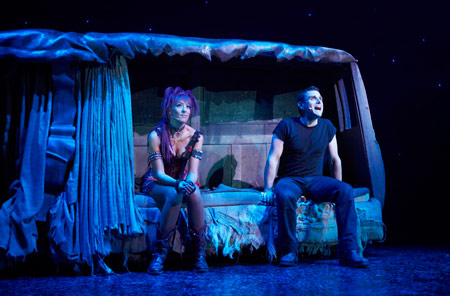 Sabrina Aloueche and Peter Murphy in WE WILL ROCK YOU
DO YOU THINK THAT IS EASIER TO CONNECT TO AUDIENCES WITH A JUKE BOX MUSICAL?
To be honest, I think that most jukebox musicals are just easy ways to cash-in on some hit songs, and generally don't give much thought to the story.
The difference with WE WILL ROCK YOU, is that it was created by Queen themselves, along with Ben Elton, who wove the entire storyline around the songs, making it much more intertwined in the music. Everything from the names of the characters, to the reasons for the events in the show, is taken from the lyrics of Queen's greatest hits.

DID YOU LIKE QUEEN SONGS BEFORE WORKING IN 'WE WILL ROCK YOU'? ANY FAVOURITE?
I discovered Queen when I was 13, and the first song I fell in love with was "This Could Be Heaven". Freddie's voice soaring across panning stereo guitar riffs…it was like a musical awakening in my teenage brain. I also love "Don't Stop Me Now", which makes a brief appearance in the show.

YOU'VE STARRED IN SHOWS AS 'FAME', 'JOSEPH', 'THRILLER LIVE', 'JESUS CHRIST SUPERSTAR', 'RENT' OR 'LES MISÉRABLES'. HAS ANY OF THESE SHOWS BEEN SPECIALLY SIGNIFICANT OR VALUABLE TO YOUR CAREER? WHICH HAVE YOU ENJOYED MOST?
To be totally honest, every show I have done has been an important part of my journey as a performer. Even being a swing in LES MISERABLES taught me how to use the stage as a map, so I could just plot the moves in my sub-conscious and get on with acting the scenes. I do prefer being the star though…There's nothing quite like having thousands of people cheer for you at the end of your show.

YOU WERE FINALIST IN THE PRATT PRIZE FOR YOUR NEW MUSICAL 'KING OF THE WORLD', WRITTEN WITH JONATHAN DENSEM AND DAMON FEALY. COULD YOU TELL US MORE DETAILS ABOUT THIS NEW MUSICAL?
We did a reading of it last year in Australia, and are currently developing a new draft of the script. The next step will be trying to find a producer for it in London. Australia is such a small market that new shows don't stand much of a chance. It has been so rewarding writing it with 2 such talented musicians. Jonathan brings the sensitivity, while Damon adds some serious rock to the show. I kind of bring it all together.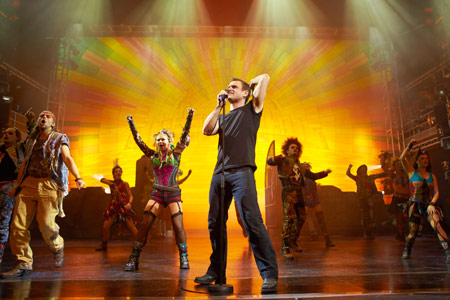 Peter Murphy and cast of WE WILL ROCK YOU
Enlaces de Interés
Información Relacionada