noticias
[ Volver al artículo en castellano ]
Oliver Tompsett and Rachael Wooding new leads in Queen's WE WILL ROCK YOU
12/09/2012
From 8th October 2012 they will star in the show as Galileo and Scaramouche. Queen and Ben Elton's musical will hit its 4.000th performance at London's Dominion Theatre on the 20th September 2012.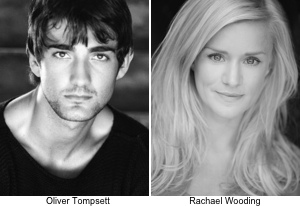 Having recently celebrated its 10th birthday, and about to hit its 4,000th performance which is reached September 20, Queen and Ben Elton's West End smash show WE WILL ROCK YOU today announces new cast members in the lead roles of Galileo and Scaramouche to join the show from October 8.
Oliver Tompsett, having originated the role of Drew in ROCK OF AGES, moves across town to take over the role of Galileo from Noel Sullivan, who has played the role in the West End since February, following over 300 touring performances.

Rachael Wooding, most recently seen in JERSEY BOYS and on tour in the title role of EVITA, is returning to WE WILL ROCK YOU, in which she first played the role of Meat between 2006-2007, this time to play the principal, Scaramouche. She takes over the role from Lauren Samuels.

Tompsett and Wooding are booked to take their roles through to 2013 and are the only recasting of lead cast although the current changeover will also see in 15 new ensemble.

Long-running cast members Kevin Kennedy (Pop), Brenda Edwards (Killer Queen), Rachel John (Meat), Wayne Robinson (Britney) and Alisdair Harvey (Khashoggi) will all continue in their roles.

Since making her West End debut in FAME and then starring in SATURDAY NIGHT FEVER, Wooding has quickly risen to star in some of the West End's most celebrated shows including lead roles in HAIRSPRAY, THE MUSICAL and JERSEY BOYS. She most recently received high praise for her performance in the title role in the UK touring production of EVITA.

Tompsett made a dazzling debut in the Olivier award-winning Madness musical, OUR HOUSE, before moving on to MAMMA MIA! and a long run as Fiyero in WICKED, then creating the role of aspiring rock god Drew in ROCK OF AGES for which he received a Best Actor in a Musical nomination. His legit theatre credits include working with Trevor Nunn at the National Theatre in Nunn's production of 'The Royal Hunt For the Sun'.

Commenting on the castings, show co-creator Brian May says, "We´re very excited to welcome our two new leading stars to WE WILL ROCK YOU London. We had had our eye on Olly Tompsett for a while, always thinking he would make a great Galileo. It turns out he had had his eye on us too! So that will be something momentous. He will bring something special to the part, and I know his many fans will love seeing him interpret this role. And Rachael Wooding is, of course, an old and respected friend and was great in the role of Meat. We had always hoped that she would return one day and take on Scara. When we saw her this time we immediately realised this was the moment. Oliver and Rachel will be an explosive combination - can´t wait !"

Already very publicly celebrated in May - which even saw a special London appearance by show producer and partner Robert de Niro - the show's 10th anniversary is to be further recognised with the release of a special Anniversary Edition of the cast soundtrack CD.

Having surpassed platinum sales in its original version, the anniversary edition will be released as a special 2 CD and DD set offering 11 additional and previously unavailable recordings.

On a bonus disc of live cuts, remixes and alternative versions from productions across the globe, Queen are themselves featured performing "Bohemian Rhapsody" with the London cast at the Party in the Park Royal Jubilee Concert live at Buckingham Palace in 2002, and with the German cast performances of "We Will Rock You" and "We Are the Champions", recorded for German TV show 'Wetten Das' in 2004.

For those who have ever wondered how overseas versions of the show songs might have sounded, eight of the bonus tracks are recordings by the Australian, German and Spanish casts, some having been translated to the local language. From the Spanish production can be heard "No-One But You" sung as "Sólo Por Ti" and "Headlong" as "Sin Control". It is an interesting fact - outlined in the extensive liner notes included with the CD - that for Spain all of the songs were translated except one…"Fat Bottomed Girls". This one appears to have totally baffled the Spanish translators. It remained sung in English.

The 'WE WILL ROCK YOU 10th Anniversary Edition' special 2 CD set is released October 15 through EMI Records and available in record stores and from the Dominion Theatre.

WE WILL ROCK YOU opened at The Dominion Theatre, London, May 14 2002. To date the production has been seen by more than 6.4 million people in London and over 14 million worldwide and presently booking until March 2013. The touring production begins a worldwide arena tour 27 March 2013.
Información Relacionada
Comentarios
Para poder añadir comentarios necesitas autentificarte como usuario registrado de todoMUSICALES.