noticias
Noel Sullivan se incorporará a la producción del West End de WE WILL ROCK YOU
31/01/2012
El artista que ha estado interpretando el personaje de Galileo en la gira británica del musical reemplazará a Alex Gaumond en el Dominion Theatre de Londres a partir del lunes 20 de febrero de 2012.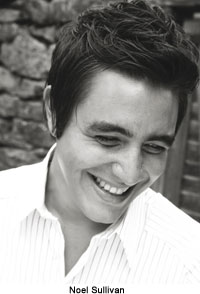 Tras haber interpretado a Galileo en más de 300 ocasiones durante la gira por el Reino Unido de WE WILL ROCK YOU, Noel Sullivan se incorporará a la producción del West End del musical de Queen para volver a dar vida a su protagonista, Galileo.
Sullivan se incorporará al elenco del West End de Londres de WE WILL ROCK YOU el próximo mes, reemplazando a Alex Gaumond, y realizará su primera función en el Dominion Theatre el lunes 20 de febrero de 2012.

Gaumond, que se incorporó al reparto londinense del musical el pasado mes de agosto tras su participación en LEGALLY BLONDE, abandona el espectáculo para centrarse en su carrera musical. La última función de Alex Gaumond tendrá lugar el sábado 18 de febrero.

Nacido en Cardiff en 1980, Noel Sullivan es popular en el Reino Unido por su participación en el concurso televisivo de la ITV 'Popstars', gracias al que pudo formar parte de la banda de pop Hear'Say en el 2001. Tras la separación de la banda, Sullivan debutó en el teatro musical participando en la producción de FAME de Edimburgo y en espectáculos como LOVE SHACK y WHAT A FEELING. En el 2008 protagonizó la gira británica de FLASHDANCE: THE MUSICAL; y debutó en el West End en noviembre de 2009 interpretando a Danny en GREASE. Durante la temporada 2010-2011 protagonizó la gira británica de WE WILL ROCK YOU.

Noel Sullivan permanecerá en la compañía de WE WILL ROCK YOU hasta finales de octubre de 2012, coincidiendo con la celebración del 10º aniversario del musical en el West End el 14 de mayo, y representando el espectáculo durante las Olimpiadas de Londres, cuando el espectáculo continuará haciendo funciones regulares.

Sullivan se incorpora a un elenco liderado por Lauren Samuels como Scaramouche, Brenda Edwards como Killer Queen, Kevin Kennedy como Pop, Rachel John como Meat, Alasdair Harvey como Khashoggi, y Wayne Robinson como Britney.

Recibiendo a más de 12.000 espectadores semanalmente y con ovaciones en pie tras cada función, WE WILL ROCK YOU ha sido visto por cerca de 6 millones de personas en el Dominion Theatre y por más de 13 millones en todo el mundo. Actualmente es el séptimo musical de mayor tiempo de permanencia en cartel de los que actualmente se representan en el West End, en una lista que incluye a LES MISERABLES, PHANTOM OF THE OPERA, BLOOD BROTHERS, MAMMA MIA!, CHICAGO y THE LION KING.

WE WILL ROCK YOU obtuvo en el 2011 el premio Olivier al espectáculo del West End preferido por el público.

WE WILL ROCK YOU está producido por Queen Theatrical Productions, Phil McIntyre Entertainment y Tribeca.

El espectáculo creado a partir de las canciones de Queen cuenta con libreto y dirección de Ben Elton y supervisión musical de Brian May y Roger Taylor.
Enlaces de Interés
Información Relacionada
Comentarios
Para poder añadir comentarios necesitas autentificarte como usuario registrado de todoMUSICALES.