noticias
[ Volver al artículo en castellano ]
Rob Marshall set to develop INTO THE WOODS feature film with Disney
11/01/2012
The project is in development under a new multi-year producing deal between Disney and Lucamar.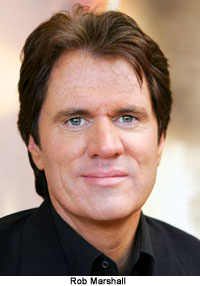 Rob Marshall is set to direct a film adaptation of the acclaimed Broadway musical INTO THE WOODS, featuring Stephen Sondheim's original music, for The Walt Disney Studios, to be produced by Marshall and John DeLuca through their production company Lucamar Productions. James Lapine, who wrote the stage musical with Stephen Sondheim, will adapt for the screen.
"We are thrilled to be collaborating with Stephen Sondheim and James Lapine on this extraordinary and inspiring work," said Rob Marshall and John DeLuca. "We are greatly looking forward to continuing our creative and rewarding relationship with Rich Ross, Sean Bailey and the ever supportive team at Disney."

"Rob Marshall brought his signature flair to 'Pirates of the Caribbean: On Stranger Tides' with tremendous results and he is the perfect person to bring 'Into the Woods' to the screen," Studio Chairman Rich Ross and President of Production Sean Bailey said in a statement. "We've loved working with Rob, and this is a great start to our collaboration with Lucamar."

Rob Marshall most recently directed Disney's 'Pirates of the Caribbean: On Stranger Tides', which earned over $1 billion at the global box office and is the #8 highest grossing film of all time, the #3 film of 2011, and Disney's biggest overseas release ever. It was the first 'Pirates'film to be shot in 3D and the first major production at any studio to be shot in 3D on location. Marshall's critically acclaimed stage musical adaptation CHICAGO (2002) grossed over $300 million worldwide and was nominated for 13 Academy Awards, winning six including best picture, with Marshall earning a nomination for best director. It also won the Golden Globe for best comedy/musical. His other feature films include 'Memoirs of a Geisha' (2005), winner of three Academy Awards, and NINE (2009), which was nominated for four Academy Awards and five Golden Globes. Marshall is a four-time Emmy Award winner and a six-time Tony Award nominee, including choreographing and co-directing the 1998 Broadway revival of CABARET.

INTO THE WOODS weaves together the story of several of the most beloved fairytales (Cinderella, Little Red Riding Hood, Jack and the Beanstalk, Rapunzel) into the original story of a Baker and his wife who try to reverse a curse on their family in order to have a child, exploring the consequences of the characters' wishes and quests and their desire for "happily ever after." With music and lyrics by Stephen Sondheim and book and direction by James Lapine, INTO THE WOODS earned 10 nominations at the 1988 Tony Awards, winning three including best score and best book of a musical. The 2002 Broadway revival won a Tony for best revival of a musical.

Sondheim and Lapine's other collaborations include 1984's Tony-winning SUNDAY IN THE PARK WITH GEORGE, which won the Pulitzer Prize for Drama, and 1994's PASSION, winner of four Tonys including best musical. Sondheim has won eight Tony Awards, more than any other composer, as well as several Grammy Awards and an Academy Award, while Lapine has earned seven Tony nominations for direction and is a three-time winner (out of four nominations) for best book of a musical.

Lucamar most recently produced the film adaptation of the Broadway musical NINE, starring Daniel Day-Lewis, Nicole Kidman, Penélope Cruz, and Marion Cotillard, which was nominated for four Academy Awards and five Golden Globes. Lucamar also produced the star-studded, NBC television event 'Tony Bennett: An American Classic', which won seven Emmy Awards, the most of any nominated show that season. The company is headed by co-presidents Rob Marshall and John DeLuca, with Michael Zimmer serving as director of development.

Marshall and DeLuca are represented by Kevin Huvane and Brian Siberell at CAA and Michael Gendler of Gendler & Kelly.
Información Relacionada
Comentarios
Para poder añadir comentarios necesitas autentificarte como usuario registrado de todoMUSICALES.