noticias
[ Volver al artículo en castellano ]
WICKED celebrates its 2.000th performance at London's Apollo Victoria Theatre
02/07/2011
The hit musical based on the acclaimed novel by Gregory Maguire extends booking through the 2012 Olympics. Tickets now on sale until 27 October 2012.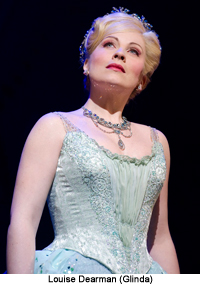 WICKED, the smash hit musical that tells the untold story of the Witches of Oz, is pleased to announce the opening of its 12th new booking period, with tickets now on sale until 27 October 2012 at London's Apollo Victoria Theatre. The new booking period encompasses both The Queen's Diamond Jubilee Celebrations in June 2012 and the London Olympic and Paralympic Games in July and August 2012.
WICKED will celebrate its landmark 2000th performance this Saturday, 2 July 2011 at 2.30pm. The popular musical has now been seen by almost 4 million people and grossed in excess of £135 million at the UK Box Office since its West End premiere in 2006.

WICKED has won multiple awards including the 2010 Olivier Award for Most Popular Show, the Whatsonstage.com Award for Best West End Show in both 2011 and 2010 and a Visit London Gold Award in 2009.

Based on the acclaimed novel by Gregory Maguire that re-imagined the stories and characters created by L. Frank Baum in The Wonderful Wizard of Oz, WICKED tells the incredible untold story of an unlikely but profound friendship between two girls who first meet as sorcery students. Their extraordinary adventures in Oz will ultimately see them fulfil their destinies as Glinda The Good and the Wicked Witch of the West.

WICKED currently stars Rachel Tucker (Elphaba), Louise Dearman (Glinda), Mark Evans (Fiyero), Julie Legrand (Madame Morrible), Clive Carter (The Wizard), Julian Forsyth (Dr Dillamond), Zoe Rainey (Nessarose), Ben Stott (Boq), Nikki Davis-Jones (Standby Elphaba) and Chloe Taylor (Standby Glinda). Cast subject to change from Monday 12 December 2011.
Enlaces de Interés
Información Relacionada
Comentarios
Para poder añadir comentarios necesitas autentificarte como usuario registrado de todoMUSICALES.