noticias
Jonathan Slinger nuevo Willy Wonka de CHARLIE AND THE CHOCOLATE FACTORY en el West End
27/02/2015
El actor, que durante más de veinte años de carrera ha protagonizado numerosas producciones de obras de Shakespeare, reemplazará a Alex Jennings en el Theatre Royal Drury Lane de Londres a partir del 4 de mayo de 2015.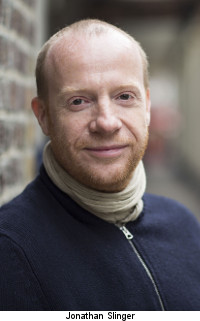 Jonathan Slinger reemplazará a Alex Jennings como Willy Wonka en CHARLIE AND THE CHOCOLATE FACTORY en el Theatre Royal Drury Lane del West End londinense a partir del 4 de mayo de 2015.
En más de dos décadas sobre los escenarios, la carrera de Jonathan Slinger destaca por su participación como protagonista en numerosas producciones de la Royal Shakespeare Company, en obras como 'Hamlet', 'Macbeth', 'Richard II', 'Richard III', 'The Tempest', 'Twelfth Night', 'The Comedy of Errors' y 'A Midsummer Night´s Dream'. En el 2014 debutó en el teatro musical interpretando a Officer Lockstock en la aclamada producción de URINETOWN dirigida por Jamie Lloyd.

CHARLIE AND THE CHOCOLATE FACTORY ha sido vista por más de 1,25 millones de personas desde su estreno en junio de 2013. Actualmente tiene abierto el periodo de venta de entradas hasta el 4 de junio de 2016.

Basado en la novela homónima de Roald Dahl, el nuevo musical CHARLIE AND THE CHOCOLATE FACTORY está dirigido por Sam Mendes y cuenta con libreto de David Greig y nuevas canciones de Marc Shaiman y Scott Wittman. El diseño de escenografía y vestuario es de Mark Thompson y la coreografía de Peter Darling.

El elenco de CHARLIE AND THE CHOCOLATE FACTORY está actualmente liderado por Alex Jennings como Willy Wonka junto a Barry James como Grandpa Joe, Clive Carter como Mr. Salt, Jasna Ivir como Mrs. Gloop, Paul J. Medford como Mr. Beauregarde, Josefina Gabrielle como Mrs. Teavee, Myra Sands como Grandma Georgina, Billy Boyle como Grandpa George, Claire Carrie como Grandma Josephine, Richard Dempsey commo Mr Bucket, Kirsty Malpass como Mrs Bucket y Kate Graham como Cherry, Lovebird Woman.

Respecto a los pequeños, el personaje de Charlie Bucket se lo alternan Rhys Lambert, Zachary Loonie, Jake Poolman y Ewan Rutherford; el de Augustus Gloop: Vincent Finch, Alexzander Griffiths y Dane Juler; el de Veruca Salt: Amy Carter, Hannah Howland y Scarlet Roche; el de Violet Beauregarde: Rhianna Dorris, Psalms-Nissi Myers-Reid y Sophie Naglik; y el de Mike Teavee: Daniel Rhodes, Innis Robertson-Pinnell y Dylan Standen.

También están en la compañía Ross Dawes, Rebecca Seale, Joe Allen, Meg Austin, Dan Cooke, Divine Cresswell, Connor Dowling, Nia-Fisher, Derek Hagen, Mark Iles, Matt Jones, Natalie Moore-Williams, Antony Reed, Matthew Rowland, Gregory Sims, Laura Tyrer, Alex Louize Bird, Simon Campbell, Collete Coleman, Gemma Fuller, Robert Jones, Ben Oliver, Paulo Teixeira y Robert Tregoning.

El álbum del elenco original de CHARLIE AND THE CHOCOLATE FACTORY salió a la venta en octubre de 2013 editada por Sony Records.

El protagonista de la historia es Charlie Bucket, un niño muy bueno de una familia muy pobre, quien gana un concurso, junto a otros cuatro niños de diferentes partes del mundo, para disfrutar de una visita durante todo un día a la gigantesca fábrica de chocolate dirigida por el excéntrico Willy Wonka y su equipo de Oompa-Loompas. La fábrica se parece a un mundo fantástico y mágico lleno de diferentes sabores, todos muy dulces.

El libro 'Charlie and the Chocolate Factory', escrito por Roald Dahl, fue publicado en 1964. Ha sido adaptado a la gran pantalla en dos ocasiones, con las películas 'Willy Wonka & the Chocolate Factory' en 1971, dirigida por Mel Stuart y protagonizada por Gene Wilder; y 'Charlie and the Chocolate Factory' en el 2005, dirigida por Tim Burton y protagonizada por Johnny Depp.

El musical CHARLIE AND THE CHOCOLATE FACTORY está producido por Warner Bros. Theatre Ventures, Neal Street Productions y Langley Park Productions.
Enlaces de Interés
Información Relacionada
Comentarios
Para poder añadir comentarios necesitas autentificarte como usuario registrado de todoMUSICALES.