noticias
[ Volver al artículo en castellano ]
Guest stars announced for Madalena Alberto's 'Don't Cry For Me' concert in London
07/07/2015
Sophie Evans, Ceilli O'Connor, Simon Bailey, Jade Anouka and Sam Cassidy will sing alongside the recent West End Star of EVITA in this unique concert which will take place on the 25th July 2015 at St James Studio under musical direction of Alfonso Casado.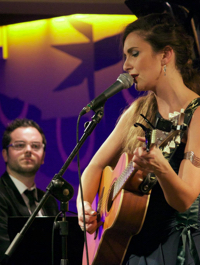 Guest stars has been announced for Madalena Alberto's first major solo concert 'Don't Cry For Me' in London, which will take place at St James Studio on the 25th July 2015 (8pm) accompanied by the award musical director Alfonso Casado (MISS SAIGON, LES MISÉRABLES). In this intimate evening Madalena will perform songs from shows that have marked her career, including EVITA, LES MISÉRABLES and PIAF, as well as her own compositions.
Madalena will be joined by the special guest star appearances of Sophie Evans (THE WIZARD OF OZ, West End), Ceilli O'Connor (EVITA and THE WIZARD OF OZ, West End; GRAND HOTEL, Southwark Playhouse), Simon Bailey (THE PHANTOM OF THE OPERA and I CAN'T SING, West End), Jade Anouka ('The Vote' and 'Henry IV' at London's Donmar Warehouse) and Sam Cassidy (ROCKY HORROR SHOW; JOSEPH UK Tour; writer of 27 THE MUSICAL).

Madalena will also be joined by guest musicians Zivorad Nikolic on the accordion, Danny Rico on percussion and Ed Parry on saxophon.

Regarding her first solo show in London, Madalena Alberto has said: "I am so excited for doing my first solo concert in London. It is going to be a magical evening, filled with some of my favourite musical theatre songs, including the ones that have marked my career, and also with some of my own compositions. Not only I will have amazing guest singers, I will also have guest musicians which will add the spice to the night. I´m counting for it to be one of the best so far, we are certainly all very excited to be performing for you".

Originally from Lisbon, Madalena moved to London with a scholarship to enrol on a performing arts degree; and since her graduation she has developed a successful career in Musical Theatre. She has recently been nominated Best Actress in a Musical for her role of Eva Peron in EVITA, which run at the Dominion Theatre in the Fall of 2014, after more than a year touring the UK. During this time Madalena has received rave reviews: "Simply superb", "A Star is Born", "Her voice is astounding" "A Stunning vocalist"... Madalena has just finished performing at the Donmar Warehouse, part of a stellar cast ensemble of the theatre and televised play 'The Vote'.

In March 2013 Madalena played the role of Edith Piaf at Leicester's Curve Theatre production of PIAF. In the Spring of 2012 she performed the role of Lucy in the acclaimed Morphic Graffiti production of JEKYLL AND HYDE at the Union Theatre. She also played the role of Fantine in the acclaimed 25th Anniversary International Tour production of LES MISÉRABLES which finished at London's Barbican Center in October 2010. Madalena has also worked in recent productions of GODSPELL, FAME, CHICAGO, ZORRO THE MUSICAL (West End) and OVER THE THRESHOLD (Edinburgh and Off-West End).

Recordings include 'LES MISÉRABLES Live! – The 2010 Cast' album, 'LES MISÉRABLES 25th Anniversary concert at the O2' Cd and Dvd, and 'The Postman and the Poet' and 'One Touch of Venus' released by Jay Records. Madalena can also be heard at the just released John Owen-Jones album.

Alongside her career as an actress, Madalena has developed a career as a singer/songwriter. In September 2012 she released her EP 'Heart condition', recorded and produced at Rock Box Studios. In March 2014 Madalena released her solo album 'Don't Cry For Me', released by BK Records, performing musical theatre classics.
Enlaces de Interés
Información Relacionada
Comentarios
Para poder añadir comentarios necesitas autentificarte como usuario registrado de todoMUSICALES.