[ Volver al artículo en castellano ]
STUART MATTHEW PRICE, Kidderminster, West Midlands (England)
17/09/2014
Actor, composer and producer who has appeared in London in musicals such as PARADE, DEAR WORLD, THE SOUND OF MUSIC, SHREK THE MUSICAL and MACK AND MABEL.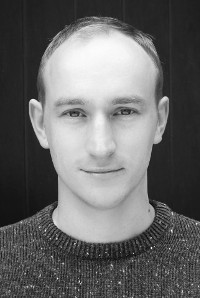 His professional debut was in PARADE at London's Donmar Warehouse in 2007.
Other theatre credits include Julian in DEAR WORLD (Charing Cross Theatre); Dallas in SWEET SMELL OF SUCCESS (Arcola Thetre); Frank Capra in MACK AND MABEL (Southwark Playhouse); Andrew Van Helsig in VAMPIRETTE (Manchster Opera House); Stix and 1st Cover Pinnochio in SHREK THE MUSICAL (Theatre Royal Drury Lane), Scotty in MERRILY WE ROLL ALONG (Sondheim 80th Birthday Celebrations, Donmar Warehouse); Yasha/Steve in THE CRADLE WILL ROCK (Arcola Theatre); Jordan in DEPARTURE LOUNGE (Edinburgh Festival); and JEST END at the Jermyn Street Theatre.
As a composer he has written different musicals, such as SEARCHING or THE DIARY OF ME. His debut album 'All Things In Time' was released in 2012.
Stuart and James Yeoburn founded in Setember 2011 the production company United Theatrical Productions producing Dress Circle Benefit Concert at the Her Majesty's Theatre. Since then they have produced concerts such as 'Kerrigan-Lowdermilk: Words and Music' and shows as 'Picture Perfect A New Musical'.

Currently he is working on her latest musical, BEFORE AFTER, which is being workshopped for two weeks and then will be performed to the public on Sunday 28 September at London's St. James Studio starring Caroline Sheen and Hadley Fraser.

- The first musical you saw and/or most impressed you: The first musical I ever HEARD was PHANTOM OF THE OPERA, which gave me the theatre bug. Then I ended up watching JOSEPH at the London Palladium in 1992. It's fair to say that Andrew Lloyd Webber is responsible for me being who I am! Then there was MISS SAIGON….now THAT blew my mind.

- You would like to make a duet with: There are so many wonderful people out there and picking one is very hard. I guess I have two people I'd like to sing with. Male wise, I'd love to duet with Brian d'Arcy James. He is such a gifted actor with a very distinct and unique voice. He is definitely on my hit list! As for the female, I would love to sing with Lea Salonga. Not just to relive my childhood boyish fantasy of being Aladdin, but also because her tone of voice is so beautiful and pure. I'm a big fan of tone!

- Webber o Sondheim? That's like chalk and cheese. I'm not sure I can answer that. Both inspire me and both write completely contrasting, yet genius pieces of work. The world is very lucky to have them both!

- London or New York? You're not making this easy! I love London for all it's historical setting, I mean I've lived here for 16 years now. The theatre scene is always good fun and I've made some incredible friends along the way. However, every time I go to New York there's a different feeling inside me. I don't know whether that's because I prefer it or not. I do know that one day I will be living in New York. When I figure out why that is I'll let you know…let alone when that would be!

- Do you keep the programmes of the musicals you watch? I have a programme, brochure and tickets stubb for EVERY theatrical production I have been to. I also keep the football programme from game days when I go to watch! For me, it's about remembering how lucky it was to see that moment in time. After all, no performance is truly the same!

- The worst moment you've had live on the stage was (as a performer and/or as a spectator): There was a performance in SHREK when I was on as Pinocchio and, at the end of Freak Flag, there's a huge front stage, spotlight, plot changing character realisation moment. I opened my mouth to sing the big money note and something flew in my mouth and caused me to cough and splutter everywhere! I then turned round to see my cast friends trying their hardest to hold back the laughter as we continued the song. Hilarious, but mortifying. It still makes me smile though.

- An unforgettable moment (as a performer and/or as a spectator): Again… SHREK and again… Pinocchio. I think I was cursed playing that role! There was a mechanical nose that was fitted so that it could grow when he was lying. This particular performance, the nose decided to do whatever it wanted. I simply had to sit back and let the nose tell ME whether I was lying or not. It was brilliant. I just hope the audience were ok with my coping strategy.

- Do you have any superstitions before the opening night? I'm someone who generally doesn't worry about those sort of things. I just panic about whether I remember everything I'm supposed to! There's a lot of pressure on an opening night. AT the same time…it's thrilling!

- A musical character that you would like to BE (not perform): Well I feel like I AM Bobby from COMPANY. How about 'Edward Bloom' from BIG FISH? He turns the normal every day experiences into adventures. Even to his death bed, he sees his life through stories and make believe. I'd like to do that until the day I die as well. Real life isn't nearly as fun!

- A character of your opposite sex that you would like to perform: Norma Desmond in SUNSET BOULEVARD. Such a layered and fragile role. Who doesn't want to play a mad woman at least once in their lives?!

- What do you like most/least about your work? I always remember as a kid that feeling of sitting in the auditorium anticipating something magical was about to happen. For two hours I was going to be transported into a completely different world to my own. What I love most is the fact that I have the opportunities to make others feel that way when they're in a theatre. To be a part of that is beyond words. However, what I like least, is that too many people have forgotten how special that gift is. Not just for us as performers sharing that gift, but for audience who don't recognise how lucky they are to receive the gift. Theatre is unique and theatre is an occasion.

- What is your favorite musical movie? I'm going to be a pain here and mention a few! There's the obvious SINGING IN THE RAIN and all the MGM classics. Then you've got everything from the 90's Disney musical era featuring Alan Menken's incredible scores (so ALADDIN and NEWSIES sit very high on the list for me there!) and then finally the likes of MOULIN ROUGE which is just genius in every way. Definitely not HIGH SCHOOL MUSICAL.

- The last CD/DVD related to Musicals that you have bought is: It was a double purchase! Two incredible shows with beautiful scores that blow my mind. First being BRIDGES OF MADISON COUNTY (Jason Robert Brown) and the second being GIANT (Michael John LaChiusa). They are so incredible!!

- What is your favourite line from a musical: "For every job that must be done there is an element of fun…" MARY POPPINS. Not the best quote, but it was the first to pop into my head.

- Agree or disagree with TV Shows finding new Musical Stars (as 'Over The Rainbow' or 'I'd Do Anything'): I think they're certainly not a bad thing. It finds amazing talent (which a lot of people I admire and love working with have been on some of these programmes). It also raises the profile of theatre and brings it to a wider/broader audience. At the same time, it does question whether it makes everybody believe that being a performer is "easy" and that anybody can do it. It's fair to say that being a performer is a skill and people spend their lives refining their skills and craft. Theatre is an amazing thing and can provide so much good in the world to anyone who wants it to, but it is no different from any other job e.g. Doctor, Laywer, etc that we all work hard for.

- You feel proud of: All the work being done for new writing and how exciting the future of the artform is. Some cracking playwrights, composers and lyricists out there creating some stunning pieces of work!

- Of this moment you're living as a performer, the most important thing to you is: Being happy. Not just in myself, but in the work I attract myself to. Turning 30 made me realise how important happiness is and being surrounded by people who you cherish. Being a performer, you get to work alongside equally passionate people who care about the piece you're collaborating on and that is only every a good thing. When people stop caring about themselves, their loved ones and their work…that's a sad day indeed.

- Other projects you are working on: I'm about to head off to Germany for the ROCKY HORROR SHOW to bring my Riff Raff back to life after 6 years! It's all very exciting! As a composer, my new musical BEFORE AFTER is being workshopped at the end of September and opens in Tokyo, Japan this November! Hopefully a London premiere will happen next year when I return from Germany. Then there's my production company UNITED THEATRICAL who have some very exciting projects in the pipeline as well. WATCH THIS SPACE!
Información Relacionada