noticias
Stuart Matthew Price canta temas de Lloyd Webber en un nuevo concierto en solitario en Londres
25/09/2015
El actor, que ha participado en el West End en PARADE y SHREK, contará con la participación como artistas invitadas de Madalena Alberto y Katy Treharne en esta velada que tendrá lugar el 9 de octubre de 2015 en el St James Studio.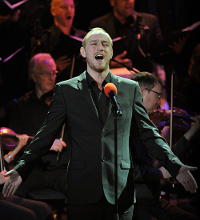 El intérprete y compositor Stuart Matthew Price vuelve al St James Studio de Londres para ofrecer una serie de conciertos únicos celebrando el trabajo de diversos compositores de teatro musical contemporáneo.
El primer concierto se centra en el extenso catálogo de Andrew Lloyd Webber, autor de emblemáticos musicales como THE PHANTOM OF THE OPERA, EVITA, JESUS CHRIST SUPERSTAR o CATS. 'Stuart Matthew Price Sings The Songs Of Andrew Lloyd Webber' tendrá lugar el 9 de octubre de 2015 a las 20h.

En este concierto Stuart contará con el acompañamiento musical al piano de Sean Green y con la participación como invitadas especiales de Madalena Alberto (EVITA, LES MISÉRABLES, JEKYLL & HYDE) y Katy Treharne (THE PHANTOM OF THE OPERA, DEAR WORLD).

Stuart Matthew Price debutó en Londres interpretando el personaje de Young Soldier en la aclamada producción de PARADE de Jason Robert Brown del Donmar Warehouse. Otros de sus trabajos incluyen los personajes de Riff Raff en la gira europea de THE ROCKY HORROR SHOW; Jordan en DEPARTURE LOUNGE, estrenado en el Festival de Edimburgo; y el musical parodia de musicales JEST END, en el Jermyn Street Theatre. Interpretó a Julian en DEAR WORLD (Charing Cross Theatre); Dallas en SWEET SMELL OF SUCCESS (Arcola Thetre); THE LAST MAHARAJAH (Worksho); Frank Capra en MACK AND MABEL (Sothwark Playhouse); Andrew Van Helsig en VAMPIRETTE (Manchester Opera Hose); Stix y Cover de Pinnochio en SHREK THE MUSICAL (Theatre Royal Drury Lane); Scotty en MERRILY WE ROLL ALONG (Sondheim 80th Birthday Celebrations, Donmar Warehouse); GREEKS AT THE GATE (Gate Theatre); y Yasha/Steve en THE CRADLE WILL ROCK (Arcola Theatre).

Ha participado en diferentes conciertos, como 'Strictly Gershwin' en el Royal Albert Hall, 'Notes in Heels' en el Duchess Theatre y 'The Good Companions' para la emisora BBC Radio 3. En agosto de 2010 editó su álbum debut 'All Things In Time'.

Como compositor ha escrito varios musicales. En verano de 2014 su pieza BEFORE AFTER fue presentada en el St James Studio tras un workshop de dos semanas.
Enlaces de Interés
Información Relacionada
Comentarios
Para poder añadir comentarios necesitas autentificarte como usuario registrado de todoMUSICALES.