noticias
[ Volver al artículo en castellano ]
Madalena Alberto will star in the new UK Tour of EVITA
08/04/2013
Marti Pellow will play Che in this new production of Andrew Lloyd Webber and Tim Rice acclaimed musical which will open at London´s New Wimbledon Theatre on the 13th May 2013.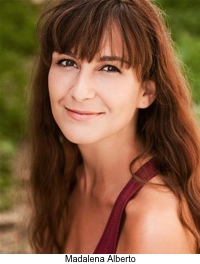 Madalena Alberto will star as Eva Peron in the new UK Tour Production of Andrew Lloyd Webber and Tim Rice acclaimed musical EVITA that will open in London and play six performances only, at the New Wimbledon Theatre from Wednesday 13 May, prior to embarking on a national and international tour.
After opening in London, EVITA will travel to Milton Keynes (20 May – 1 June), Glasgow (3-15 June), Liverpool (24-29 June), Sheffield (1-13 July), Norwich (15-27 July), Salford (29 July-10 August), Wolverhampton (19-31 August), Belfast (2-14 September), Truro (16-28 September), Swansea (30 September – 5 October), Bristol (7-12 October) and Southampton (14-19 October).

Madalena Alberto will be joined by Marti Pellow (Wet Wet Wet, THE WITCHES OF EASTWICK, JEKYLL AND HYDE Uk Tour, BLOOD BROTHERS) as Che; Mark Heenehan as Peron; Nic Gibney as Magaldi; and Sarah McNicholas as Mistress. The ensemble members are Eva Hannah Grover, Sophia amato, Emily Goodenough; Verity Burgess, Lizzie Ottley, Perry O'Dea, Joe Maxwell, Joel Elferink; Stuart Maciver; Joseph Connor; Ryan Pidgen; Anthony Ray; Antony Hewitt and David Burlin.

Originally from Lisbon, Madalena moved to London with a scholarship to enrol on a performing arts degree; and since her graduation she has developed a successful career in Musical Theatre. Madalena has recently played the role of Piaf in selected performances at the Curve Theatre production of PIAF. In 2012 Madalena performed the role of Lucy in the acclaimed Morphic Graffiti production of JEKYLL AND HYDE at the Union Theatre. She played the role of Fantine in the acclaimed 25th Anniversary International Tour production of LES MISÉRABLES which finished at London's Barbican Center on October 2010. And she has also starred in shows such as GODSPELL, FAME, CHICAGO, ZORRO THE MUSICAL (West End) and OVER THE THRESHOLD (Edinburgh and Off-West End). Apart from her career as an actress, Madalena has recently developed a career as a singer / songwriter. In March 2011 she released the album 'Foreign Sketches - Live Studio Recording' in which she performed her songs solely with a guitar. And she has recently released her new EP 'Heart condition', recorded and produced at Rock Box Studios.

This production of EVITA will be directed by Bob Tomson and Bill Kenwright. It will be designed by Matthew Wright, with choreography by Bill Deamer, lighting design by Mark Howett, sound design by Ben Harrison, orchestrations by Andrew Lloyd Webber and David Cullen and musical arrangements by David Steadman.

Telling the story of Eva Peron, wife of former Argentine dictator Juan Peron, EVITA follows Eva's journey from humble beginnings through to extraordinary wealth, power and iconic status which ultimately lead her to be heralded as the 'spiritual leader of the nation' by the Argentine people. With more than 20 major awards to its credit, including the Oscar winning film version starring Madonna and Antonio Banderas, Evita features some of the most iconic songs in musical theatre, including "Don't Cry For Me Argentina", "On This Night of a Thousand Stars", "You Must Love Me", and "Another Suitcase in Another Hall".
Enlaces de Interés
Información Relacionada
Comentarios
Para poder añadir comentarios necesitas autentificarte como usuario registrado de todoMUSICALES.