noticias
[ Volver al artículo en castellano ]
Madalena Alberto releases her ´Heart Condition´
06/09/2012
The Portuguese performer who has starred in musicals such as LES MISÉRABLES and JEKYLL AND HYDE has recorded some of her own songs in this new EP, which has been officially released on the 5th September 2012.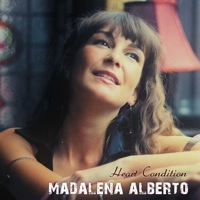 Madalena Alberto, who has recently starred in the Morphic Graffiti production of JEKYLL AND HYDE at the Union Theatre, has released her new EP 'Heart Condition', which includes four her songs. The EP is on sale digitally through iTunes and people can also get a hard copy through the official website www.madalenaalberto.com
It is the first time Madalena has collaborated with other musicians in such an intense recording setting and she admits feeling very proud of what has been achieved in 'Heart Condition'.

'Heart Condition' was recorded in August at Lisbon's Rock Box studios and produced by Jose Canela; mastered and mixed by Tiago Borges.

Originally from Lisbon, Madalena moved to London with a scholarship to enrol on a performing arts degree; and since her graduation she has developed a successful career in Musical Theatre. She has recently performed the role of Lucy in the acclaimed Morphic Graffiti production of JEKYLL AND HYDE at the Union Theatre. She also played the role of Fantine in the acclaimed 25th Anniversary International Tour production of LES MISÉRABLES which finished at London's Barbican Center on October 2010. In Spring 2011 she performed in a new production of GODSPELL directed by Michael Strassen at the Union Theatre. And she has also starred in shows such as FAME (UK Tour), CHICAGO (Kuala Lumpur), ZORRO THE MUSICAL (West End) and OVER THE THRESHOLD (Edinburgh and Off-West End).

In March 2011 she released the album 'Foreign Sketches - Live Studio Recording' in which she performed her songs solely with a guitar. Madalena has been offering different concerts where she performs her own material, both in Lisbon and in London, from the dampest caves in Camden Town to the majestic Old Vic stage.

This is the track list of the EP 'Heart Condition':

1. Heart Condition
2. Fairytale
3. Gentleness is Power
4. Rainbow and the Sky
Enlaces de Interés
Información Relacionada
Comentarios
Para poder añadir comentarios necesitas autentificarte como usuario registrado de todoMUSICALES.