[ Volver al artículo en castellano ]
BEN RICHARDS, West Sussex (United Kingdom) 1972
26/08/2010
British actor who has starred in the West End productions of THE FULL MONTY, SATURDAY NIGHT FEVER and GUYS AND DOLLS. He succeeded Jason Donovan as Tick/Mitzi in PRISCILLA QUEEN OF THE DESERT from 1st June 2010.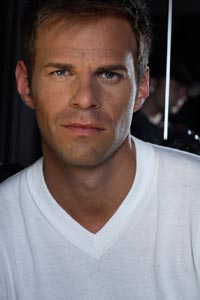 His professional debut was in the pantomime ROBIN HOOD & BABIES IN THE WOOD with Frank Bruno, where he played the singing outlaw Alan-A-Dale.

Other theatre credits include the role of Sky Masterson in the 2006 Donmar revival of GUYS AND DOLLS, Tony Manero in SATURDAY NIGHT FEVER at the London Palladium, Jerry Lukowski in the London cast of THE FULL MONTY, SMOKEY JOE´S CAFE at the Prince of Wales Theatre, Pish Tush in HOT MIKADO at the Queen´s Theatre and Kenickie in GREASE at the Dominion Theatre. His television credits includes PC Nate Roberts in 'The Bill' (2007-2010), Justin in 'Holby City' (2006), and Bruno Milligan in 'Footballers Wives' and 'Footballers Wives Extra Time' (2005-2006). Ben also appeared as a judge on the second series of 'Strictly Dance Fever' for BBC 1.

Currently he is performing Tick/Mitzi in the West End production of PRISCILLA QUEEN OF THE DESERT THE MUSICAL at the Palace Theatre.


- The first musical you saw and/or most impressed you: First musical I saw was a school trip to see CATS, inspirational!

-You would like to make a duet with: … singing the song: … I would love to duet with Shania Twain or Sade. My good friend Ramin (Phantom in LOVE NEVER DIES) and I may collaborate on some recording in the future.

- Webber or Sondheim? Webber I guess, although I like a lot of the new, modern, edgier writers.

- London or New York? I love London, it's been very good to me and I have worked there most of my career, but New York still has to be conquered.

- Do you keep the programmes of the musicals you watch? Yes, I keep them in a box in my loft.

- The worst moment you've had live on the stage was (as a performer and/or as a spectator): I have forgotten words in scenes before, and a few times whilst singing. Your mind really does work at an incredible speed to get you out of those situations.

- An unforgettable moment (as a performer and/or as a spectator): A full house all standing and cheering whilst playing Tony Manero in SATURDAY NIGHT FEVER at the London Palladium, Magic!

- Do you have any superstitions before the opening night? I try and stay away from superstitions, they can get in the way. I do give myself a moments thought on opening night just before I go on.

- A musical character that you would like to BE (not perform): Sky Masterson (GUYS AND DOLLS).

- A character of your opposite sex that you would like to perform: I'm playing a drag queen at the moment in PRISCILLA QUEEN OF THE DESERT, that´s as close to the opposite sex I want to get.

- What do you like best/least about your work? I am very fortunate in that I get to do what I love for a living, I am in no place to complain about anything.

- What is your favourite musical movie? So many, SINGING IN THE RAIN, SOUND OF MUSIC, WEST SIDE STORY, MOULIN ROUGE.

- The last CD/DVD related to Musicals that you have bought is: PRISCILLA QUEEN OF THE DESERT.

- What is your favourite line from a musical: "Your hands are rough, your back is hairy, your talk is tough, your smell is scary, here's what you're not, you're not a fairy" ("Tus manos son duras, tu espalda es peluda, tu hablar es rudo, tu olor es temeroso, aquí va lo que no eres, no eres marica") from "Man" from THE FULL MONTY.

- Agree or disagree with TV Shows finding new Musical Stars (as 'Over The Raibow' or 'I'd Do Anything'): They seem to be a good way of getting people to come to the Theatre, but it´s a bit lazy from a publicity angle.

- You feel proud of: The show I am in and in my company.

- Of this moment you're living as an actor, the most important thing to you is: Trying to be the best I can be in both work and as a person.

- Other projects you are working on: I have recently finished filming a comedy for Sky TV, will start working on my one man show soon, and can be found playing Tick/Mitzi in PRISCILLA QUEEN OF THE DESERT until March.
Enlaces de Interés
Información Relacionada