entrevistas
[ Volver al artículo en castellano ]
Luke Kempner and Niamh Perry, in love with musical theatre
21/05/2010
Luke Kempner covers the role of Marius in the new international 25th Anniversary touring production of LES MISÉRABLES and Niahm Perry performs Fleck in Andrew Lloyd Webber's LOVE NEVER DIES. Both of them have just spent some holidays in Barcelona.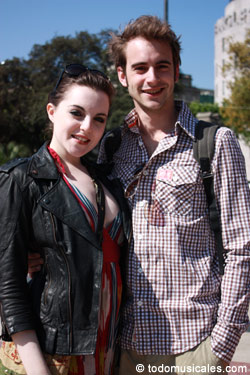 Luke Kempner and Niamh Perry have just make a brief break in their works and have take the opportunity to visit Barcelona and discover Gaudi's architectonical treasures and enjoy the sun and the sea of this Mediterranean city.
Luke Kempner is one of the cast members of the acclaimed new international tour production of LES MISÉRABLES, covering the role of Marius leading by Gareth Gates. This 25th anniversary production of LES MIS finished last Saturday May 15th its run at Edinburgh Playhouse, where they have sold out each performance for four weeks, as it's being usual at each city the Show visits since the tour began last December in Cardiff. Now they're getting ready for Paris opening, where LES MISÉRABLES will be running at Théatre du Chatelet from May 26th to July 4th.

Niamh Perry performs Fleck in the brand new Andrew Lloyd Webber's musical, LOVE NEVER DIES, that follows the story of THE PHANTOM OF THE OPERA's characters ten years after Christine and the Phantom met for the first time. Niamh Perry was one of the finalists of BBC's TV reality 'I'd Do Anything', which aim was to find the actress who performed Nancy in OLIVER's London revival. She made her West End debut in June 2009 performing the role of Sophie in MAMMA MIA!.

Luke and Niamh met at Edinburgh Fringe Festival in 2008, where they were performing in different musical shows: Luke was part of the cast of Dougal Irvine's DEPARTURE LOUNGE and Niamh starred in the world premiere of ONLY THE BRAVE, created by Matthew Brind, Stephen Coleman and Rachel Wagstaff.

We met Luke Kempner and Niamh Perry during their holidays in Barcelona and we talked with them about their current works and about their artistic career.

LUKE, YOU HAVE JUST ENDED PERFORMANCES IN EDINBURGH, THE 5TH CITY OF LES MIZ TOUR, AND YOU NIAMH ARE IN THE 3RD MONTH OF LOVE NEVER DIES RUN… HOW WOULD YOU VALUE YOUR WORK IN THESE SHOWS? WHAT DOES IT MEAN TO YOU TAKING PART OF THESE PRODUCTIONS?
Luke Kempner: It's been amazing. We've been touring with LES MIZ for about six months. Edinburgh was fantastic, really huge. It has been the first place where I've played Marius, in a theatre with 3.000 seats, so it has been really amazing. I'm really pleased for that. Touring is great. You use to get to see some great places and get paid for it... It's a fantastic show and the production is really excellent
Niamh Perry: I started rehearsals for LOVE NEVER DIES on January but I actually started working in the project about 20 months ago, so in July 2008 we made a sort of workshop, so I feel I've been doing it for a very long time, so when we finally opened for a premiere on March it was a very big relief. With every new show, with a complete new production, there are constant rehearsals, and there are changes going into the show as we speak, and it probably will do for the rest of the year. I think it's like when a show like LES MIS first opened 25 years ago, there were constantly changes, and now that is what is happening with LOVE NEVER DIES.

AND HOW DO YOU FEEL ABOUT YOUR WORKS?
Luke Kempner: Really pleased. It's really exciting to be part of it, and of course you're always looking forward to see what the big next stop is, but at the same time there are so many little things you can enjoy. I'm really having a great time.
Niamh Perry: It's been really a hard work. The job I did before this was MAMMA MIA! in the West End and it was very very different. Very enjoyable, the most amazing first job ever, and Sophie is a wonderful part, but to be able to create my own role has been incredible. I will always be the first Fleck, which I don't know if it's a good or a bad thing… It's been amazing, but a very hard work.
Luke Kempner: I think it's been the same as much as Les Miz is an old show but this is a new production and we've got the chance to create new tracks, and that's been amazing.

WHAT COULD YOU TELL US ABOUT YOUR CHARACTERS?
Niamh Perry: Fleck is a new character that there isn't anything like it in musical theatre. It's quite aspectable which seems to be what most people talk about, it's what I look like. It's a great part, it's very different and it's a complete new character, that didn't exist in the previous show, THE PHANTOM OF THE OPERA. It's really cool to have that on your cv and I think for me, although I'm quite young, what I want for my career is to have lots of different kind of roles on my cv and there isn't anything like this, so I can't get any better really.
Luke Kempner: Playing Marius is really exciting. And it's also great to cover him because you get to do lots of different parts, and a good thing with LES MIZ is that there is so much to do. And playing Marius has been fantastic. It's something you've always dream of. Working with people like John Owen Jones, Earl Carpenter… You're on the stage with this people, and when he sings "Bring Him Home" and you're lying there, you just can't believe it was actually happening.

LES MIZ TOUR IS BEING VERY CONTROVERSIAL. AUDIENCE IS ALWAYS COMPARING WEST END AND TOUR PRODUCTIONS… DO YOU FOLLOW INTERNET FORUMS OR REVIEWS?
Luke Kempner: I've seen Whatsonstage forums. It's interesting, but the trouble is that there are lots of people judging things before they see them. So when you read them you think: "if you haven't seen it, how do you know?". But there are fans, like one woman who follows my career and she has seen the tour three times and the one in London not less than fifty times –she absolute loves it-, and she said it's very different, but not that different… It's the same great music, the same great songs… The directions are slightly different… It has just been updated to 2010.
Niamh Perry: I prefer the touring production. I've seen the one in the West End quite a few times, and it's brilliant, but I think that when you have a show that is 25 years old you have to update it. I've been in LOVE NEVER DIES for three or four months and we are already updating it. I think for modern audiences, especially for young people, they can probable relate to the Les Mis tour more than to the one in town.
Luke Kempner: I think Cameron Mackintosh -we were talking on the press night- he was saying that he didn't want them to compete… He won't start to say "the London one is rubbish and that is my new one"… And that's brilliant, and that's why it's so successful. This is just something new. As much as I do prefer my version, but there is no one better than the other.

BUT PEOPLE LIKE TO TALK AND ALWAYS USE TO COMPARE THINGS…
Niamh Perry: That is the one negative thing I have to say about this industry: that people will judge shows. I know the amount of controversy around LOVE NEVER DIES has been extraordinary. That's something that we have all accept since the beginning. Our director told us at rehearsals that people wanted to hit the show, so we have just to ignore whatever people say and keep save. Whatever problems people have with the show, the music Andrew has written is phenomenal. I don't read forums and I never will, that's something I was told during the TV Show. Because you can read 50 positive comments and 1 negative, and that will be the only one you will remember.
Luke Kempner: I read a few at the beginning of the tour, because we all knew about the ramblings and members of the cast said "Did you read this? Did you read that?" But I decided to stay away of it, because it's just one person's opinion, and you can hear something you don't like…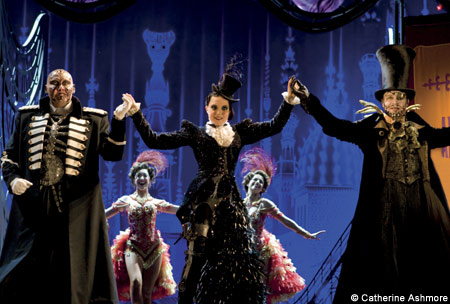 Adam Pearce (Squelch), Niamh Perry (Fleck) and Jamie-Reid Quarrell (Gangle) in LOVE NEVER DIES
HAVE YOU SEEN EACH OTHER'S SHOWS? AND WHAT DO YOU THINK ABOUT THEM?
Luke Kempner: I worked in LOVE NEVER DIES doing the workshops and the soundtrack so I knew the show very well and Niamh let me know what was going on in rehearsals and all these time I've been knowing it and loving it. I absolute love the show. I love Andrew's music, it's fantastic. I've also have some close friends working in it, so I really enjoyed it and I loved the first PHANTOM, I think this is a complete different Show, the music is different. And it's so good to see Andrew's work back in the West End.
Niamh Perry: I love LES MISÉRABLES and I've always loved it. I did it in Jersey last year for a week I played Eponine and adored it. I also adore the fact that Luke is in the show, so I can see it all the time. I'm going to Paris to see him playing Marius.
Luke Kempner: We're lucky to be involved in two of the biggest productions of this year. The press of LOVE NEVER DIES was huge, and LES MIS tour is selling out, which is amazing.

WAS IT VERY DIFFICULT TO GET THE ROLES? HOW HARD USE TO BE AUDITIONS IN THE WEST END?
Niamh Perry:I didn't an audition. Actually I sorted of the workshops and then Andrew wrote the part of Fleck for me, so that's why I thankfully didn't an audition.
Luke Kempner: Auditioning is a funny thing. I left drama school two years ago and I spent a year auditioning for lots of different shows and getting very very close… I did an audition for LES MIS in London and I got until the last three for the role Marius, but it didn't work out. They called my agent when the tour came up and they said they started auditions and I was thinking "are they gonna see me again?" And they tell me "wait, wait, we'll call you, we'll call you" and they called me on a Wednesday and the final was on a Friday and then I was cast on a week. So I think they had in mind people like myself, that they knew from PHANTOM, people that they just knew where right for the tour, a right blend.

WHAT DO YOU THINK ABOUT THE FACT OF HAVING POPULAR FACES IN LEADING ROLES?
Niamh Perry: I can't really comment on that because of where I come from (the TV show 'I'd Do Anything') I'm kind one of those people, so I have to speak careful. There are lots of people who think people get jobs because of who they are. I personally don't agree. I think it depends on the person, you can get someone really famous, without training in musical theatre who is actually really talented and they deserve that part and, on the other side, there is some people who maybe aren't perfect for that part… But it's a business and producers need to make money at the end of the day.
Luke Kempner: It's such a difficult thing… I cover Gareth Gates and when we just heard about it so many people were like "Oh My God, Gareth Gates to play Marius!". I remember seeing on the forums some people saying "it's gonna be great" and some saying "it's gonna be bad"… For me, if you're good enough, it doesn't matter where you come from. There are so many different ways to get into the business, and if you make it being on a TV show, that's your way! I trained and I'm happy about that and I feel better prepared than someone that maybe hasn't trained but at the same time... Gareth is great! He does a great job and he looks great! It annoys me when you see people who can't sing, and sometimes it's a little bit frustrating… But I feel lucky of working with Gareth, he's brilliant!

IS IT VERY COMPLICATED BEING A COVER OF SUCH A POPULAR PERFORMER AS GARETH GATES?
Luke Kempner: It can be. When you're on and they announce "the role of Marius will be play by… Luke Kempner" and you can hear the huge "oooh"… well, that's ok! My job is to cover, so it's fine. If I was going to see Antonio Banderas doing something and he wasn't on, I'd also be like "oooh"… It's horrible, because covers are right! But it's just people's minds. You have to prove they are wrong. A lot of Gareth fans came to me and told me: "I can't see Gareth but you were great, we really enjoyed", and that's great!
Niamh Perry: Sometimes it's more difficult to be a cover, because you have your own track, and on top of that, you have to learn someone else's track from top to bottom and be able to do it at any situation, as five minutes before the show starts if somebody gets ill.
Luke Kempner: While they had four-five months to prepare their roles, being the mode, knowing everything about that character, you hardly had time to rehearse it and you just have to put on the costumes and do it! But it's excited!

WHAT WILL HAPPEN TO LES MIZ AFTER THE BARBICAN? AND WHAT ABOUT THE O2 CONCERT GOSSIP?
Luke Kempner: We don't know. There's a big birthday, but they haven't announced what is going to happen yet. There has been mentioned this O2 concert… but no one knows. Well, Cameron knows, but I don't know! I know the show is going to open in America, in Spain… and then we'll see! It would be lovely to carry on in the UK… I think it's such a wonderful production that if it wasn't seen again in the UK would be a shame.

HAS IT A SPECIAL MEANING TO YOU PERFORMING AT THE BARBICAN?
Luke Kempner: Yes. Rebecca Caine, the original Cosette, messaged me when she knew I was going to play Marius and said that "glad you play Marius, all love from grandy Cosette"…It's a thing that, 25 years ago, she was part of that thing, at the Barbican… and we're going to be there and not too many people will be able to be at this side, so it's a great deal. And also if the O2 thing happens, to perform there would be so unbelievable. And to think about the show soundtrack has been recorded again… I use to listen the 10th Anniversary concert of LES MIZ every night… And thinking that people will be buying our cd and listening to it… it's just amazing!

AND NIAMH, WHAT ABOUT THE BROADWAY OPENING OF LOVE NEVER DIES?
Niamh Perry: It was originally supposed to be opening on Broadway in October but it has been postponed until next year. because of the improves of the show in the West End we're not a 100%sure when the changes will go in and when it's going to be transfer to Broadway. It was also supposed to open in Melbourne in 2011… but nothing is confirmed. They haven't started auditioning yet. So it's a little bit ambiguous, at the moment no one really knows, but hopefully next year.

AND HAVE YOU BEEN TOLD TO ORIGIN FLECK ON BROADWAY? WOULD YOU LIKE TO?
Niamh Perry: I think once I finish in the West End I should take a break from the Show because I've been involved in it for so long. I want to appreciate it, and see it from the other side. They don't usually bring people from London without Equity or Union, there are quite strict rules. So I don't think I'll be invited any way, unfortunately.

NIAHM. WHAT DID IT MEAN TO YOU TAKING PART OF 'I'D DO ANYTHING'? DID IT CHANGE YOUR LIFE?
Niamh Perry: Yes. That is the reason why I'm here. The person I was before I did the TV show is very different. I was seventeen when I started the Show, I was in school, doing my final exams… And I couldn't go to college like Luke did, to train for three years Musical Theatre… This opportunity came and I had to take it. I did that show for four or five months in 2008, and I'm working since then. So it's a different way of getting into the industry, but it's quite common now. It's been a hard work, and a lot of people judge you because of where you come from, but I hope having the talent to back it up, and it has been a relief to know I have neglected my studies for a good reason, so I feel very lucky.
Luke Kempner: It's interesting that the people who judge you, the next day are auditioning for 'X Factor'. It's jealousy. They just want it.
Niamh Perry: People think it's an easy way to get into the industry, but it's not, because I can guarantee that no one who hasn't done a show like mine will ever work as hard as I have, and feel the pressure of doing a live TV in front of millions people… that's not something you do every day.
Luke Kempner: It's the scarest audition you'll ever do
Niamh Perry: Yes! And I did it at seventeen so any other audition that I'll go into… like my auditions for MAMMA MIA!, it wasn't scary at all… You haven't there Cameron Mackintosh, Andrew, and the panel… But during the show I did, I had Andrew and Cameron as mentors, they are a kind of the Kings of Musical Theatre, so I am very lucky .

DO YOU FOLLOW 'OVER THE RAINBOW'?
Luke Kempner: I follow it more than Niamh! We went to the live show two weeks ago. I used to live with Lauren Samuels when I was at Drama school. We do follow it.
Niamh Perry: Well, it's quite difficult when you work. We have two shows on Saturday and Sunday is our day off…
Luke Kempner: Yes… I watch it on internet!
Niamh Perry: I usually heard it from my flat mates or from my friends… It's quite surreal being able to watch another group of girls do through the exact same things you did, it can be quite difficult. But they're great shows, they definitely work.
Luke Kempner: I think these TV shows are great. I really enjoy them! I love 'X Factor', I love 'Britain's Got Talent', specially. It's good entertainment.

YOU BOTH MET IN EDINBURGH IN 2008… WHAT COULD YOU TELL US ABOUT YOUR EXPERIENCE AT THE FRINGE? DON'T YOU THINK THAT SHOULD BE A MUST-SEEN FESTIVAL FOR EACH MUSICAL THEATRE LOVER?
Luke Kempner: I always recommend it to everybody. It was my second job.
Niamh Perry: It was my first professional job.
Luke Kempner: Still today those were the best four weeks of my life, even doing LES MIZ. The Fringe Festival is special. It's full of young people, and all doing shows, and there's no judgement, everybody is supportive.
Niamh Perry: It's like a non stop party.
Luke Kempner: You never get the chance of watching so many shows in London. You get a pass and you see everything for free. You must see as much as you can, because it's the best way of learning.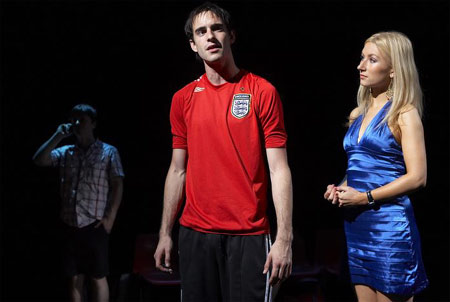 Luke Kempner with Hayley Angel Wardle in DEPARTURE LOUNGE in Edinburgh
HOW DID YOU BEGIN TO FEEL YOU WANTED TO FOCUS YOUR CAREER IN MUSICAL THEATRE?
Niamh Perry: It was actually with LES MIZ. My mom was always playing LES MIS soundtrack in the kitchen and I knew every word of it since I was five. My parents loved to watch shows, so they used to bring me to see shows all the time. I remember seeing JOSEPH, and WHISTLE DOWN THE WIND, and CHICAGO, and SATURDAY NIGHT FEVER… But it wasn't until I was 15 or 16 when I had the confidence to think "ok, I can do this", and then I was 17 when I did the TV show so, it wasn't very a long time, but I have always love musicals. But I'd love to approach into another aspects, I'd love to do some acting, and I'd love to finish my album… I mean, I adore it, but I don't think I'll be doing musicals for the rest of my life.
Luke Kempner: I trained the Musical Theatre, because that was what I knew. I did so many dramatics when I was about 12, things like CAROUSEL, SWEENEY TODD, CHESS… I've always done musical theatre. So I went to drama school being a singer, and I did acting... and about a year in, I really begin to enjoy the acting more than anything else. My first job was a play, then I did a musical in Edinburgh, then I did a film, then I did another film, and now I'm doing this big musical… I did a film with Ray Winstone, which is coming out in September, and I enjoyed that so much. But I also love musicals. It's difficult but I'll try to combine musicals, film, tv…
Niamh Perry: I totally agree. I have done a leading role in MAMMA MIA! and a leading role in LOVE NEVER DIES, and it would be important for me doing something different.

NOW YOU'RE GOING TO RECORD YOUR DEBUT ALBUM, WHAT COULD YOU TELL US ABOUT IT?
Niamh Perry: I started working on it about a year and a half ago, it's been a long process. It takes a long time, but I don't want to rush. So many people can start an album and it could be ready in four months, but I want to take my time. I'm very picky, and I want to work with some different writers and... We'll have a meeting in the next two weeks to see what's going next, but it's all looking very positive at the moment. I think I wouldn't proceed if I didn't think I have something great, but it has taken to me a long time to grow as a writer and trust in my instincts, and to decide which label should be directing... It will be a energy pop. It's been two years since I left the TV show and hopefully when I'll finish the album I will be forgotten as the girl of 'I'd Do Anything' and have my own stamp.

ANY OTHER PROJECTS?
Niamh Perry: We'll do a Charity concert in July, and I'll start touring with Lee Mead this Sunday until the rest of the year, it will be one Sunday a month. He's playing Fiyero in WICKED at the moment, and he has just released his second album, so and I'm his guest. So we're both very busy.
Luke Kempner: The film 'Fathers of Girls' will come out in cinemas in September, so then I finish LES MIZ in October and they talked me about another film they're interested in doing… so there are some little things… It's funny how a year could go by so quickly. But at the moment I'm just concentrating on Paris, and we'll see what happens in October.
Enlaces de Interés
Información Relacionada