noticias
[ Volver al artículo en castellano ]
Ruthie Henshall and Terra C MacLeod new stars in West End's CHICAGO
02/12/2009
From Monday 14 December, Ruthie Henshall will reprise the role of Roxie Hart, and Terra C MacLeod will make her London stage debut starring as Velma Kelly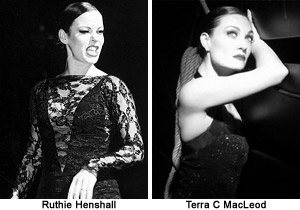 Ruthie Henshall will return to CHICAGO to reprise the role of Roxie Hart from Monday 14 December for nine weeks only (14 December – 28 February). Ruthie Henshall originated the role of Roxie Hart in 1997 - for which she was nominated for a Laurence Olivier Award - when CHICAGO first conquered the West End. As Ruthie Henshall is contracted to other commitments for selected performances between 28 December – 2 January, Bonnie Langford will play the role of Roxie for these performances. Bonnie comes to London direct from playing the role of Roxie on Broadway.
Terra C MacLeod will make her London stage debut starring as Velma Kelly on 14 December for a two-month season. She originated this role in the French productions of CHICAGO, which have been staged in Montreal and in Paris. She comes to the West End direct from starring as Velma in the New York and National USA productions of CHICAGO. Ian Kelsey and David Ganly star as Billy Flynn and Amos Hart.

CHICAGO opened at the Adelphi Theatre on 18 November 1997 to rave reviews and immediately became a sell-out hit. CHICAGO won the 1998 Laurence Olivier Award for Outstanding Musical Production as well as the 1998 Critics Circle Drama Award for Best Musical. CHICAGO transferred from the Adelphi Theatre to the Cambridge Theatre in April 2006 where it has recently celebrated 5000 performances in the West End. Currently playing in New York, Australia, Denmark, Spain and on tour both in the UK and US, with forthcoming productions in Japan, Korea and Holland, CHICAGO is produced in London by the Broadway producers Barry and Fran Weissler.

CHICAGO, which is based on the play by Maurine Dallas Watkins, has a book by Fred Ebb and Bob Fosse, music by John Kander and lyrics by Fred Ebb. CHICAGO is choreographed by Ann Reinking in the style of Bob Fosse and directed by Walter Bobbie. The West End production of CHICAGO is staged by the entire original Broadway creative team.

Due to its ongoing success, the show has now extended its booking period until 30 October 2010.
Multimedia
Información Relacionada
Comentarios
Para poder añadir comentarios necesitas autentificarte como usuario registrado de todoMUSICALES.