[ Volver al artículo en castellano ]
LUCY LUMMIS, Barcelona 1980
20/07/2009
She has been a cast member of the originals companys of FAMA (Barcelona), MAMMA MIA! (Madrid), LOS PRODUCTORES (Madrid); and ZORRO (UK Tour & West End).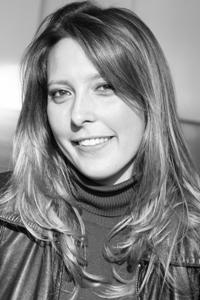 Your professional debut was in a Pantomime on the outskirts of London playing a fairy Godmother! Then on a cruise ship....singing from musicals to "Barcelona" oh, yes, I mean the song from the olympics. I learnt a lot on that job... Specially to never try and sing like Montserrat Caballé.

Other theatre credits include Mabel Washington in FAMA (Teatre Tivoli, Barcelona), MAMMA MIA! (Madrid), LOS PRODUCTORES (Madrid), ZORRO UK Tour & Garrick Theatre (London). Also my work as a jazz singer...but this is about musicals so I won't go on about it!

Currently... enjoying all the things I complain about not having time to do when I'm working!
- The first musical you saw and/or most impressed you: MISS SAIGON.

- You would like to make a duet with: Kevin Spacey singing: any big band classic!

- ¿Webber or Sondheim? Sondheim.

- ¿London or New York? London...but cos I know it better.

- Do you keep the programmes of the musicals you watch?: Yes, since I was little.

- The worst moment you've had live on the stage was: (as a performer and/or as a spectator) Not being able to control my laughter in THE PRODUCERS, I looked so ridiculous in some of the outfits, I couldn't help laughing at myself!!

- An unforgettable moment: (as a performer and/or as a spectator) The applause after my song as Mabel in Fame on the 100th performance... I totally came out of character... not that you could tell of course... cos I'm a complete professional! As an audiance member, seeing Elena Roger doing PIAF in London, I was spechless.

- Do you have any superstitions before the opening night? No, just make sure I know what I'm doing really well.

- A musical character that you would like to BE (not perform): I'd never thought about it.....I've thought about it : none, how horrible, being stuck inside a character....can't be good.

- A character of your opposite sex that you would like to perform: The Wolf/Prince from INTO THE WOODS, ooh, hold on, I bet as the wolf you have to wear a lot of make up... No thanks... Billy from BILLY ELLIOT... Much better.

- What do you like best/least about your work? Auditions the least, no matter what you've done up to now, you are just a number again... What I like most is getting up on stage and giving my all to an audience... That's life!!

- What is your favorite musical movie? SEVEN BRIDES FOR SEVEN BROTHERS, I know it off by heart!

- The last CD/DVD related to Musicals that you have bought is: I don't usually buy any, I think the last one was ZORRO to send my mum and dad a copy.

- What is your favorite line from a musical: "Yesssssssssssssssssssssssssssssssssssssssssssssssssssssssssssssssssssssssssssssssssss" by Carmen Ghia played by Angel Ruiz in THE PRODUCERS.

- Agree or disagree with TV Shows finding new Musical Stars: In favour, anything that creates an audiance for musicals in Spain is needed and in the end benefits all of us. Of coure if instead of giving me a part they give it to some girl just cos she's been on a tv programme....I'm not gonna like it, but I'll understand.

- You feel proud of: Having a family and friends all over the world who love me and hwo I love very much. viva Skype!

- Of this moment you're living as an actress, the most important thing to you is: How calm I am... Something's coming...

- Other projects you are working on: Plenty... But in my head, hope I get them out soon!
Enlaces de Interés
Información Relacionada