noticias
Se edita el álbum 'Betty Buckley: Ah, Men! The Boys of Broadway'
28/06/2012
Palmetto Records edita este disco que saldrá a la venta el 28 de agosto de 2012 y que recoge la grabación en estudio de las canciones que forman parte del último espectáculo de la popular artista de Broadway.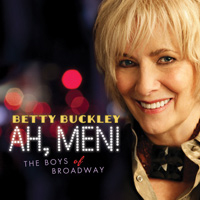 Palmetto Records lanzará el nuevo album en solitario de Betty Buckley, 'Ah, Men! The Boys of Broadway', que saldrá a la venta el 28 de agosto de 2012. Inspirado en su aclamado espectáculo representado en Feinstein's at the Loews Regency de Nueva York en octubre de 2011, Buckley reinterpreta canciones clásicas de Broadway que fueron originalmente popularizadas por hombres.
'Betty Buckley: Ah, Men! The Boys of Broadway' recoge canciones de musicales de Broadway interpretadas por personajes masculinos, que Buckley siempre ha querido cantar. Así, se incluyen temas de SWEENEY TODD, WEST SIDE STORY, GUYS AND DOLLS, PIPPIN y THE FANTASTICKS, entre otros.

La pieza central del disco és "A Hymn to Her", una reescritura del tema de MY FAIR LADY "A Hymn to Him" en la que Henry Higgins pregunta "Why Can't a Woman be More Like a Man?" (Por qué una Mujer no puede ser como un hombre?". La cantante convierte la pregunta en una inteligente réplica con referencias a incónicos personajes masculinos de Broadway, como Tevye en FIDDLER ON THE ROOF, Harold Hill en A MUSICAL MAN o Jean Valjean en LES MISÉRABLES.

Grabado en el legendario estudio Sound Factory de Los Ángeles, 'Betty Buckley: Ah, Men! The Boys of Broadway' cuenta con arreglos de Christian Jacob y Erin Stern, con Jacobs al piano, Peter Barshay al bajo y Matt Betton a la percusión. El tema "A Hymn to Her" cuenta con letras de Eric Kornfeld y Eric Stern.

Betty Buckley, nacida en Fort Worth en 1947, ha sido aclamada por público y crítica por sus interpretaciones en Broadway de los personajes principales de musicales como SUNSET BOULEVARD, CARRIE, SONG & DANCE, THE MYSTERY OF EDWIN DROOD o 1776. Ganó un premio Tony a la Mejor Actriz de Reparto en 1983 por su interpretación de Grizabella en CATS. En Londres protagonizó los espectáculos PROMISES, PROMISES y SUNSET BOULEVARD, obteniendo una nominación a los premios Olivier por su trabajo en este último.

Buckley cuenta con una intensa carrera musical en solitario, habiendo realizado conciertos en solitario en emblemáticos locales. En el 2009 conquistó al público y a la crítica con sus conciertos 'Broadway by Request' en el mismo club Feinstein's. Además de participar en diversas películas y series de televisión, también es compositora, y entre los discos como solista que ha editado hasta el momento destacan 'With One Look', 'Heart to Heart', 'Quintessence', 'Betty Buckley 1967' o 'Stars and the Moon: Betty Buckley Live at the Donmar Warehouse' que fue nominado a los premios Grammy. Su próximo trabajo discográfico, 'Ghostlight', que inicialmentre tenía previsto su publicación para febrero de 2012, saldrá a la venta en 2013.

Betty Buckley fue condecorada en el 2009 con la Medalla de las Artes de Texas por su carrera teatral.

El listado completo de temas del álbum 'Betty Buckley: Ah, Men! The Boys of Broadway' es el siguiente:

1. I Can See It (THE FANTASTICKS)
2. My Defenses Are Down (ANNIE GET YOUR GUN)
3. Jet Song (WEST SIDE STORY)
4. Maria (WEST SIDE STORY)
5. I Won't Dance (Roberta)
6. Venice (Elegies)
7. Luck Be A Lady (GUYS AND DOLLS)
8. Song On The Sand (LA CAGE AUX FOLLES)
9. A Hymn to Her (adaptación de "A Hymn To Him" de MY FAIR LADY)
10. Come Back To Me (ON A CLEAR DAY YOU CAN SEE FOREVER)
11. Hey There (PAJAMA GAME)
12. Sweeney Todd Suite: Not While I'm Around/Johanna/My Friends (SWEENEY TODD)
13. Corner of the Sky (PIPPIN)
14. More I Cannot Wish You (GUYS AND DOLLS)
Enlaces de Interés
Información Relacionada
Comentarios
Para poder añadir comentarios necesitas autentificarte como usuario registrado de todoMUSICALES.