noticias
John Cudia protagonizará THE PHANTOM OF THE OPERA en Broadway
08/05/2009
Actualmente protagonista de la producción en gira nortemaericana del musical de Andrew Lloyd Webber, John Cudia sustituirá a Howard McGillin como The Phantom a partir del 27 de julio.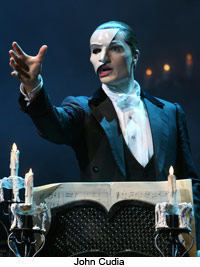 A partir del 27 de julio John Cudia interpretará el personaje principal de la producción de Broadway de THE PHANTOM OF THE OPERA sustituyendo a Howard McGillin, que realizará su última función el 25 de julio para iniciar nuevos proyectos. McGillin abandona así el Majestic Theatre tras 10 años (con algunas pausas) dando vida al Fantasma y consigue el record mundial del actor que más tiempo ha interpretado este personaje, con 2.450 funciones. Le sigue de cerca Rob Guest, quien protagonizó el montaje en Australia y Nueva Zelanda. Tras él se encuentran los americanos Franc D'Ambrosio y Brad Little con más de 2.100 funciones cada uno.
John Cudia actualmente protagoniza la producción de THE PHANTOM OF THE OPERA en gira por Estados Unidos. El pasado verano Cudia estuvo sustituyendo a McGillin durante diez semanas. La relación del actor con el espectáculo se inició en 1999 cuando entró a la producción en gira como swing y cover de Raoul. Tras ocho meses pasó ser el actor titular de Raoul, personaje que interpretó desde julio de 2000 hasta marzo de 2002, obteniendo una nominación a los National Broadway Touring Award. En el 2002 se incorporó a la compañía de Broadway como Raoul, personaje que interpretó hasta mayo de 2005. Durante este tiempo también realizaba de cover del personaje principal, que empezó a realizar como titular en la producción de gira en abril del 2006. Cudia realizará su última función en la gira el 24 de mayo en Minneapolis. John Cudia también interpretó a Jean Valjean en LES MISÉRABLES en Broadway.
El resto del reparto de la producción de Broadway de THE PHANTOM OF THE OPERA lo forman Marni Raab como Christine (Jennifer Hope Wills volverá a la producción el 1 de junio), Ryan Silverman como Raoul, George Lee Andrews como Monsieur André, David Cryer como Monsieur Firmin, Patricia Phillips como Carlotta, Rebecca Judd como Madame Giry, Evan Harrington como Piangi y Heather McFadden como Meg Giry. Elizabeth Loyacano interpreta a Christine en algunas funciones.
THE PHANTOM OF THE OPERA es el espectáculo de mayor tiempo de permanencia en cartel de la historia de Broadway desde 2006, cuando sobrepasó el record de CATS. La producción obtuvo siete premios Tony, incluido el de mejor musical.
El musical cuenta con música de Andrew Lloyd Webber, letras de Charles Hart (con letras adicionales de Richard Stilgoe) y libreto de Richard Stilgoe y Lloyd webber. Actualmente Lloyd Webber está trabajando en la secuela del espectáculo: PHANTOM: LOVE NEVER DIES, que está previsto que se estrene la próxima temporada.
Enlaces de Interés
Información Relacionada
Comentarios
Para poder añadir comentarios necesitas autentificarte como usuario registrado de todoMUSICALES.