noticias
Nancy Hess se une al elenco de THE PHANTOM OF THE OPERA en Broadway
09/02/2009
Desde el 9 de febrero hasta el 2 de marzo, Nancy Hess sustituirá a Rebecca Judd como Madame Giry en el musical de Andrew Lloyd Webber, que acaba de celebrar su 21º aniversario en Broadway.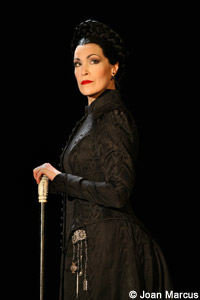 La veterana actriz de Broadway Nancy Hess se une hoy al reparto de THE PHANTOM OF THE OPERA en el The Majestic Theatre. Hess interpretará el personaje de Madame Giry, la misteriosa profesora de ballet, durante la ausencia de Rebecca Judd, que abandona la producción hasta el 2 de marzo.
En los 21 años de historia de la producción de Broadway de THE PHANTOM OF THE OPERA (y sin incluir a "covers" ni a "understudies") tan sólo tres actrices han sido titulares del personaje de Madame Giry. La primera fue Leila Martin, que formó parte del reparto original e interpretó el personaje durante 10 años, a continuación Marilyn Caskey lo interpretó durante 9 años y Rebecca Judd la ha estado interpretando desde junio de 2007.

Nancy Hess ha participado en musicales como CHICAGO, COMPANY, KISS OF THE SPIDER WOMAN, THE GOODBYE GIRL, ME AND MY GIRL SINGIN' IN THE RAIN, ON YOUR TOES o CAN CAN. Durante el 2008 ya estuvo interpretando el personaje de Madame Giry en la producción en gira por Norteamérica de THE PHANTOM OF THE OPERA y, tras su estancia en Nueva York, se volverá a incorporar a la gira.

THE PHANTOM OF THE OPERA, el espectáculo de mayor tiempo de permanencia en cartel de la historia de Broadway, está basado en la clásica novela de Gaston Leroux 'Le Fantôme de L'Opéra'. La producción obtuvo 7 premios Tony en 1988, incluyendo el de mejor musical.

El compositor Andrew Lloyd Webber ha confirmado recientemente que ha dado luz verde a la producción de la secuela del espectáculo: PHANTOM: LOVE NEVER DIES.

THE PHANTOM OF THE OPERA cuenta con música de Andrew Lloyd Webber y con dirección de Harold Prince. Las letras son de Charles Hart (con letras adicionales de Richard Stilgoe) y libreto de Richard Stilgoe y Andrew Lloyd Webber. La coreografía es de Gillian Lynne y las orquestaciones de Davic Cullen y Andrew Lloyd Webber.

Actualmente el reparto lo lideran Howard McGillin como The Phantom, junto a Marni Raab como Christine y Tim Martin Gleason como Raoul.
Enlaces de Interés
Información Relacionada
Comentarios
Para poder añadir comentarios necesitas autentificarte como usuario registrado de todoMUSICALES.