[ Volver al artículo en castellano ]
CEILI O'CONNOR, Peterborough, Ontario (Canada) 1988
29/06/2015
West End actress who was cover of Eva Peron in the recent UK Tour of EVITA. Ceili is part of the cast of the upcoming London production of GRAND HOTEL and will present her own cabaret THE UNDERSTUDY-WAITING IN THE WINGS at London's Above the Arts Theatre.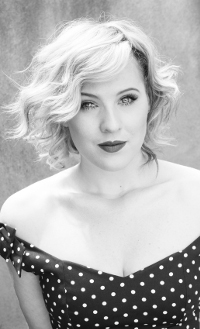 Her professional debut was as understudy of Luisa in THE FANTASTICKS, at London's Duchess Theatre in 2010.

Other theatre credits include understudy of Dorothy in THE WIZARD OF OZ at the London Palladium, Polly Baker in CRAZY FOR YOU at London's Upstairs at the Gatehouse Theatre, Marty in GREASE (Ljubljana Festival), cover of Eva Peron in the recent UK Tour of EVITA which ended its run at the Dominion Theatre in Fall 2014; and an ensemble member in the UK Tour of ELF THE MUSICAL.

Currently Ceili is about to start rehearsals of GRAND HOTEL, which will open at the Southwark Playhouse on the 31st July; and is preparing her own cabaret THE UNDERSTUDY - WAITING IN THE WINGS, which will play at the Above the Arts Theatre on the 30th August.


- The first musical you saw and/or most impressed you: I think it must have been JOSEPH at my Primary School, my big sister was the narrator and I was in total awe of her! Ever since I've always wanted to have a bash at that part!

- You would like to make a duet with: Judy Garland singing the song: "Forget your troubles/Happy days!" One of my favorite duets of all time, She is a sensation.

- Webber o Sondheim? Sondheim! Although I've worked for Webber so maybe that's the wrong answer!

- London or New York? They both have huge places in my heart! I have lots of friends in London and New York and feel at home in both places, however I always miss the History and quirkiness of London. It'll always feel like home.

- Do you keep the programs of the musicals you watch? I don't! I'll have the occasional one lying around.

- The worst moment you've had live on the stage was (as a performer and/or as a spectator): As a performer. When I was playing Polly in CRAZY FOR YOU Upstairs at the Gatehouse (so a very small venue) I completely blanked and starred into Jays (Bobbys) eyes for what felt about 10 minutes! The audience could clearly see the fear and sweat on my face! Mortifed. Also when Toto decided to go to the loo on the Yellow Brick road, you can imagine the smell! We thought one of the children had an accident at first!

- An unforgettable moment (as a performer and/or as a spectator): When I had my dress rehearsal as Dorothy Gale and Eva Peron.I've been the unluckiest understudy and never actually been on for the leads I've covered but that was enough for me. A dream come true singing "Somewhere over the rainbow" on the London Palladium Stage and just singing through the EVITA score as Eva Peron in costume was pretty incredible.

- Do you have any superstitions before the opening night? No, I think fate will always do its thing.

- A musical character that you would like to BE (not perform): Velma Kelly - she is so sassy, she would get away with murder.... (well not quite)

- A character of your opposite sex that you would like to perform: Frankie Valli. He get's to wear that lovely suit and sing those incredible songs!

- What do you like most/least about your work? I love the people I am surrounded by. Everyone is so accepting of each other, to be part of a community that accepts everyone for who they are is pretty special. I also just adore doing what I love as my job. I count my lucky stars! I don't like that there isn't enough work around for us all and that it can be so inconsistent and I don't like I how personal it can be sometimes.

- What is your favorite musical movie? CHICAGO. Always wanted to be Roxy ever since I was a child!

- The last CD/DVD related to Musicals that you have bought is: THE COLOR PURPLE.

- What is your favorite line from a musical: "Please sir, may I have some more" (from OLIVER!) that's the story of my life. I always have room for more food!

- Agree or disagree with TV Shows finding new Musical Stars (as 'Over The rainbow or 'I'd Do Anything'): At first I naturally felt like I wanted to disagree but you soon realize you have to go where the work is and do what you need to do to get the work you want to get. There have been so many incredibly talented guys and girls come from these programs and the Industry are lucky to have them. Of course there are always a few who go against that. That's life. A couple of my close friends came from them and they are absolutely brilliant. There will always be a stigma because people get jealous. I also think it has done wonders for Musical Theatre. The general public love It!

- You feel proud of: being knocked down and always getting back up again. I also feel proud of all my friends who have done the same, my friends and colleagues continue to inspire me every day.

- Of this moment you're living as a performer, the most important thing to you is: Family/friends, being kind and embracing every moment.

- Other projects you are working on: About to start GRAND HOTEL Rehearsals at the Southwark Playhouse. My own Cabaret - THE UNDERSTUDY - WAITING IN THE WINGS at Above the Arts Theatre and ELF THE MUSICAL over Christmas at The Dominion Theatre London.
Enlaces de Interés
Información Relacionada