entrevistas
[ Volver al artículo en castellano ]
Oliver Tompsett: "ROCK OF AGES is the best fun I've ever had"
17/10/2011
The British actor stars as Drew in the West End production of ROCK OF AGES alongside Justin Lee Collins, Shayne Ward and Amy Pemberton. The musical opened at the Shaftesbury Theatre on the 27th September 2011.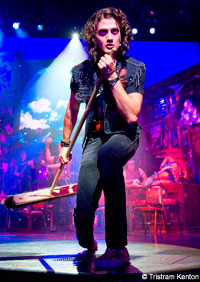 After a year and a half out of musical theatre, Oliver Tompsett –best known for his portrayal of Fiyero in WICKED– has come back to the London stage with ROCK OF AGES. The show based on the greatest rock hits of the 80's began previews at London's Shaftesbury Theatre on 31st August and opened officially on 27th September 2011.
Oliver Tompsett leads the cast of the show as Drew alongside Justin Lee Collins, Shayne Ward and Amy Pemberton. Five times nominated for the Tony Awards in 2009 (including Best Musical), ROCK OF AGES is a celebration of Los Angeles rock culture. Set in 1987, a small town girl meets a big city rocker in LA's most famous rock club and they fall in love to some of the greatest songs of the decade.

We meet Oliver Tompsett in his dressing room, before he's due to face the last four shows of the week. He receives us so kindly with a huge smile and, with the company of his little fish Anita, he tells us about his work in ROCK OF AGES, a show that he describes as pure entertainment.
HOW WOULD YOU ASSESS THESE FIRST WEEKS OF 'ROCK OF AGES' IN THE WEST END?
We've been doing the show for about a month, and it's going very very well. The audience is loving it. The cast and crew is exhausted because we've just come back of a very intense rehearsal and tech process, where we've been rehearsing in the day and also doing the show at night during the preview period. But we opened about a week ago, and since then is quite calm, but there's also promotional stuff, and charity stuff, so it's kind of never ending, but it's definitely calmer now. And because of the nature of the show, with all this rock singing, is a big ask for everybody doing eight shows a week, but it's the best fun I've ever had, so that's what gets you through.

WHAT DOES IT MEAN TO YOU BEING PART OF THIS SHOW?
It's the major first role I've originated in the West End. Well, it has been done on Broadway and in Australia… It means a lot to me because on the biggest shows I've done in the past, if I ever ended up playing a lead it was always from being promoted from understudy, whereas this one I've got it from auditioning with all other fantastic people and I was surprised when I got it because the quality of that group was amazing, so getting the job has been a massive achievement for me.

HOW HAS IT BEEN WORKING WITH THE CREATIVE TEAM FROM BROADWAY? DID THEY LET YOU TO CREATE YOUR OWN CHARACTER?
Yes. The creative team, especially the director Kristin Hanggi… she was fantastic, because she knows the show better than anybody else and she lets you bring what you feel… She only directs you and corrects you and tells you how she thinks it should be if she feels that what you brought may be detractive from the story, which is what her job is meant to be. So that was really nice. She let us discover the roles more organically, but at the same time the characters are so definite, almost straight forward. Each character is the extreme of their own. There's not a lot to them, and that's purposeful because the show doesn't takes things so seriously and it's fantastic, you don't have to think too much, just have to sit there and enjoy it! But saying that, it has a lot of hard work as well.

HOW HAS THE AUDIENCE REACTION BEEN SO FAR?
Amazing! I mean, we had mixed reviews when we had the critics reviewing the show… But there's been always a backlash from the audience, of people writing letters… The Evening Standard gave a bad review, and then someone wrote in a letter the next day saying "how could you say that is not a good show?"… There's not been an audience member, apart from a couple of critics, that hasn't loved it. Even the critics were on their feet at the end of the show clapping…

WHY DO YOU THINK CRITICS USUALLY DISLIKE THIS KIND OF ENTERTAINMENT MUSICALS?
You know what I think? Theatre is appealing to wider audiences now, and we still got, in this country specially, a pull of critics who –I respect their opinion and it's good that they say what they think– but they got into their profession by being fans from old time… Now theatre is for wider audiences, and it's irrelevant to have somebody who likes the opera and the ballet to come to review a show that is aimed for younger audiences who are into tv, into celebrity life style, into pop music, and stuff like that… so it's irrelevant for them to review it… There's a lot of people in this country who will never go and see a one hundred play so this show does appeal to the masses. I think what it does do is that it appeals to any young people to go into theatre and as well… You know, my mum and dad love this, and they love old school stuff too…As soon as you realise you're here just to have a good time, then you do have a good time. But, those critics who sit to analyse and try to find its deeper meaning and its subtext… they won't find them, because it's not there!

THE SONG IS BASED IN ROCK HITS OF THE 80'S. DID YOU USE TO LIKE THIS KIND OF MUSIC?
I was born in the early 80's so I probably wasn't into a lot of this music until 90's but I remember watching VH1 and MTV… And it was a good era of music, I heard lots of them… And being a high tenor as well you can be searching songs you'd like to sing, and in the 80's they used to sing the highest songs ever! It's just the best collection of them… You get to hear two or three 80's songs in the space of one song, is like a mashed up… Everybody knows them… With those power ballads, and with the script, that's so funny, it's just the perfect sort of sing-a-long musical.

IN JUKE-BOX MUSICALS THE BOOK IS ALSO SO IMPORTANT TO GET TO CONNECT WITH THE AUDIENCE. WHAT WOULD YOU HIGHLIGHT OF CHRIS D'ARIENZO WORK?
It's a great comedy. I used to describe it as Black Jack, Will Farrell type of humour… It's very "in your face", quite crass, rude at times… But it's not offensive, its' just a modern day book, that just laughs at itself and it has also jokes of musical theatre and takes the make up of itself and other sort of shows, and the format musical theatre should be… I think that this is the reason why it works so well, because if you try to do a serious show with these pop songs, it could be so hard because the narrative in these songs is normally very weak… They find a way of doing a good story across the songs…

WHAT DO YOU THINK ABOUT THE FACT THAT ADAM SHANKMAN IS DIRECTING A FILM FROM THE SHOW? DO YOU THINK IT WILL WORK?
We have to wait and see, but I think it may go quite well, because musical films are doing very very well recently… And they've got a great cast, and a lot of songs will be the same from the show. I think it's going to be a very good comedy. I understand it's a bit different to the stage production but it´ll still keep the essence.

WHAT ARE YOU ENJOYING MOST FROM PLAYING DREW?
Singing these great songs. He's such a wonderful character. He's very similar to me in the sense I've always been a bit of a geek, I've never been good at being cool, but I do have a side of me that is quite exhibitionist… So to play this role is brilliant… I have an excuse to be a rock star.

IT'S QUITE DIFFERENT FROM THE ROLE OF FIYERO IN 'WICKED', WHICH YOU ALSO PLAYED. WHAT DID IT MEAN TO YOU BEING PART OF THIS SHOW FOR MORE THAN THREE YEARS?
It was great. I loved every moment of it. I never really found that I got bored or lugging in the show… I did hit the bottom and thought "I don't know what much I can do with this part" and that was when I decided that I was going to leave. But also as well, to be honest with you, you make your living as a career, and in these times with the recession and the downtime…I had to stay in work, and there weren't many shows going on… The three years I was there, there was nothing I missed off, really… I just thought, I just stay here, buy a house, and get some security, that as an actor, is very rare. And I left for the past year and a half of doing musicals and signed a record contract to Warner Bros that didn't go as planned… I was very realistic about it… About the fact that 80% of people who get record deals never get their album out from various reasons. My reasons were politics and disagreement between the style of the music It's very hard to get hold of executives… They are on holidays, they just make money… And I was six months doing nothing, and I got the point to say "It isn't me, I want to perform, I want to sing… I'm not interested in the fame…"

SO WHICH ARE YOUR PLANS IN THE FUTURE?
I released an album two years ago independently, and I was ready to release the second one, and then the Warner Bros came along… And when I'm out of contract of Warner –which I suppose that will happen soon– I will be back on working on my own stuff again. I'm gonna use some of the stuff I had two years ago, but some of it is irrelevant to me now, and I feel I can write better stuff… So it will be a mix of old and new stuff. So I'm looking forward to settle into the show, get my voice back and then work on my second album… That's my main project this year.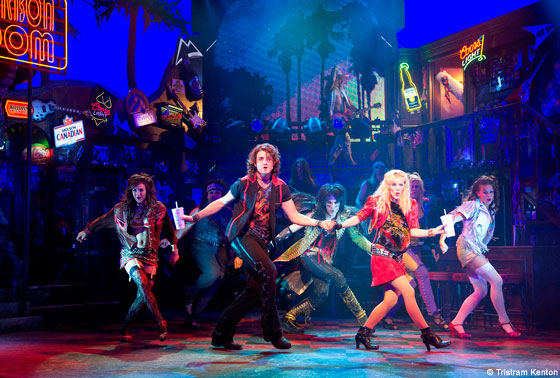 Oliver Tompsett and the cast of ROCK OF AGES

Enlaces de Interés
Información Relacionada