[ Volver al artículo en castellano ]
JON BOYDON, Birmingham 1976
28/04/2010
British actor who has starred in musicals as THE ROCKY HORROR SHOW, JESUS CHRIST SUPERSTAR, WE WILL ROCK YOU or, currently, JERSEY BOYS.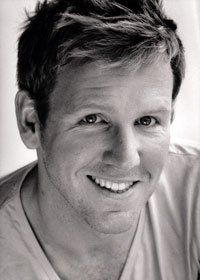 His West End debut was in the world premiere of ALL YOU NEED IS LOVE! at the Queen´s Theatre (2001).

Other theatre credits include the UK and Europe tour of THE ROCKY HORROR SHOW, GREASE (Cyprus), JESUS CHRIST SUPERSTAR tour production, THE NEXT BIG THING in London, UK National tour of WHAT A FEELING!, WE WILL ROCK YOU at the Dominion Theatre in London.

Currently he stars as Tommy DeVito in West End´s production of JERSEY BOYS.


- The first musical you saw and/or most impressed you: My first West End musical was MISS SAIGON at Drury Lane. I was completely blown away by the helicopter! It was so exciting being in London and seeing a show with such a huge budget and in such a beautiful theatre – my theatre experiences until then were performing in my home town in amateur shows!

- You would like to make a duet with… singing the song… As a musician, I guess Stevie Wonder would be the ultimate duet – I wouldn't care if it was Twinkle Twinkle Little Star! As a musical theatre performer I don't really have any heroes – but it would be fun to sing "The Last Supper" from JESUS CHRIST SUPERSTAR with John Farnham…

- ¿Webber or Sondheim? I'm not a student of musical theatre in the way that some performers are – in fact, I haven't trained at all; so whilst I enjoy the complexity and wit of Sondheim, I'm would choose the much more easily accessible Webber. JESUS CHRIST SUPERSTAR and EVITA were my favourites for a long time. There's plenty of new talent out there, so those guys better beware!

- ¿London or New York? I only recently went to New York for the first time with rehearsals for JERSEY BOYS and it was an incredible experience. Such a wonderful city, with so many things going on – and to be working on such a great show whilst we were there was a dream come true. But London is my current home, I live and work in this great city, and I know it so well – I think it will always have the power to bring me back. I will definitely visit New York again though!

- Do you keep the programmes of the musicals you watch? I don't always buy a programme, and those that I do get are pushed around the coffee table for a while, and eventually thrown out with the recycling!

- The worst moment you've had live on the stage was (as a performer and/or as a spectator): As Judas in JESUS CHRIST SUPERSTAR I completely blanked during the argument with Jesus in the Last Supper… I'd recently had a few days off from illness and it was my first show back; I don't really know what happened – I think I was feeling my way through with how my voice was behaving – but just one second of lost concentration and I didn't know where I was. We just stared at each other for about 10 bars, it was very intense. There were some fans watching that night – they didn't even notice!

- An unforgettable moment (as a performer and/or as a spectator): It would have to be performing with Brian May in WE WILL ROCK YOU. I was never Galileo for the shows that he played – but just to chare the stage with him at THAT guitar sound – truly awesome.

- Do you have any superstitions before the opening night? I'm not a superstitious person at all. I don't believe that if you do one thing, that something else will or will not happen… I do like routine however. I guess I'm a creature of habit; especially on tour. When you might be in a different venue each week or even each night, I like to set my dressing room table up the same way – particularly if there is a lot of make up and brushes… It keeps you grounded and gives you a sense of continuity – it also helps you to make sure that nothing has gone missing! I always tend to get ready in the same way each night – the same order – but it doesn't bother me if it changes; say you forgot to do something or you get a phone call. As long as I'm not rushing or running late, my room is very tranquil – the calm before the storm!

- A musical character that you would like to BE (not perform): I think most characters in musicals are heavily flawed – that's what makes them interesting – but none of them have anything that I want! At the moment, in JERSEY BOYS I get to play someone who really existed; so in that sense I guess being Tommy DeVito for the day would be fun and very insightful as an actor.

- A character of your opposite sex that you would like to perform: I think that Elphaba in WICKED would be such fun. It's such an iconic role now in the West End and I do love the songs even though I have heard them a hundred times and everyone wants to sing them. So if the Wizard could make it happen, I would love to be green for a performance and fly up and hit those high notes!

- What do you like best/least about your work? I like that I go to work every single day loving what I do for a living. Not many people that I see on the trains feel the same way about their own jobs. I love the energy and sense of fun in most of the people that I get to work with, and I guess I love to entertain.
I dislike the unsociable hours at times – especially if it means missing out on seeing family and friends. I also dislike the lack of security that comes with this profession, when it's good it's wonderful, when times are bad – who's gonna pay my mortgage?

- What is your favorite musical movie? EVITA.

- The last CD/DVD related to Musicals that you have bought is: Soundtrack to ROCK OF AGES.

- What is your favorite line from a musical: Musically: The Overture from WEST SIDE STORY. Lyrically: "I'm the German Ethel Merman don't you know?!" from THE PRODUCERS.

- Agree or disagree with TV Shows finding new Musical Stars (as 'Over The Rainbow' or 'I'd Do Anything'): This is a tricky one. My gut reaction is to disagree. People spend a lot of time and a lot of money to put themselves into this industry, and work hard to get experience and recognition. To then have a TV company saying "We can make you a West End star overnight" really makes a mockery of this process. The show then becomes about the new star, rather than the production as a whole – people get genuinely upset if they attend a show where the star is not performing, regardless of the quality of the production and the talent of the understudy. There are few good jobs around as it is, to now feel you have to also be a household name before you can get one is frustrating. However, the rise in profile of Musical Theatre in general with the public has been a bonus for everyone involved – the TV spots, the concerts and the shows themselves are all benefiting from a renewed passion for musicals.

- You feel proud of: Being a West End leading man without having been to drama school..

- Of this moment you're living as an actor, the most important thing to you is: At the moment? My life outside work is the most important. Work is taking care of itself; so I enjoy my time at home with my family and friends.

- Other projects you are working on: I have a new rock band called "Shotgun Wedding", we start gigging this month. I'm also involved in writing, recording and producing songs for Portuguese West End performer Madalena Alberto, and various other concert performances of new and old material that are coming up this year. I keep threatening to do an album of my own – but nothing has come of that yet!
Enlaces de Interés
Multimedia
Información Relacionada