entrevistas
[ Volver al artículo en castellano ]
Chad Kimball: "Every single audience we've had have gone absolutely crazy at the end of MEMPHIS"
14/12/2009
The young American actor stars in MEMPHIS as Huey Calhoun. The new David Bryan and Joe DiPietro musical opened at Broadway's Shubert Theatre on 19 October 2009.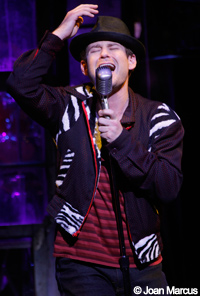 On October 19 the new musical MEMPHIS opened officially at the Shubert Theatre on Broadway. Previously, the show had ran successfully at San Diego's La Jolla Playhouse and the 5th Avenue Theater in Seattle.
MEMPHIS has music by David Bryan and lyrics by Bryan and Joe DiPietro. The show tells the story of Huey Calhoun, a young, white radio DJ in the 1950´s that fells in love with a black singer named Felicia Farrell. A music-loving mixed-race couple that struggles to survive during the early Civil Rights era in Memphis.

Chad Kimball plays the role of Huey Calhoun in MEMPHIS. Broadway and Off-Broadway theatre credits of this American actor include musicals as INTO THE WOODS, LENNON, BATBOY THE MUSICAL, THE CIVIL WAR or GODSPELL.

We talk with Chad Kimball about his work on this new musical directed by Christopher Ashley and choreographed by Sergio Trujillo, and about his professional career.

HOW WOULD YOU INTRODUCE 'MEMPHIS' TO PEOPLE WHO HAVE NEVER HEARD ABOUT IT?
A white DJ in Memphis during the early 1950's gets himself on the radio and plays the Rhythm and Blues for the first time on the white radio. It's an exhilarating, feel good, big Broadway musical with thrilling dancing, amazing singing and emotionally touching moments

HOW HAVE BEEN THESE TWO FIRST MONTHS OF 'MEMPHIS' IN BROADWAY? HOW HAS BEEN THE AUDIENCE REACTION TO THE SHOW?
The first two months have been so magical. Tiring, but magical! Every single audience we've had have gone absolutely crazy at the end of the show. They leave the theatre humming the tunes, tapping their feet and drying their eyes...it's the most amazing reaction I've ever experienced.

ARE THERE ANY DIFFERENCES BETWEEN BROADWAY AUDIENCES AND SAN DIEGO OR SEATTLE ONES?
The heart of the show has always stayed the same, and every audience since we started in La Jolla have reacted with an over the top enthusiasm.

WHAT ASPECTS OFFER MORE SELF-CONFIDENCE TO AN ACTOR THAT HAS TO FACE A LEADING ROLE?
To be able to take time off from the show and then live life and learn more about life and yourself and then come back into rehearsal with those new experiences is incredibly important to the process.

HOW WOULD YOU DESCRIBE THE LOVE STORY OF YOUR CHARACTER WITH FELICIA? HOW DO YOU THINK THIS RELATIONSHIP WOULD BE NOWADAYS?
The love story is quite classic in terms of its theatricality. From Romeo and Juliet, to Huey and Felicia, forbidden love offers a natural friction onstage. I think today, their love would still be looked upon with some hesitation, but not nearly as much as it was back in the 50's.

THE SCORE HAS BEEN COMPOSED BY DAVID BRYAN, HOW WOULD YOU DESCRIBE IT? DO YOU ENJOY SINGING IT?
David's music is unique because it sounds like the music of the time filtered through a modernity that is electric. It is absolutely thrilling to sing!

BRYAN AND DIPIETRO HAVE ALSO WORKED TOGETHER IN 'THE TOXIC AVENGER'. HAVE YOU SEEN THIS SHOW?
I loved TOXIC. David and Joe got the cast tickets when we were in rehearsal. I've never laughed so hard.

HOW WAS THE WORK WITH CHRISTOPHER ASHLEY AND SERGIO TRUJILLO BEEN?
Chris has taught me so much about myself an actor and, frankly, a human being. I've learned patience from him. He allows his entire company to create. He'll never nix an idea right out of the gate. He let's ideas have a chance. Sergio is a workhorse. His work ethic is matched by no one. I am in awe of his artistry and vision.

YOUR CREDITS INCLUDE OTHER BROADWAY AND OFF-BROADWAY MUSICALS AS 'INTO THE WOODS', 'THE CIVIL WAR', 'BAT BOY THE MUSICAL' OR 'GODSPELL'. HAS ANY OF THESE SHOWS BEEN SPECIALY IMPORTANT ON YOUR CAREER?
Playing Milky White the cow in INTO THE WOODS was great because it was such a novelty to people. I still get comments to this day. Sometimes I hear people call out, "hey Milky White!".

IN 2007 YOU JOINED ALICE RIPLEY AND GREGORY JBARA IN LACHIUSA'S 'LITTLE FISH'. WHAT DID IT MEAN TO YOU BEING PART OF THIS PRODUCTION AND RECORDING THE ALBUM?
We had such a blast doing that beautiful show at the Blank Theatre. Kirsten Sanderson, our director, was just the best. And to be able to record the album was a true blessing. And now, Alice is right next door in NEXT TO NORMAL and Greg is across the street at BILLY ELLIOT.

ALONG ALL THESE YEARS WORKING IN MUSICAL THEATRE, WHO DO YOU THINK HAS INFLUENCED YOU MOST OF ALL THE PEOPLE WITH WHOM YOU HAVE WORKED?
The cast of GODSPELL when we did it Off-Broadway in 2000. We were broke, just outta college, and havin lots of fun...

YOUR DEBUT ALBUM WILL BE RELEASED NEXT FEBRUARY. HOW CAME UP THE IDEA OF RECORDING IT? HOW WILL IT BE?
I've always wanted to record an album. We are still working on the details but the concept is that I will be singing songs that I love that are on Broadway this season... with unique arrangements and my own twist.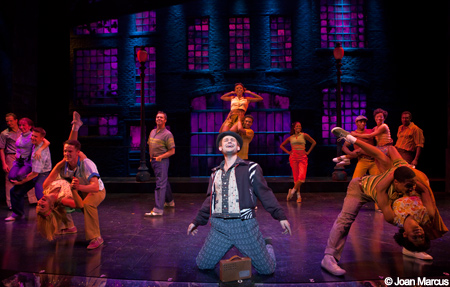 Chad Kimball (Huey) and cast of MEMPHIS
Información Relacionada