entrevistas
[ Volver al artículo en castellano ]
Shaun Escoffery: "THE LION KING is a truly magical experience"
17/04/2009
Since April 2008, the British performer plays the role of Mufasa in the West End's production of THE LION KING at Lyceum Theatre.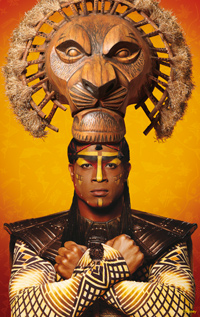 Disney's award-winning production of THE LION KING is now in its tenth triumphant year at London's Lyceum Theatre. Seen by over 7 and a half million people since its UK premiere in 1999, 'The Lion King' remains one of the West End's most sought-after tickets.
Julie Taymor's internationally acclaimed stage adaptation of Disney's 1994 animated film was first seen on Broadway in 1997 and has now been seen by over 45 million people across 5 continents. In addition to the record-breaking productions in London and New York, 'The Lion King' can currently be seen in Paris, Tokyo, Hamburg, Fukuoka, and on tour in the US.
Since last April Shaun Escoffery, a British soul and R&B singer and actor, performs Mufasa, the Lion King, in West End's production of this Disney musical. Escoffery West End credits include musicals as Jason Robert Brown's PARADE, for which work he received a Laurence Olivier Award nomination.
Shaun Escoffery tells us about his work in THE LION KING and about his career.
THIS YEAR 'THE LION KING' CELEBRATES ITS TENTH ANNIVERSARY IN THE WEST END. SINCE ITS PREMIERE, THE SHOW HAS BEEN A HUGE SUCCESS. WHAT DO YOU THINK IS THE SECRET OF THIS SUCCESS? WHY DO YOU THINK PEOPLE LIKE SO MUCH THE SHOW?
I think the secret is that the show has a wide appeal. It connects to all people – from the elderly right down to the young. The way the production has been put together, the costumes, puppetry, the authentic South African harmonies, coupled with the fantastic storyline, makes THE LION KING a truly magical experience.
WHEN THE SHOW OPENED IN 1999 YOU AUDITIONED FOR THE ROLE OF YOUNG SIMBA. NOW, YOU PLAY THE ROLE OF MUFASA, FATHER OF SIMBA. HOW HAVE YOU EVOLVED AS A PERFORMER IN ALL THESE YEARS? DO YOU THINK YOU´VE COME TO 'THE LION KING' AT THE RIGHT TIME?
I've evolved as a person and a performer and in my experience they go hand in hand. As a performer you can't even start to tackle the even more complex characters unless you can first call upon your own life experiences. It is only then can you make a character that you are trying to portray or a song you are singing, believable and because of this I do believe I came to lion king at the right time
WHAT IS THE MOST PECULIAR THING OF PLAYING ROLES OF ANIMALS?
I think the most peculiar thing is deciding when to play the animal and when to play the human. I see it as an evolutionary chain… Therefore I don't think it makes much difference
IN 'THE LION KING' PERFORMERS WEAR PUPPETRY - MASKS. IT IS DIFFICULT TO WORK WITH THEM?
It was difficult at first to get used to the mechanics of the masks but after a while it becomes strangely natural - so much so that I feel somewhat naked without them now
ON 'THE LION KING' CHOREOGRAPHIES ARE VERY IMPORTANT. THEY RECREATE AFRICAN LANDSCAPES AND RHYTHMS. HOW WAS THE REHEARSAL PROCESS ON WHICH YOU HAD TO LEARN ALL THESE STYLISED MOVEMENTS?
The choreography and rhythms are extremely important to the piece – It's also soaked in tradition and history so everything has to portray all these elements. For example Mufasa is a king from a long line of kings. All the teachings have been passed down from generation to generation in an oral manner. So it was important for me to understand the real African traditions so it came across organic and true to the production. The rehearsal process was very interesting and a challenging experience.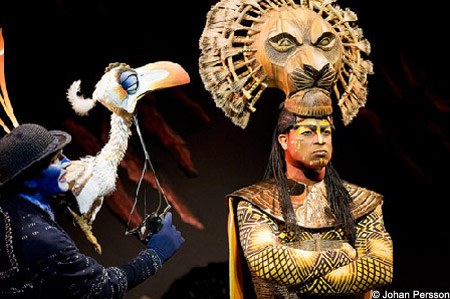 Cameron Pow as Zazu and Shaun Escoffery as Mufasa in THE LION KING
PRIOR TO THE LION KING, YOU WORKED ON A COMPLETELY DIFFERENT WEST END PRODUCTION: YOU PLAYED THREE DIFFERENT ROLES IN 'PARADE' AT THE DONMAR WAREHOUSE. HOW IT WAS THE EXPERIENCE OF PERFORMING IN SUCH AN INTIMATE SPACE A PLAY BY JASON ROBERT BROWN, WHO IS ONE OF THE MOST RENOWNED NEW COMPOSERS?
I found working at the Donmar a wonderful experience. It was the intimacy of the theatre that made it so magical. The audience is so close to you that you that they can see every nuance and intention. There really is nowhere to hide and in turn that brings out a vulnerability and a truthfulness on stage. Also it does help that PARADE was a great story overflowing in emotion. Jason Robert Brown's score was amazing and also the piece being based on true events made it all the more profound.
FOR YOUR PERFORMANCE IN THIS PRODUCTION, YOU WERE NOMINATED FOR WHATSONSTAGE.COM AND LAURENCE OLIVIER AWARDS FOR HIS SUPPORTING PERFORMANCE. WHAT DOES IT MEAN TO YOU BEING RECOGNISED FOR YOUR WORK? HOW IMPORTANT IS TO YOU AND YOUR CAREER RECEIVING AWARDS?
There are really no words to describe how I felt when first told about my nominations. It was completely unexpected – to be recognised for what you love doing is absolutely amazing
OTHER OF YOUR WEST END CREDITS INCLUDE 'LES MISERABLES', 'SMOKEY JOSE´S CAFÉ', 'TOMMY' AND 'MAMMA I WANT TO SING'. WHAT WOULD YOU HIGHLIGHT OF THESE WORKS?
Every show I´ve done has been a different experience – they all bring out different things in your performances – I've learnt from them all.
AS A RECORDING ARTIST, YOU HAVE RELEASED THREE SOLO ALBUMS: "SHAUN ESCOFFERY", "SOULONICA" AND "BACK TO SOUL". WHAT ARE YOUR MUSICAL INFLUENCES? IS IT DIFFICULT TO BALANCE YOUR CAREER AS AN ACTOR AND YOUR CAREER AS A MUSICIAN?
Musical influences? They vary from Donny Hathaway – David Bowie - Aretha Franklin - Seal - Marvin Gaye, etc… I don't find the balance difficult at all – I see it as inclusive of all of the same things. I'm just happy to have the opportunity to do both.
Información Relacionada