noticias
Se edita el álbum 'THINGS TO RUIN - The Songs of Joe Iconis'
07/12/2010
Ghostlight Records saca a la venta el 13 de diciembre un doble álbum de este concierto rock teatralizado escrito por Joe Iconis, joven autor de musicales como THE BLACK SUITS y BLOODSONG OF LOVE.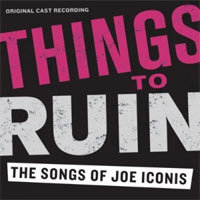 El sello discográfico Ghostlight Records edita el próximo 13 de diciembre en un doble álbum 'THINGS TO RUIN - The Songs of Joe Iconis', una colección incendiaria de canciones escritas por Joe Iconis, ganador de las becas Kleban y Jonathan Larson.
Joe Iconis, nacido en 1981, es autor de los musicales rock THE BLACK SUITS y BLOODSONG OF LOVE; y ha colaborado con Robert Maddock y Reza Jacobs en PLASTIC! THE MUSICAL y con Robert Maddock en TRIUMPHANT BABY!.

Dirigido por John Simpkins, THINGS TO RUIN es un concierto rock teatralizado sobre un grupo de seres humanos marginales y alternativos que viven al filo de la destrucción y la creación. Interpretado por un elenco de jóvenes cantantes y una banda de cuatro miembros dirigida por el mismo Joe Iconis, el espectáculo se ha podido ver en diversos escenarios de Nueva York como el Ars Nova y el Joe´s Pub. La versión final se estrenó en el Zipper Factory Theatre en noviembre de 2008 y enero de 2009, y posteriormente se representó en el Second Stage Theatre en mayo de 2009.

La banda sonora de THINGS TO RUIN se grabó en los MSR Studios de Manhattan el 28 de febrero de 2010 con un reparto integrado por las voces de Nick Blaemire, Katrina Rose Dideriksen, Badia Farha, Sarah Glendening, Eric William Morris, Lance Rubin, Jason "SweetTooth" Williams y Joe Iconis. La banda estaba formada por Ian Kagey, Brent Stranathan ay Mike Pettry, con supervisión musical de Matt Hinkley.

El listado completo de temas del álbum 'THINGS TO RUIN - The Songs of Joe Iconis' es el siguiente:

Disco 1
1. I Was Born This Morning (The Cicada Song)
2. Mamma, Cut Me Deeper!
3. Nerd Love
4. The War Song
5. Good For You
6. Asleep On My Arm
7. Everybody´s At The Bar (Without Me)
8. The Guide To Success
9. Head Shot
10. The Whiskey Song

Disco 2
1. Son of a Gun
2. Dodge Ball
3. Albuquerque Anyway
4. Just Means
5. Helen
6. Honey
7. The Bar Song
8. Almost There
9. Never Heard Nothing
10. I Was Born This Morning (Reprise)
Enlaces de Interés
Información Relacionada
Comentarios
Para poder añadir comentarios necesitas autentificarte como usuario registrado de todoMUSICALES.