[ Volver al artículo en castellano ]
NADIM NAAMAN, London
03/12/2015
West End performer who currently plays de role of Raoul in THE PHANTOM OF THE OPERA, and has starrred in shows such as SWEENEY TODD, TITANIC, CHESS and GOODBYE BARCELONA.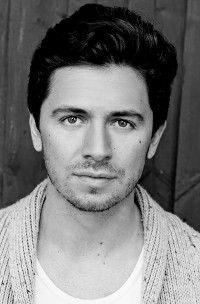 His professional debut after drama school was playing Jamie in THE LAST FIVE YEARS at the Edinburgh Festival. Later that year Nadim made his West End debut in THE SOUND OF MUSIC at The Palladium.

Other theatre credits include Anthony in SWEENEY TODD (Harrington Pie & Mash Shop); 1st Cover Alan & Alfie in 'One Man Two Guvnors' (National Theatre); Charles Clarke in TITANIC (Southwark Playhouse); Anatoly in CHESS (The Union Theatre); Armand in MARGUERITE (The Tabard); Andrei in THIRTEEN DAYS (Arcola Theatre); 1st Cover Raoul in THE PHANTOM OF THE OPERA (Her Majesty's Theatre); and Sam in GOODBYE BARCELONA (Arcola Theatre). In 2014 Nadim released his debut album 'We All Want The Same' featuring songs written by himself.

Currently Nadim plays the role of Raoul THE PHANTOM OF THE OPERA, at Her Majesty's Theatre in London.

- The first musical you saw and/or most impressed you: The first musical I saw was STARLIGHT EXPRESS. I saw it ten or eleven times before it left London. As a child, that was a magical show.

- You would like to make a duet with: I would love to sing a duet with Philip Quast.

- Webber o Sondheim? They are both so good at different things. Lloyd Webber has written some of my favourite shows; JESUS CHRIST SUPERSTAR, SUNSET BOULEVARD and of course PHANTOM. But Sondheim creates dramatic musical theatre better than anyone else.

- London or New York? London. But ask me again if I´m ever lucky enough to work in New York!

- Do you keep the programmes of the musicals you watch? Yes. I have a whole cupboard full of them at home.

- The worst moment you've had live on the stage was (as a performer and/or as a spectator): When the air-conditioning broke at Southwark Playhouse during TITANIC. The weather was extremely hot and humid that summer. It was so hot we had to stop the show because audience members were feeling feint, and the orchestra had to stop playing because their hands were so sweaty they couldn´t hold the bow to play their violins, cellos and basses. We eventually finished the show with just a piano and percussion, but it was a very difficult night.

- An unforgettable moment (as a performer and/or as a spectator): Last year I was involved with a very unique production of SWEENEY TODD and we were fortunate enough to perform in front of Sondheim himself. I will never forget singing his music just metres from the great man.

- Do you have any superstitions before the opening night? Boring answer, but no I don´t! I believe if you concentrate and work hard on stage, everything will be great.

- A musical character that you would like to BE (not perform): Aladdin. It would be amazing to start off as a street rat and end up a Prince, with three wishes along the way.

- A character of your opposite sex that you would like to perform: Mrs. Lovett in SWEENEY TODD.

- What do you like most/least about your work? I´m lucky enough to do what I love for a living, and that is incredible. I wanted to be in West End shows and achieved my goal, so now I am here, I try to make the most of every moment.

- What is your favorite musical movie? I would say GREASE. It was also the first musical soundtrack I owned.

- The last CD/DVD related to Musicals that you have bought is: The soundtrack of HAMILTON.

- What is your favorite line from a musical: "It´s all gone sour!", sung at the end of "Heaven of Their Minds" in SUPERSTAR.

- Agree or disagree with TV Shows finding new Musical Stars (as 'Over The Raibow' or 'I'd Do Anything'): Some people don´t get the break they might deserve without putting themselves out there. The exposure these shows can give people can change lives. If they mean theatres are busier, and actors get big breaks, there´s not much to complain about. Good luck to anyone willing to go through it.

- You feel proud of: Performing work in front of its creators. Be that Phantom in front of Lloyd Webber, Sweeney Todd in front of Sondheim, or a new musical in a fringe venue in front of its writers.

- Of this moment you're living as a performer, the most important thing to you is: To make the most of it. Not to think too much about the future but to enjoy the present, because you never know what lies ahead. Especially in such a tough profession.

- Other projects you are working on: I have nearly finished writing my second album which will be out in the summer of 2016. Watch this space!

Información Relacionada