entrevistas
[ Volver al artículo en castellano ]
Alexandra Silber: "I think I'm ready to tell Tzeitel's story in FIDDLER ON THE ROOF now"
31/08/2015
Before heading back to Broadway to play the role of Tzeitel in the 50th Anniversary revival of FIDDLER ON THE ROOF, Alexandra will be offering some intimate concerts at The Crazy Coqs in London from 1st to 5th September 2015.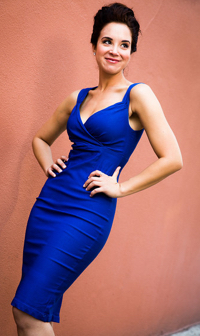 We meet Alexandra Silber in front of the Savoy Theatre, where she has starred in two of the most importants shows of her career: FIDDLER ON THE ROOF and CAROUSEL. Alexandra has just arrived to London -after starring in MY FAIR LADY at The Muny (St Louis)- to offer some intimate concerts at The Crazy Coqs, from 1st to 5th September, where she will be accompanied by different guest stars every night (1st: Howard Goodall, 2nd: Damian Humbley, 3rd: Julie Atherton, 4th: Simon Bailey and 5th: Gina Beck).
Then, from November 12th, Alexandra will be playing the role of Tzeitel in the 50th anniversary Broadway revival of FIDDLER ON THE ROOF, at the Broadway Theatre in New York, in a production directed by Bartlett Sheer.

One of the things that amazes us most about Alexandra is her honesty, her humanity, and her great ability to listen to her instincts and to follow them, no matter what, which is what has lead her to be one of the greatest leading ladies nowadays on Broadway an in the West End.

After revealing us her connection with Barcelona -where her grandparents were from and where her parents met- and her will to visit the city soon, Alexandra tells us about her upcoming projects and about the highlights of her career so far.

FIRST OF ALL, TELL US ABOUT YOUR UPCOMING CONCERTS AT THE CRAZY COQS IN LONDON. HOW WILL THEY BE?
Cabaret is very different from any other kind of concert because it is very personal, you have to really connect with people that are only a couple of feet away from you, so I decided to take on this tone of feeling like if The Crazy Coqs is my living room for a night, and everybody that is there are friends of mine, and we are just gonna have an intimate chat and I´ll sing some of my favourite songs. Each of the songs is somehow connected with something personal to me.

WHAT CAN YOU TELL US ABOUT YOUR GUESTS STARS?
Everybody is someone I know personally, either people that I worked with a lot or have had a great working relationship with, or people I´ve known socially, and never got the chance to actually sing with, so I thought that, as it is my show, I would bring people I wanted to sing with me.

SO THE AUDIENCE WILL SEE ALEXANDRA SILBER WITHOUT ANY MASK...
Exactly. I like to think that I bring a lot of myself to my work, I try to be a very personal, deep actor; but definitely they´re going to see my off-stage personality present in the concert, not through a character. It´s very challenging because I think I´m very open as a person, but within limits. I´m still very private about the things that are private to me, and I think that in this concert you´ll hear me talk about some of the stuff that is a little bit closer to my heart, more openly. In that sense I think cabaret is more challenging, because you have to be more honest as yourself.

HOW DID THIS PROJECT CAME UP?
Although the news was revealed recently, I´ve known about the Broadway revival of FIDDLER ON THE ROOF for two months... And I called my agent in England and I said "I would love to do something in London before I can´t come back for over a year, is there anything out there?" And he told me "there´s this night club and they´re looking for somebody to open their season", and never thinking that it would be me as a headliner so I got very excited because I do lot of cabaret in America but I had never considered doing it here.

IN NOVEMBER YOU WILL PLAY THE ROLE OF TZEITEL IN THE NEW BROADWAY REVIVAL OF 'FIDDLER ON THE ROOF'. THIS SHOW HAS A SPECIAL MEANING TO YOU, HASN'T IT?
This is a very personal answer, but I like to talk about it. When I was 18 my father passed away, and this was the event that brought me to Europe. I´m from a small town in Michigan, outside Detroit, and... to lose somebody is a horrible time... So I decided to go to a city I had never been to, and I moved to Glasgow, and went to a Drama School there. I had no Scottish connections at all, and I just went. And going back to FIDDLER, I think that in some ways, I sort of cut off my grieving experience, and I never had the chance to say a proper goodbye to my dad... And FIDDLER is a show all about fathers and daughters... And the character I played in London at the Savoy was Hodel, the second oldest daughter who has this big scene and this big song where the purpose is to say goodbye to her father. And I just feel like that show gave me the opportunity to say goodbye. And thinking about what FIDDLER gave me, I could never express enough gratitude for... So when I heard about the 50th Anniversary Broadway production I thought "I´m not ever gonna dream to be part of it, because I´m so old..." And I had a phone call to come in at the very last second, because I guess they were having trouble finding the oldest daughter and I remember thinking "I´ve told Hodel´s story, I´ve said goodbye to my father, that´s over, but now I´m growing up and i´m thinking about marriage, having children..." and that´s more the Tzeitel´s story. I think I´m ready to tell her story now. And it may sound stupid, but a couple of months ago I was at a friend´s wedding, and she was walking down the aisle with her father and I burst into tears and I realized that, in a subconscious level, it wasn´t about my friend being a beautiful bride. It was about the fact that "no matter what I achieve, I´ll never have that" and, it only occurred to me after I got the role that, I will have that everyday on the stage. FIDDLER has given me the chance not only to say goodbye to my father but to be walked down the aisle The same show has given me all those gifts... I think the reason why we love the theatre so much is because it gives us this chances to feel so much more that we would in our everyday lives. It´s giving me experiences that I could never have in my life.

HOW WILL THIS NEW REVIVAL, DIRECTED BY BARTLETT SHEER, BE?
First of all, it´s going to have a huge cast, of almost 40. That´s the size of old Broadway musicals. It´s in the biggest theatre of Broadway, the Broadway Theatre. Also they´re basing the choreography on some of the themes of the original of Jerome Robbins, but it´s being almost completely reconceived by the Israeli choreographer Hofesh Shechter, who is very famous in Europe, so the dance is going to be completely revolutionary. There´s gonna be some new music and it will be certainly a celebration of the 50th Anniversary, but it´s gonna be something people have never seen before. I´m so excited.

YOU WERE BORN IN LOS ANGELES AND DID YOUR TRAINING IN GLASGOW, SO FROM THE VERY BEGINNING YOU WERE ATTACHED TO THE STATES AND TO UK. HOW DID YOU GET TO WORK BOTH IN THE WEST END AND ON BROADWAY? WAS IT SOMETHING YOU ALWAYS HAD IN YOUR MIND?
Sure. If you love the theatre, no matter where you are, you always think about "Broadway"... In some ways it´s just geography, but in other ways is so much more than that. It´s a quality, it´s a combination of every single person and their theatre dreams, their skills, their training, and life experiences... West End and Broadway feels "la creme de la creme" of theatre. To think that is happening so naturally feels bizarre. It´s a privilege.

YOU MADE YOUR WEST END DEBUT WHEN YOU WERE 21 WITH 'THE WOMAN IN WHITE', HOW DO YOU REMEMBER THAT?
I hadn´t finished the school yet. I was in drama school just doing straight acting: Shakespeare, Moliere, classic Greek tragedies... I had always sang, but I didn´t trained as a singer, and somewhere in the middle of our final year they brought people from London to teach us about musical theatre auditions, and I just had an instinct that if I took it seriously my life was gonna change. So I auditioned for this man, I sang for him... I sang "Will He Like Me" from SHE LOVES ME, which I am singing in my cabaret this week, it´s a very special song. And he was like "ok, can you do this?", and I sung another song... and at the end of half an hour he was like "Who are you?". I was 21 years old! This man called David Grindrod, who is a very big casting director here, and said "you have to hear this girl". They were looking for a Laura in THE WOMAN IN WHITE, and eight weeks later, that was me. And I don´t even think I really understood what was going on. That was my start here; and I decided to stay in London for five years... So that was my beginning! It was magical! It was incredible to learn from all these incredible people. It was such a gift.

SINCE THEN, YOU HAVEN'T STOP WORKING, FROM ONE PROJECT TO ANOTHER. HAVE YOU HAD ANY TIME IN BETWEEN OF THINKING "OMG! WHAT I'LL BE DOING NEXT?"?
Maybe once in a while, but like just for a couple of weeks, not for a couple of years. I´m always auditioning knowing that one of this five things will surely come up. And also, there have been times when I´ve needed a little break, and I´ve taken six months off. I teach at the University, and that´s wonderful. So I´m able to choose it. And being able to have connections in London and New York is the ultimate gift. It´s a dream. I´m so lucky.

WHICH ONE WOULD YOU SAY THAT HAS BEEN THE SHOW WHICH HAS MARKED YOUR CAREER SO FAR?
CAROUSEL. It´s funny. It was the first time in my career that a director and a producer came to me and said "we would like to do CAROUSEL with you" and they built a show around my casting. If I´m honest, when it first came to me, I didn´t think in myself in that role... It was very different for me, very challenging, specially as a feminist... And going back to my family, that was the show that helped me to understand and respect what my mom had lost. She lost her soulmate. And I based Julie in my mom. If FIDDLER was for my dad, CAROUSEL was for my mom.
And on a career level, that was the first time I lead a company in a huge show, took the last vow... and people went to think: "This girl is growing to be a woman, she is a leading lady!". I think that shifted people´s perception of me and it lead to crazy things like KISS ME KATE last Summer. I´m way too young to play that part in terms of my biological age, but I have the presence and the maturity... And I think people wouldn´t have thought of me in that way before CAROUSEL.

BECAUSE, AT THE END OF ALL, WHAT REALLY MATTERS IS HOW OTHER PEOPLE SEE YOU...
Yes. And I think that if you are self-aware, which I think is the most important thing any artist and any human can be, you can ask yourself "how do others see me and am I in an enough possession of myself to change people´s perception of me at my will?". And that is something I´m trying to get better at all the time. Can I make them see me as a woman, as a vilain, as a comedian...? I think that is real skill.

AND THEN YOU DECIDED TO MOVE BACK TO THE UNITED STATES?
Yes. CAROUSEL finished and I was in a very long relationship with Damian Humbley. We were together from THE WOMAN IN WHITE all the way through CAROUSEL, a little more than four years. That relationship and CAROUSEL sort of ended at the same time and I just thought "all of the things that were tying me to this place are no longer keeping me here" and I felt internally that something was changing inside me and I felt this real call to go home, which I put in quotations, cause I had never been an adult in America. I moved to the UK when I was 19, so I had no idea what I was doing. I had never had an apartment there, a bank account... I was completely overwhelmed by it, but I think it was really important for me to find my independence, to reconnect with my cultural heritage... I never quite felt that I socially fit in in London. People thought of me that I was too emotional and too hard working; and when I got back to America was "I´m not emotional nor hard-working, I´m American!" It just kind of gave me this confidence... I didn´t even know if I´d continue acting over there... and it all kept happening, which is wonderful. And I feel really wonderful about the kind of back and forth relationship I have now, when I´m based to New York, that´s home, but I come back here, and it feels really good too.

HAVE YOU GOT ANY PERSONAL PROFESSIONAL DREAM STILL TO ACCOMPLISH WHICH YOU COULD SHARE WITH US?
Yes! I have one musical theatre dream that I´ve sort of done, cause I did a concert of it, which is to play Amalia in SHE LOVES ME. That woman is me in a play. And please tell the world that if I don´t do it, I would die! (laughs)
I would also love to play Rosalind in 'As You Like Me'. I would love to do a musical in a foreign language, and I´d love to play Carmen... And Antigone! They are all over the place, but I had lot of them happening. I played Maria in WEST SIDE STORY, CAROUSEL... but SHE LOVES ME is the last musical dream that I want to do.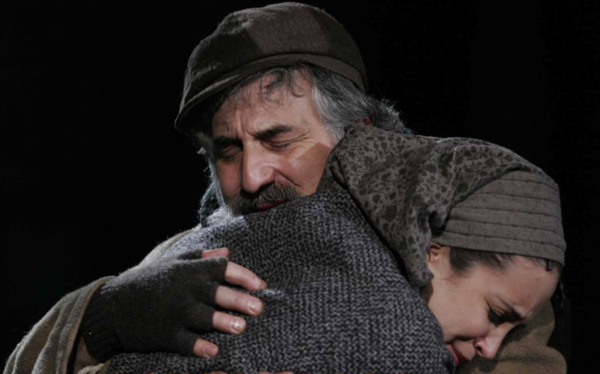 Alexandra Silber and Henry Goodman in the West End production of FIDDLER ON THE ROOF

Enlaces de Interés
Información Relacionada